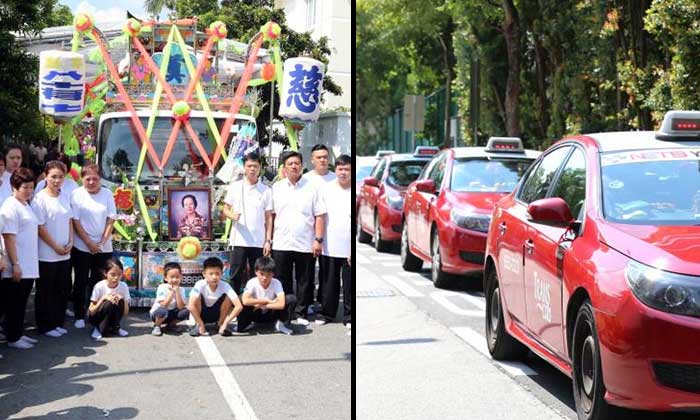 Union Gas Holdings's founder Mr Teo Kiang Ang arranged for a grand convoy consisting 50 taxis and 37 lorries to send his late mother off during her funeral procession last Saturday afternoon (Oct 28).
Mr Teo's mother, Ms Chen, died last Sunday (Oct 22) at age 87, reports Lianhe Wanbao.
Mr Teo told reporters that his mother would often bring homecooked food to the office for his employees.
She was known and respected by many.
As a result, many cabbies and lorry drivers who were recipients of her kindness decided to form the convoy on their own as a special way to send Ms Chen off in her final stretch.
Many other businessmen and representatives from various associations, numbering about 300 people, came down to send Ms Chen off too.
In addition, members of the Zhang Clan Association and Hwa Siah Musical Association also took part in the procession, forming a snaking line about 500m long.
Mr Teo's son, Dr Alexis Teo, revealed that Union Gas Holdings started at Defu Lane 11, and his grandmother often went back to the place to offer her prayers, hence the family decided for the escort convoy to circle the place once before heading to the Mandai Crematorium.
Throughout Mr Teo's career, his mother played an important part.
Although they came from a humble background, Mr Teo's mother worked hard and saved so that her son could start his own business one day.
Mr Teo said that he was deeply affected and saddened by his mother's passing.
He said: "I have thought it through this past few days.
"Death is an inevitable part of life.
"I feel a little better now."