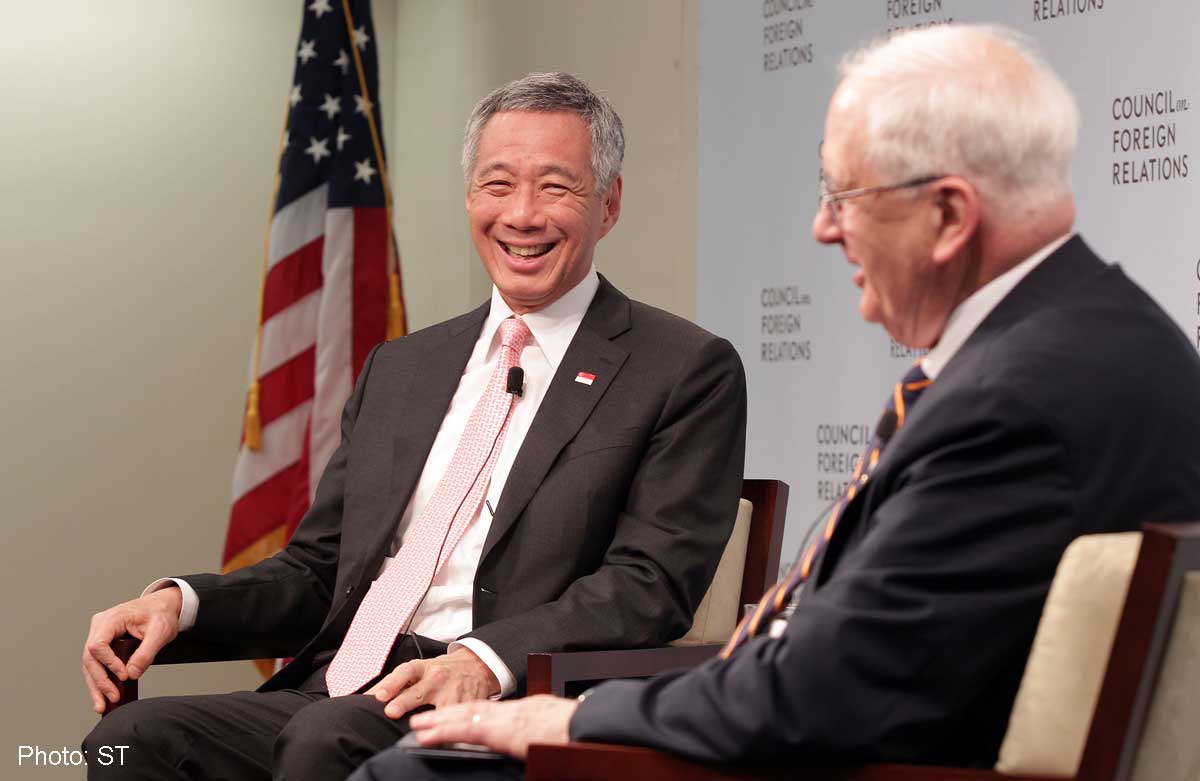 THE nations involved in territorial spats in the South China Sea should rely on international law to resolve their disputes, rather than lean on the idea that "might is right", Prime Minister Lee Hsien Loong told a dialogue.
Responding to a question on China's overlapping claims with other Asian countries in the resource- rich waters, Mr Lee also noted that the world's secondlargest economy would do well to follow the US example of being seen as a powerful but generally rule-abiding country.
Singapore is not directly involved in the disputes, but has backed ASEAN's call for restraint and a code of conduct to manage the issue. Four ASEAN nations - Malaysia, Vietnam, the Philippines and Brunei - as well as Taiwan have competing claims with China in the South China Sea.
"We don't all have to have a dispute in order to make common calls," Mr Lee said at the session on Tuesday organised by the Council on Foreign Relations, a US-based think-tank, and moderated by former US ambassador to Singapore J. Stapleton Roy.
"If we want to be relevant in a regional architecture, then speaking together makes a lot more sense than speaking separately," he added.
ASEAN does not take a position on the individual claims, but has called for the disputes to be dealt with peacefully and in accordance with international law, including the United Nations Convention on the Law of the Sea, he told about 145 diplomats, academics and journalists.
Mr Lee also noted that China has said its claims precede international law. "These have to be given due weight because international law does not go back to things which preceded it," he said.
"I'm not a lawyer so I presume there is some plausibility in that argument," he added.
"But from the point of view of a country which must survive in an international system where there are big countries and small, and the outcomes cannot be determined just by 'might is right', I think international law must have a big weight in how disputes are resolved."
China has seen great powers that tried to "rise by might" - including Spain, Portugal, Germany and Britain - but ended up fallen.
"They are trying not to make the same mistake, and I wish them every success in avoiding it," Mr Lee said.
As China gains influence in the world, a better model to emulate would be the US.
"The US generally follows international law and people see the US as a country which is ruleabiding and law-abiding, and not just a country which is on top because might is right," Mr Lee said.
As such, "the US enjoys respect and even affection".
If China can reach that position - of having its interests accommodated but also being seen as a constructive player in the world order - "I think it will have made a great achievement", he added.
Part of the reason for more friction points emerging within Asia recently is that the countries are interacting more closely, which brings "great benefits but also great complexity", Mr Lee noted.
Another factor is that nationalism within the region has risen to the fore lately, he added.
Mr Lee and other Singapore leaders have urged China and ASEAN nations not to let the spats define their whole relationship.
"I would say that none of the South-east Asian countries wants to have a fight with China," he said, adding "China too goes considerably out of its way to develop friendly relations with ASEAN".
fiochan@sph.com.sg

Get a copy of The Straits Times or go to straitstimes.com for more stories.