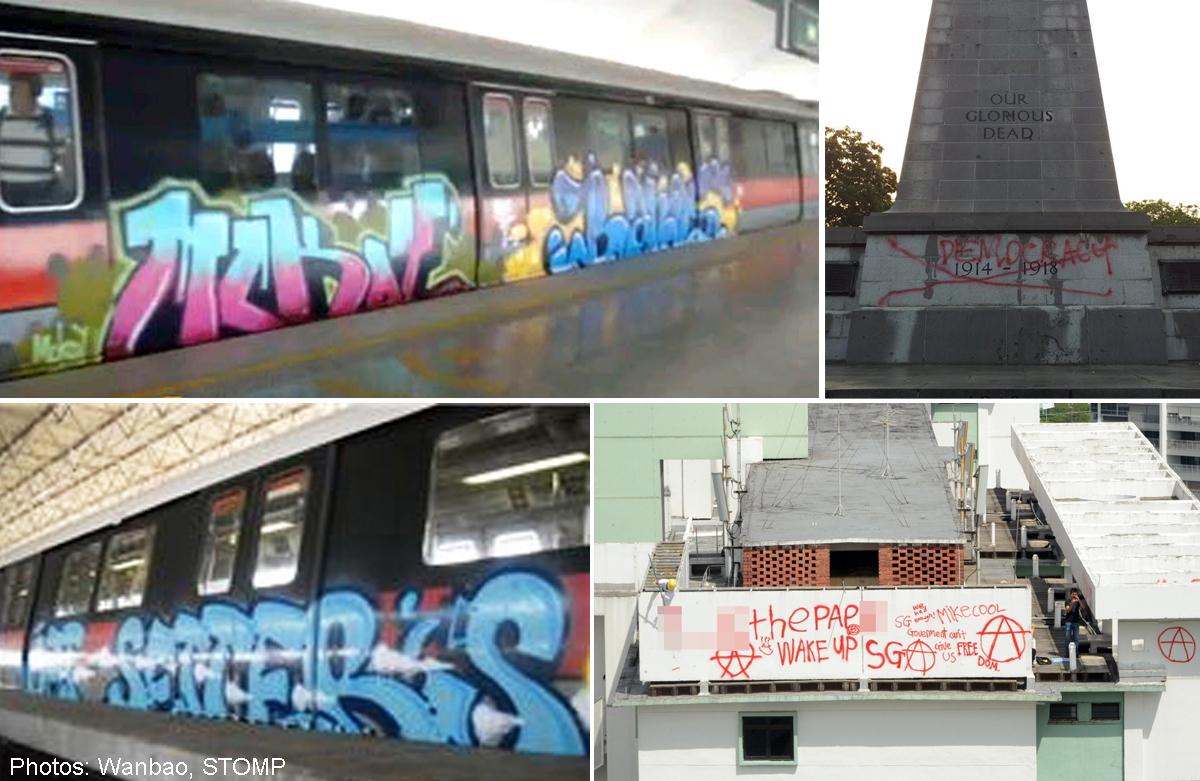 When a message or image is painted on a train or an HDB block, are people outraged?
And do they approve of it being done on public property?
Judging by The New Paper street poll, the answer is mixed.
TNP showed the respondents images involving recent acts of alleged vandalism and asked their opinion.
Just over half (59 per cent) said they were not offended by the message or image.
But 81 per cent said no to these same images and messages being scrawled or painted on public property.
Mr Ryan Kee's response was typical - the student said that while he won't be offended if it does not relate to him, he's concerned about copycats.
"If one person starts, others may follow and it will spread like cancer cells," said Mr Kee, 21.
Mr Andrew Lim, 41, chief operating officer of a mobile Internet company, said: "As a taxpayer, since it is public property, I have a share in it. It's like coming into my home and vandalising it."
Recent acts of vandalism have had people talking. Even as the police were in the midst of investigating an incident at Block 85A, Lorong 4, Toa Payoh, a train at Bishan MRT depot was vandalised.
Some have argued that people were allegedly just expressing themselves.
But most disagreed, saying it should not be done on public property.
Singaporeans may be disapproving of public acts because they are civic conscious, said National University of Singapore sociologist Tan Ern Ser.
"They hate to see the cleanliness and the orderliness of public space violated," said Assoc Prof Tan.
TWO TYPES
There are two types of vandals, said Mr Daniel Koh, a psychologist from Insights Mind Centre.
"One type is the senseless kind who will just vandalise anywhere, any time. The other kind will target high-profile places to send out their message," said Mr Koh, 42.
So while few - if any - would consider paint splashed by loan sharks as artistic or political expression, they were split on messages scrawled on public property.
Like the messages painted at the top of the Toa Payoh block last Wednesday.
Five youths, all aged 17, were arrested two days later, and have since been charged in court.
IT executive Apple Lin, 39, said that if people really wanted to express their opinions in public, "maybe there could be some place made in an estate for them to hang their poster".
She was not the only one to say no to such acts being carried out on public property.
"You don't go around defacing other people's property," said Senior Minister of State for Law and Education Indranee Rajah.
Speaking at the sidelines of a May 11 community event, she added: "The ability to express oneself does not require vandalism."
As it is, the authorities have opened up public spaces for artists to express themselves.
The Urban Redevelopment Authority allows street artists to use two walls in the underpass near Buona Vista MRT station.
And there are other spaces too, like the Somerset Skate Park, the graffiti walls at *Scape and the National Youth Council, Bukit Batok skate park and a wall at Labrador Park.
The URA hopes more skilfully executed art will spring up over time to enliven the urban environment. But while some artists argue that approved corners of street art go against the spirit, others said it will not limit their art.
Graffiti artist Mohammed Zulkarnaen Othman or Zero, 34, had previously said the community is aware of its responsibilities and the law.
Mr Noor Effendy Ibrahim, the artistic director of The Substation, said that by definition, graffiti art is done on public property, with or without permission.
"But artists must be aware of local laws and the consequences of their actions."
But art is a thoughtful process, and the recent acts appear to be driven by vandals with a desire for attention.
Dr Ang Yong Guan, consultant psychiatrist at Paragon Medical, said vandals could have been dared to push boundaries.
"There is an adrenaline rush in committing such an impulsive act," said Dr Ang.
Mr Koh said: "When someone is so engrossed in sending the message, they focus on the benefit, which outweighs the consequences."
Vandals may have anger problems, impulse control disorder, conduct disorder or oppositional defiant disorder, he added.
"They have to go for intensive counselling to find out what is the trigger, and may need medication to stabilise their behaviour," said Mr Koh.
In May 2010, Swiss national Oliver Frecker and his accomplice, Briton Lloyd Dane Alexander, broke into SMRT's Changi Depot and spray-painted graffiti on the side of a train.
The case led to SMRT's increased surveillance of its operations and an intense debate on whether it was art or vandalism.
But the law settled the issue - done to public property, without permission, it is vandalism.
And if convicted, vandals can be fined up to $2,000 or imprisoned up to three years. They can also be caned three to eight strokes.
What do people think?
The New Paper polled 64 people yesterday.
While 59 per cent said they were not personally offended by the images or messages, the majority (81 per cent) disapproved of it being done on public property.
A 52-year-old housewife, who wanted to be known as Madam Sarah, said: "Vandalism, big or small, is on public property, which is not yours to do anything illegal with."
Nanyang Polytechnic student Larissa Soniya, 18, said public property should be protected from discriminatory statements, and vandalism is not a good platform for "sensitive issues".
Did the acts of vandalism (message or image) offend you?
Yes: 41 per cent l No: 59 per cent
Should people be allowed to express themselves by vandalising public spaces?
Yes: 19 per cent l No: 81 per cent
Previous cases of vandalism
MAY 2010
Swiss national Oliver Fricker was given seven months' jail and three strokes of the cane.
His accomplice, Briton Lloyd Dane Alexander, has yet to be found. SMRT was fined $50,000.
The men cut through the fence of SMRT's Changi depot and spray-painted graffiti on one side of a train.
AUGUST 2011
A hole was cut in the fence at the Bishan Depot and the words "Jet Setter's", measuring nearly 9m long and 1m in height, were spray-painted on one of the trains.
SMRT was fined $200,000 by the Land Transport Authority.
The culprit was not caught.
APRIL 2013
Mohamad Khalid Mohamad Yusop, 33, vandalised the Cenotaph War Monument at Connaught Drive.
Using a can of red spray paint, he wrote the word "DEMOCRACY" and a large "X" on the monument.
He was sentenced to three months in jail and three strokes of the cane and was ordered to pay $208 for the repair of the monument.
tnp@sph.com.sg
This article was published on May 13 in The New Paper.


Get The New Paper for more stories.