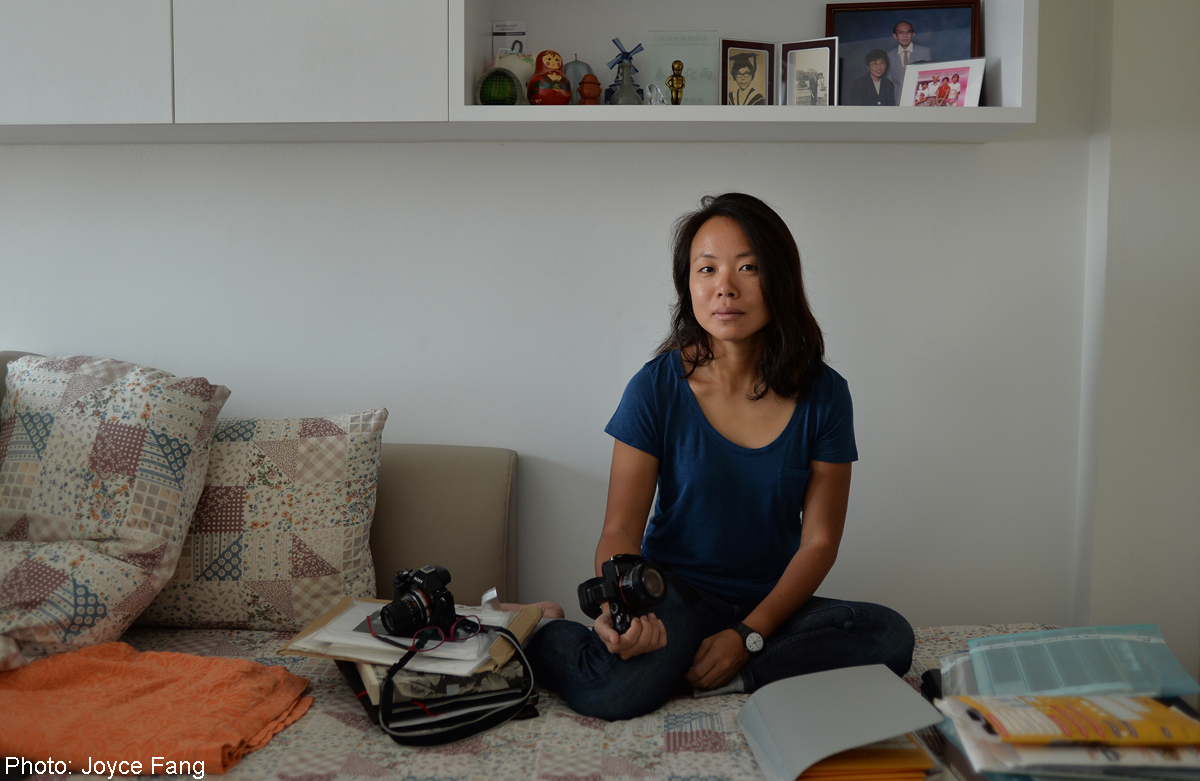 A visit to the hospital topped her to-do list when documentary photographer Sim Chi Yin arrived home from Indonesia last month. She needed to have her left eye checked.
A few days earlier, she was on a photo assignment at a tin smelting factory in Indonesia when a smelter, burning at 1,300 deg C, spat a fleck of tin at her. She felt something flying towards her but was too absorbed with getting the best shot to dodge.
The shard hit the lower corner of her left eye. It was fished out, flicked aside and she continued clicking away even though she felt the area around her eye swell. It was only after the day's assignment, when she was taken to the modest clinic in the factory, that she panicked.
She says: "A nurse shone a torchlight in my eye and said 'bakar'. I don't speak Bahasa Indonesia but I know the word. You have ikan bakar, which is grilled fish."
Sim is speaking to Life! at a cafe in Queenstown about 10 days after the incident. Throughout the more than two-hour interview, her mood is much like this, a mix of earnestness and gentle amusement.
From the factory, she was rushed to a hospital on the island. The doctor there spoke English and offered reassurance: the membrane lining the inside of her eye had been hurt but she would be fine.
Back in Singapore, doctors gave her the all-clear and she appeared relaxed, in a loose celadon cotton qipao, at the Her World Woman of the Year awards ceremony. She was receiving the Young Woman Achiever award for her accomplishments as a photographer devoted to social issues. The only signs of her arduous week before were her sunburnt arms and lightning bolt-like sandal tan lines, which she had little success hiding with make-up foundation.
The award is the latest accolade the petite 35-year-old has earned in her barely four years as a freelance photographer based in Beijing.
Since she quit her job in 2010 as The Straits Times' China correspondent to pursue photography full-time, readers have woken up to her gripping images of life in China on the front page of newspapers such as The New York Times and Le Monde.
In January, the British Journal of Photography named her as one of 30 emerging photography talents around the world. In July, she became the first Asian to join the prestigious New York-based photo agency VII, whose 20 members include famed photographers Gary Knight and Christopher Morris.
She has also received invitations in recent months to speak at photography festivals overseas.
Of her growing accolades, she says: "It is nice, it is humbling, it is heartening and, of course, prize money always helps. But as a photographer, you are judged on every new piece of work you produce."
The test for her, though, goes beyond "capturing that decisive moment when time, light and human life intersect", as she says of documenting life through photographs. She has to face her fears and frailty every day.
Her pursuit of images that tell stories otherwise unheard can lead her to dice with danger. One time, a group of Chinese thugs who did not like her taking pictures on their turf tried to snatch her camera. In workshops with budding photographers, she suggests flashing the "widest possible smile" to diffuse a tense situation. Her smile, a Cheshire cat-like grin, however, did not disarm the thugs. They grabbed her wrists and she resisted; the camera remained unharmed but her wrists swelled up.
She is not foolhardy and does not seek confrontation, but in a job that is all about unscripted moments, she is not immune to nasty surprises and she takes them in her stride.
Other times, she is her own obstacle.
As a freelancer, she is a one-woman operation and sometimes runs herself ragged juggling photography with paperwork and balancing the chequebook. She worked through last month with a respiratory tract infection.
Her body and age have not taken kindly to the physical demands of the job either. Lugging a heavy bag of camera equipment on assignments around China has placed a great strain on her 1.52m-tall frame.
To deal with this, the singleton lifts weights, practises Pilates and does cardiovascular exercises when she has time to become stronger, fitter and faster. She also uses ergonomic shoes and gear bags, and smaller but more powerful cameras.
Perhaps the greatest test has been her personal long-term documentary projects, particularly one which has been fraught with tears and heartache. In 2011, she began documenting the lives of Chinese miners affected by silicosis. The blasting of rocks in mines creates silica dust and when inhaled, the particles lodge in the lungs, causing the organ to harden, which makes breathing difficult. Victims of the disease often die from suffocation.
She says she was drawn to the subject because "it is China's leading occupational disease", affecting possibly millions of workers. But it has not been widely reported in the mass media and she wanted "to move people to do something about it".
Of the miners she photographed in China's rural Shanxi province, several have died. One, Mr He Quangui, is still fighting for his life. She has photographed him when he was near death a few times, gasping for air and in such torment that he almost gave up. In such heartrending moments, she holds back her tears until she is alone before "crying my eyeballs out", she says.
She is neither a glutton for punishment nor fearless. She is simply relentless in telling stories that she believes are meaningful - with a camera - because she finds it fulfilling. She speaks with quiet pride, for example, about a series of photographs on China's "rat tribe", migrant workers who live in the basements of Beijing.
The project puts names and faces to the people who keep Beijing running, among them chefs, security guards and service staff, and shows them to be no less driven and optimistic than people with the means to live above ground.
She has focused on living a meaningful life ever since she was an introverted teenager, wrestling with a deep sense of self-doubt. "I grew up in a family that did not give me a lot of confidence as a young person," she says. Her father, a retired teacher, and her mother, who used to run a childcare centre, "are typical Chinese parents; they won't pat you on the back and say 'well done'".
Her teachers at Singapore Chinese Girls' School exposed her to volunteer work and made her aware of a bigger purpose in life. She spent time with disabled children and, on her own, volunteered as a Salvation Army Christmas bell-ringer at shopping malls.
This sense of social consciousness defined her as a journalist after she graduated with degrees in history and international relations from the London School of Economics on a Singapore Press Holdings scholarship.
At The New Paper, she reported on migrant labour issues and helped to effect change. "An overcrowded workers' dormitory was shut down after one of my reports and the issue came up in a parliamentary debate the following week," she says.
Images, rather than words, however, have always been her choice of medium in persuading people to care about others.
Her interest in photography was piqued when she was 13 by her mother's Canon SLR camera, and stoked by images in magazines such as National Geographic, Time and Newsweek, which her father brought home. She clipped or made copies of articles she liked and filed them away by subject.
After her A levels at National Junior College, she interned at The Straits Times' photo desk. She asked for extra shifts and picked up tips eagerly from veteran photographers.
She never had a chance to return to the photo desk when she rejoined The Straits Times in 2001. But she continued to take pictures on the side, and for some of her assignments. The essays she wrote in her four years as a China correspondent based in Beijing, on issues such as urbanisation and migration, were accompanied by photographs she shot.
Yet all the while, she was mindful that she was not doing what she wanted to do and that time was ticking away. After she applied and was picked to attend the coveted Magnum Foundation Photography and Human Rights Fellowship in New York in 2010, she was reawakened to the potency of documentary photography. She felt she could no longer forsake her vocation, so she resigned.
It was not an easy decision. She was "quite scared" about losing a stable, salaried life, but she looked past her fears to the possibilities as she traded her cushy expatriate apartment for a small, one- room unit in a housing compound in an old Beijing alley.
Work offers soon came knocking on her door. Her journalist contacts and their word-of-mouth recommendations - she is fluent in Mandarin - helped her score assignments for major publications such as The New York Times and New Yorker.
She says she has been blessed by mentors too, such as British documentary photographer Marcus Bleasdale, whom she got to know through a friend and who later took her under his wings when she joined the VII mentorship programme in 2011.
While her income remains irregular and vulnerable to the shrinking photography budgets of print publications around the world which have been hit by declining circulation, she has not fared poorly. The series on China's "rat tribe", for example, sold well and appeared in many publications, including the Financial Times.
Being part of VII has also meant greater international visibility and an additional channel to distribute her work (the agency takes a sales commission). And she hopes to take on a small number of commercial jobs, which usually pay generously.
Nonetheless, Sim, who returns to Singapore once or twice a year, is managing well enough to upgrade to a one-bedroom apartment in a middle-class neighbourhood in the Chinese capital last year.
Her parents, on the other hand, are still grappling with their younger daughter's decision to go solo. Her older sister is a senior finance manager here.
Her father, Mr Sim Thoon Hin, 78, says: "She is doing well and we are happy. But we are worried about her safety. Like my father, she is fighting for righteousness."
Her late grandfather, Mr Shen Huansheng, was a schoolteacher, principal and chief editor of the Ipoh Daily in the 1940s, and was known to have a strong sense of social justice.
His leftist politics, however, led to his arrest in Malaya by the British in the late 1940s and he chose to be deported to his ancestral village in east Guangdong in China. There, he joined the Chinese Communist guerilla army and died in 1949 fighting for his belief in a fairer society.
To Sim, the streak of social consciousness she shares with her grandfather is uncanny and comforting, even if she is late in realising the connection.
No one in her family ever spoke of her grandfather until several years ago, when her mother showed her a picture of him. She wanted to know more about the mysterious man with a camera slung around his neck in the photograph, but she got around to it only in 2011 when she travelled to her grandfather's village and heard from relatives about the last year of his life there.
Armed with stories and pictures of his life, including the monument built to commemorate his martyrdom, she went to her father, three uncles and aunt to persuade them to return to the village and reconcile with the father they were forced to forget - their heartbroken mother, who has died, had forbidden them from mentioning him. The siblings returned to pay their respects that year.
This tracing of her ancestral roots has been one of her long-term personal documentary projects. In tenor, it seems different from her other socially- driven pieces but at heart, it is the same.
She often says her goal as a documentary photographer is to "loop the pictures back to the community and effect change" and here, she has done that. She broke a 60-year silence in her family, reunited her dad and his siblings with their late father and found deeper meaning to her fierce love for a purposeful life.
My life so far
"One of the things that really annoys me is people in China giving me a hard time about the fact that I am not married and I don't have kids. I had a taxi driver tell me, 'ni de nao zi you wen ti' (there is something wrong with your brain). Ironically, at the end of a very long taxi ride, he said, 'You want to go for dinner?' I was like, no."
On living in China
"I've become more frivolous as I get older. I was extremely serious when I was 18. I was always burdened by philosophical issues and ideas but I've become a lot more laid-back. I have more fun now. I can take time off, go shopping, go to the beach."
On becoming less uptight with age
"Spend time and be honest, respectful and sincere. You work your way into it and in the best of situations, people forget that I am there. With little children, sometimes, I will say, 'We're playing a game called boli ren (a person made of glass). I am a boli ren and you cannot see me so you cannot react to anything I do'."
On how she photographs subjects in close proximity without them being self-conscious
"They have been quietly supportive but they also tell me they are worried for me. I am worried too, but it doesn't help. I've asked them to be understanding. When the journalist James Foley was beheaded (by ISIS), I sent my mother what his parents said to the press about how they feel proud of their son for having lived out his vocation and she went through the roof. Bad thinking, it backfired."
On how her parents view her decision to become an independent documentary photographer.
lijie@sph.com.sg

This article was first published on Nov 3, 2014.
Get a copy of The Straits Times or go to straitstimes.com for more stories.