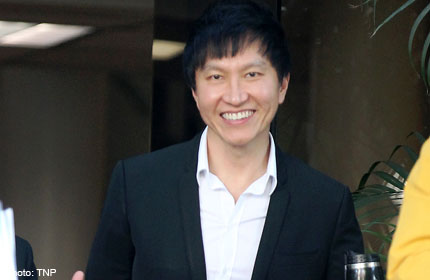 Kong Hee
Indonesian businessman Wahju Hanafi joined City Harvest Church (CHC) in 1990.
But the court heard yesterday that his relationship with CHC founder Kong Hee, 49, became closer after he gave his first $1 million to the church eight years later.
Mr Wahju said Kong invited him to a dinner to thank him for his contribution.
"From then on, we built a better relationship, and my wife and I are always supportive of any projects that the church wants," he said. So what spurred him to make such a generous contribution?
Mr Wahju said a CHC pastor had "moved" him to pay the $1.5 million in taxes that he had been evading in Papua New Guinea, where he has businesses.
Not long after doing so, he said he made a profit of $10 million.
The court heard that he began a working relationship with Kong when Xtron was set up to pay for and manage Ms Ho Yeow Sun's singing career.
is, you know, we call it a ministry, to try to win, you know, all these young people, first time when they went to Hong Kong and Taiwan, they see a lot of young people are not going to church any more."
He now owns Ultimate Assets, which has been managing Ms Ho since 2008.
Tan Ye Peng
Mr Wahju used to deal with the church leader, 40, on Xtron. Citing some examples, he said that Tan updated him on matters like setting up concerts and going to Indonesia for them.
"I would also discuss with him and ask him to counsel me or to advise me and pray with me," he said.
Chew Eng Han
Mr Wahju also had a working relationship with the church leader, 53, on Xtron, mainly on "bond matters". On a personal level, he said Chew had advised him when he wanted to invest in some shares.
Lam Leng Hung
Mr Wahju said the board member, 45, was "quite special" to him as he was his family's first cell group member when he joined the church in 1990.
Sharon Tan Shao Yuen
Mr Wahju knew the executive member, 37, only from "behind the scenes" as the accountant for CHC. "From time to time, she would contact me (to give) me receipts of my givings and tithing and all that," he said.
Serina Wee Gek Yin
He said he also knew the 36-year-old as an accountant for CHC. He added: "She's the one who came to me when I needed to sign financial statements and all that."

Get The New Paper for more stories.