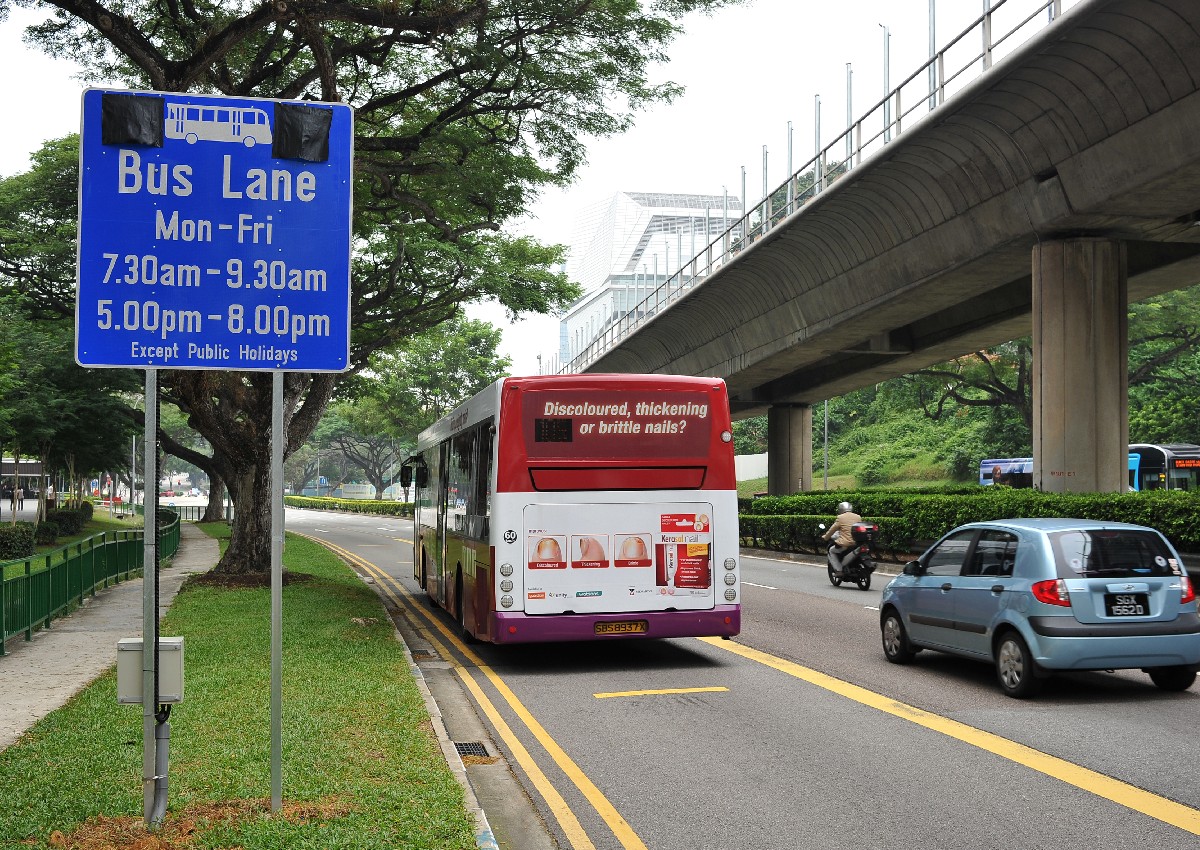 New bus lane signs with LED lights will be installed at problematic spots where some motorists are still entering bus lanes.
During bus lane operational hours, a pair of circular amber lights will light up, to give an additional "visual cue" to approaching motorists to stay out of these lanes, said the Land Transport Authority (LTA).
For a start, the LTA will test the signs out at four locations later this year:
-Bukit Panjang Road towards Bukit Timah Expressway (between Gangsa Road and Pending Road);
-Commonwealth Avenue West towards the city (between Ghim Moh Link and Ghim Moh Road);
-Eunos Link towards Pan Island Expressway (between Kaki Bukit Avenue 1 and Bedok Reservoir Road);
-Upper Changi Road East towards Tampines Expressway (between Bedok Road and Simei Avenue).
All four bus lanes are in operation on weekdays from 7.30am to 9.30am, and from 5pm to 8pm.
An LTA spokesman told The Straits Times that these spots were chosen because of the higher number of bus lane violations and traffic conditions.
The pilot signs are being introduced despite the overall number of bus lane offences falling in recent years.
"Buses serve a large number of commuters, carrying up to 90 passengers per single-deck bus and 130 passengers per double-deck bus, compared with cars which can accommodate much fewer people," said the LTA spokesman.
Since 2008, closed-circuit television (CCTV) cameras have been fitted on board buses to record bus lane offences. The measure has proved to be an effective deterrent.
Last year, 866 motorists were caught, down from 2,112 in 2008. The numbers continue to improve, with 228 recorded cases this year as of May, down 50 per cent compared with the same period last year.
Still, the LTA is not letting up in its efforts. In July, banners reminding motorists to stay out of bus lanes during operational hours were put up at selected lamp posts, and the same message was also painted on the exterior of buses.
The LTA said it will monitor the effectiveness of the new visual cues and may expand them to more areas if they prove effective.
Mr Steven Tang, 53, a chauffeur, said that besides the amber lights, there could also be more bus lane signs, with these placed at more frequent intervals.
"The signs are usually at the start of the bus lane and some people who cut into the lane after that may miss them," he said.
Motorists who drive in bus lanes during restricted hours face a fine of $130. If the fine is not paid, the case may go to the courts and they may be fined up to $1,000 or jailed three months for the first offence.
adrianl@sph.com.sg

This article was first published on Sept 19, 2015.
Get a copy of The Straits Times or go to straitstimes.com for more stories.