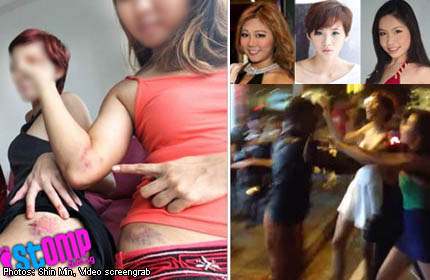 SINGAPORE - The three models involved in a confrontation with a man at Circular Road on Dec 12 are standing by their claim that they are not at fault and are considering taking legal action against the man.
Models Kuek Ziyi, 23, Anna Huang, 21, and Esther Lee, 19, were involved in a heated argument that night at around 3am. During the incident, a man is believed to have kicked their car.
The trio lodged a police report, claiming that they were assaulted by the man, but a video sent in by Stomp contributor Chuckz showed them getting actively involved in the scuffle.
When interviewed by Lianhe Wanbao after the video surfaced online, the models stood by their claims.
Ms Anna Huang said that they did not do anything wrong, and that witnesses at the scene would know whose version of the story was the truth. She also added that all their family members supported them.
A post online by Ms Huang states, "You aren't watching the video right. People believe what they want to believe with their stereotypical minds."
Ms Kuek Ziyi stressed that they are going to take legal actions against the man, and are already engaging a lawyer.
Ms Esther Lee expressed to Lianhe Wanbao that the incident had shaken her, and she is now afraid to go out late at night or to places where people drink alcohol.
The models reported that their income from modelling has decreased significantly due to the altercation.
Ms Lee has received fewer job offers since the incident, while Ms Kuek said that she has had to decline modelling assignments that would reveal the blemishes on her legs.
She also mentioned that her income had decreased significantly from the usual $3,500 to about $1,000 this month.
Ms Huang is currently taking a break from modelling in light of the incident.
However, the trio is heartened to know that due to this incident, some people on the streets recognise them and expressed support and concern for them.

Visit STOMP for more stories.