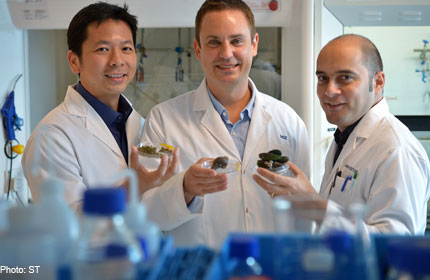 Squid teeth, sea snails' egg capsules and a "glue" produced by mussels have inspired scientists to produce a range of new biomaterials which they claim are stronger than most plastics.
During its research and development, a team from Nanyang Technological University (NTU) and Singapore's Agency for Science, Technology and Research (A*Star) used a new approach to integrating molecular biology and material science.
It studied the genetic sequencing of various organisms in an effort to understand, recreate and control certain properties of substances produced by animals or parts of the animals themselves.
The team believes the method will help to speed up the discovery and development of biomaterials to within months instead of years.
Biomaterials are matter, synthetic or natural, that can interact safely with biological systems.
The team found that the tiny sucker ring teeth located on a squid's tentacle are hardy and wear-resistant, even when wet. Using the teeth as a primary source, the scientists developed a silk-like biomaterial that is "harder, more rigid and more wear-resistant than conventional plastics".
This can be transformed into biocompatible films for food and drug packaging, or a solution to wear-resistant human implants that are exposed to water on a continuous basis.
"By comparison, silk - which is similar to the material we discovered in terms of molecular structure - is exceptionally strong when dry, but becomes weak when exposed to water," said NTU assistant professor Ali Miserez, who co-led the research.
The squid-inspired biomaterial is one of three that were studied along with a sticky underwater glue secreted by mussels and an elastic yet durable material taken from sea snails' egg capsules.
These natural substances were the original sources of the team's biomaterials. They can now be produced synthetically and in large quantities by bacteria in the lab, with their properties replicated or modulated through genetic engineering.
The versatile new biomaterials can be processed into different shapes and forms and are safe for use inside human bodies for purposes such as implants and bone-glueing. They are also made using eco-friendly processes with water as the typical solvent, while plastics rely on chemicals.
Dr Miserez said the team is "still identifying niche applications"and hopes to make commercial versions of its first biomaterials within five years.
Both the mussels and sea snails studied were species found in Singapore, and the team is exploring the potential of biomaterials from other organisms within Singapore's ecosystem - such as local sea cucumber and the matis shrimp species.
Dr Paul Guerette, who co-led the study, said: "It's very exciting for us to be in Singapore, because of the incredible biodiversity here... and the opportunity to engineer a whole variety of biomaterials we haven't even thought of yet."
hpeishan@sph.com.sg

Get a copy of The Straits Times or go to straitstimes.com for more stories.