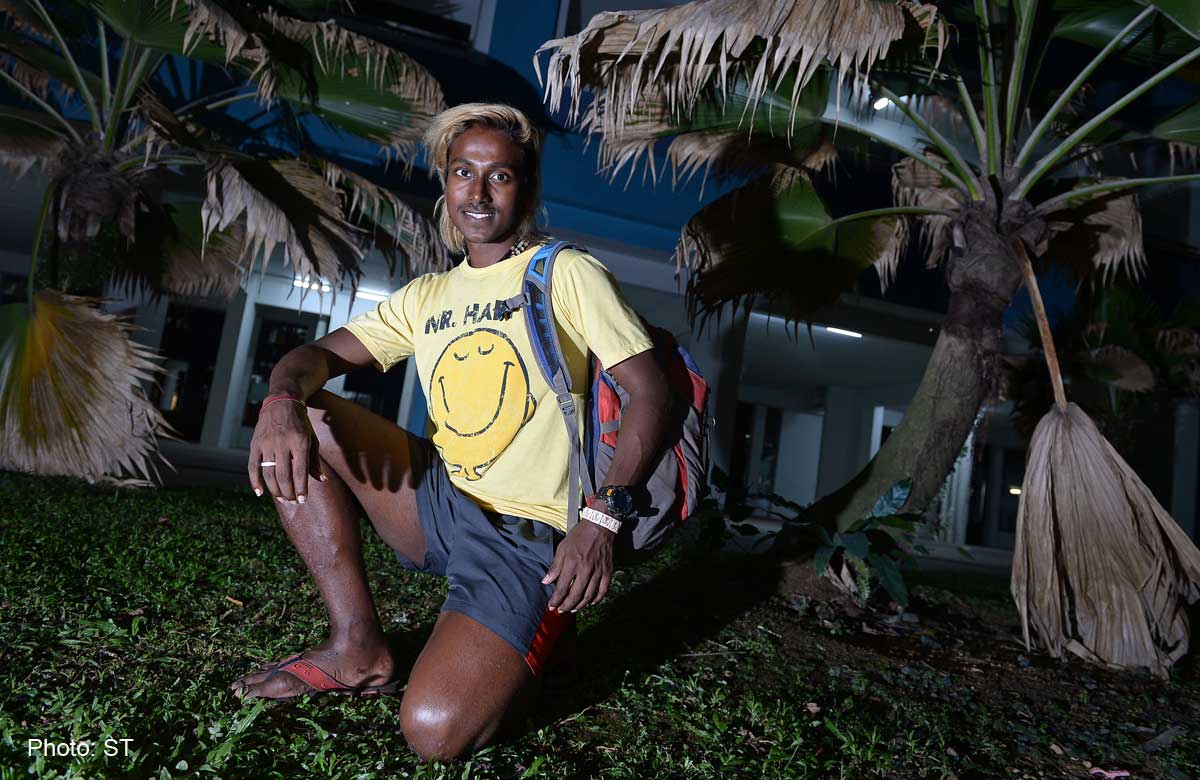 It was meant to be a straightforward day trip in which student Sanjay Radakrishna would scale Cambodia's highest peak and take a selfie in his graduation gown.
Instead he slid off a wet path and went missing for a week. During that time, he did not eat for five days, drank from a waterfall, confronted a giant python, lost his trousers and slept in his university robes.
The 26-year-old Singaporean, who is training to be a PE teacher at the National Institute of Education, recounted his ordeal to The Straits Times yesterday.
He set off to scale Phnom Aural in Kampong Speu on Monday last week, and made it to the 1,813m summit. But on his way down in the late afternoon, he took his fateful tumble, tearing his pants in the process.
His mobile battery went flat so he could not use GPS to find his way back to the trail. As night fell he gave up trying to use his watch's compass. Clad in a T-shirt, sports shoes and underwear, he slept on the wet ground in the forest, wrapped in his graduation gown.
"There was no point panicking, crying or screaming because no one was there to help me," said Mr Sanjay, who has been trekking since he was 15.
"Everything happens for a reason. The key is to keep calm and just keep moving."
He had no food as he had eaten all his biscuits at the summit. Before setting off, he had told his Cambodian host that he would return later that day. He also texted his girlfriend in Singapore to tell her of his plans.
He woke up at around 6am and waited for help for two hours, then went in search of water. "After a while, I realised help was not going to come so quickly because of the remoteness of the place. Water also meant survival."
He found a waterfall and decided to follow its route down the mountain. He headed west following the sunset, often swimming in chest-deep water, jumping between rocks and clinging to vines or branches. A tree trunk hit the back of his head, stunning him for a while.
While at the waterfall, he got 60 leech bites from feet to groin. He also sustained cuts from rocks and abrasions caused by the friction from water and sand.
He slept in caves, and thought of inspiring stories such as the film 127 Hours - about an American climber trapped in a canyon after his arm got wedged between rocks and who eventually cut it off to survive.
Mr Sanjay eventually spotted a village on Sunday, which was also his 26th birthday. While looking for residents, he had to avoid a large python in his path. "I was thinking it would be quite lame if I died now," he recalled.
He came to a motorcycle and waited by it until its owner showed up. The latter gave him a hammock to rest in and his first meal - an unripe banana.
After a 90-minute ride to Srae Kan 3, from where he had first set off, he was identified by villagers as the missing trekker and taken to Kampong Speu police station. After charging his mobile phone he found 200 Facebook and 3,000 WhatsApp messages from worried friends and relatives.
"To me, it was not that big a hoo-ha," said Mr Sanjay, who has trekked up more than 40 mountains. "But knowing how things are in Singapore, going missing for seven days will surely make everyone panic. It was essentially a good experience. I learnt a lot." Next month he will take on Tanazania's Mount Kilimanjaro.
cherylw@sph.com.sg

This article was first published on July 09, 2014.
Get a copy of The Straits Times or go to straitstimes.com for more stories.