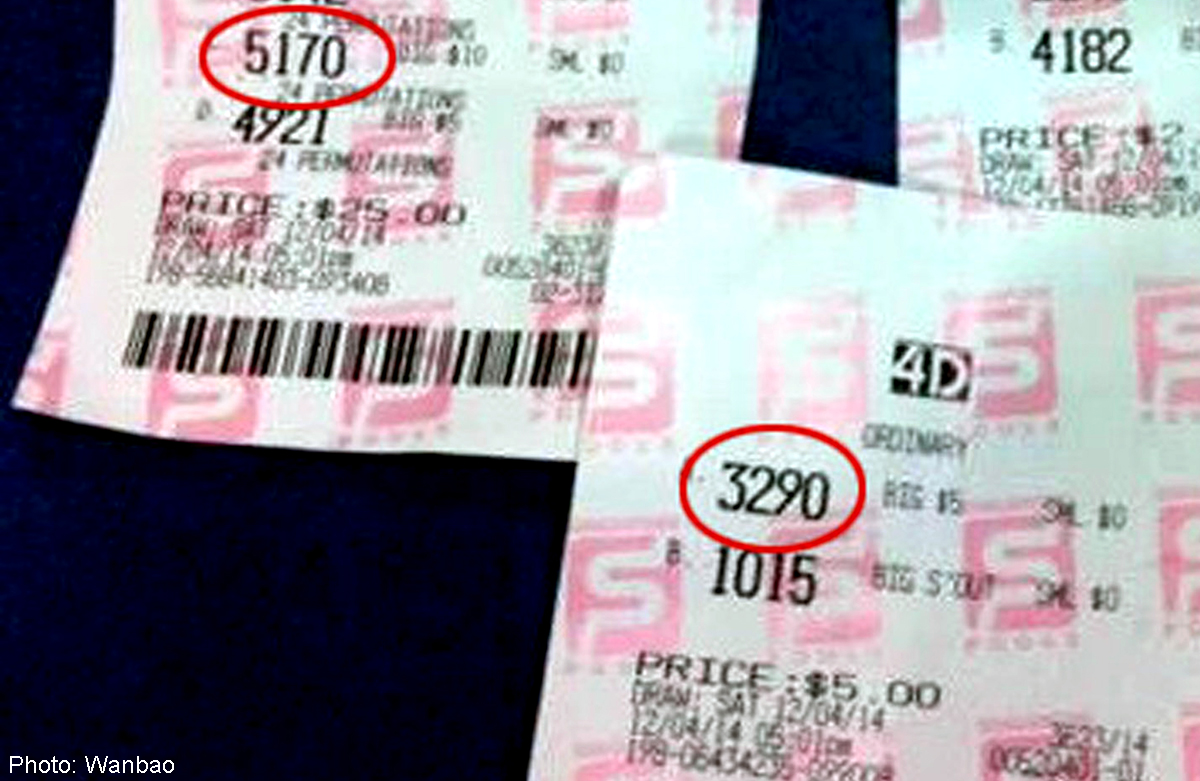 What should I do if I lose my ticket?
Lost or stolen tickets are like lost cash - they are difficult to recover.
If you have lost a lottery ticket and have its Ticket Security Number, you can make a report by getting the Report on Lost/Stolen Tickets form from the Singapore Pools website, www.singaporepools.com.sg.
A Singapore Pools spokesman said yesterday: "We will pay out the prize if a valid winning ticket is presented within the 180-day prize claim period."
She emphasised that the verification is on the ticket, not on the person who presents it.
"If the customer makes a report on a lost ticket to Pools, like any lost-and-found service, we will record it and notify the customer if the ticket is found and handed over to us subsequently," she said.
"There have been cases where customers could not claim their prizes without valid winning tickets.
"We take the opportunity to urge our customers to take good care of their tickets and claim any prize within 180 days."
What should I do if I pick up a winning ticket?
Lawyer Amolat Singh warns that this is not a case of finders keepers.
"If you go to collect the winnings, that constitutes theft as you are not the rightful owner," he said.
"The law is such that the finder must take all reasonable steps to find the owner, and the best way to do so is to make a police report."
The Singapore Pools spokesman said: "Anyone who finds a winning ticket is advised to hand it over to the police.
What happens to the money if no one claims the lost winning ticket?
The unclaimed prizes will form part of the gaming revenue that is channelled to the Tote Board to fund good causes, said the spokesman.
What is the difference in the odds of buying numbers that strike first prize using iBet?
For the 4-D game, each four-digit combination has a one in 10,000 chance of being selected as a winning number by the draw machine.
The odds of winning any prize is one in 435, which is calculated based on the number of prizes - 23.
For iBet, a punter has 24 chances of winning, if all four digits are different, which means the winner is entitled to 1/24 of the prize money.
This article was published on April 16 in The New Paper.
Get The New Paper for more stories.