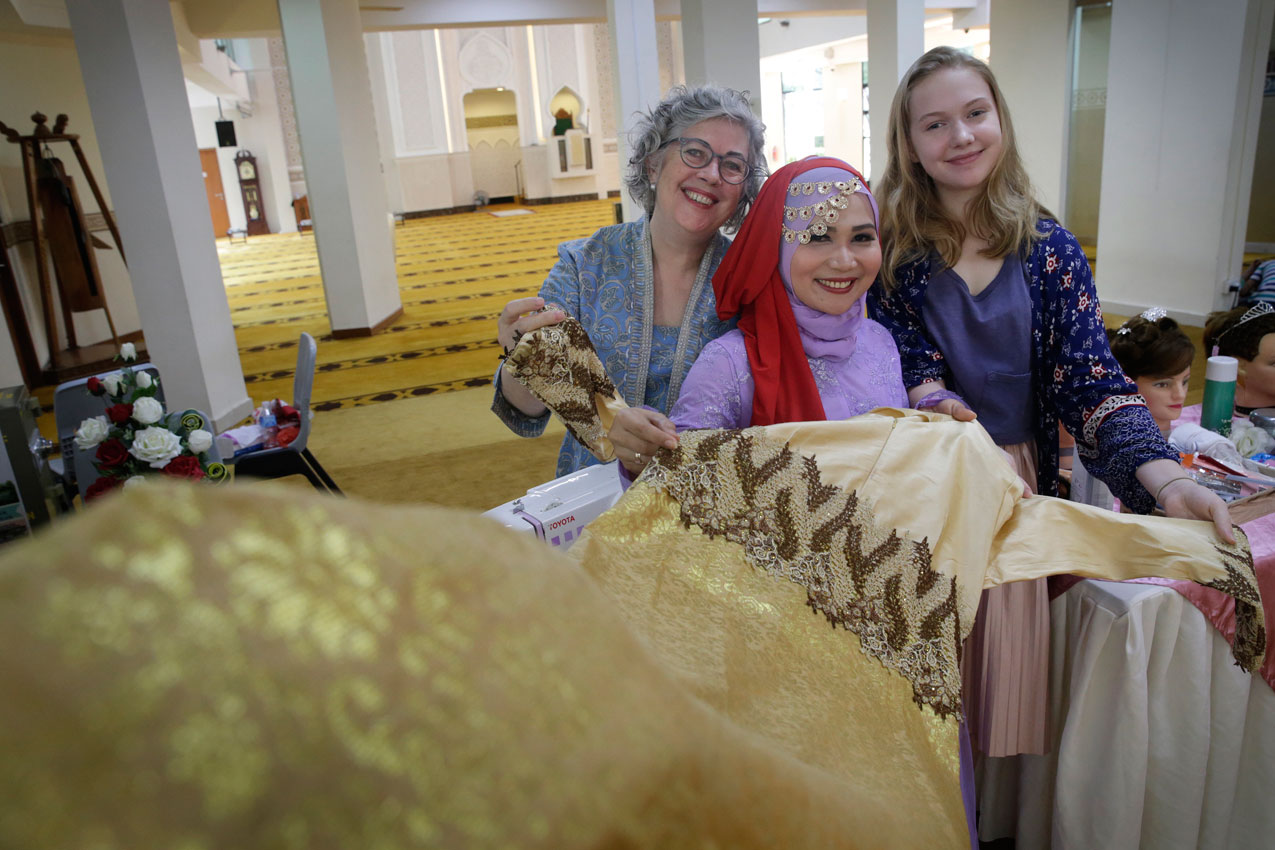 Indonesian maid Asih yesterday graduated from a six-month sewing course in which she learnt how to make dresses and scarves.
The 34-year-old, who goes by one name, was among 268 students to graduate from the Mujahidah Learning Centre, which celebrated its 10th anniversary since its first graduation year.
"I've wanted to learn this since I was young," said Ms Asih. "But I didn't get the opportunity because I never had the money to do so."
The centre was set up by the Mujahidin Mosque in 2005 to train domestic workers from Indonesia. It has subsequently attracted maids from countries such as Nepal and Sri Lanka.
Starting with just 35 students, it has now trained more than 10,000. It runs five courses: English, sewing, cooking and baking, grooming and hairdressing, and computing. Students attend two-hour classes every Sunday for six months.
Adviser to the centre Sarimah Talip said some workers have since returned home to set up salons and spas in places such as Bali and Batam in Indonesia.
"It makes me shed tears when I hear of such examples," said Madam Sarimah.
"It's good for them to attend such courses because they are working here in Singapore and can contribute postively back to their society."
Feedback from employers has also been positive. The English classes, for instance, have helped maids to better communicate with their employers.
In Ms Asih's case, it was her employer, Professor Jane M. Jacobs, an urban studies professor at Yale- NUS College, who paid for her course and encouraged her to learn new skills. Ms Asih started working for the family last year.
Attending the classes also gives her the opportunity to socialise.
"I thought she could be a bit isolated because she's the only Bahasa-speaking helper in our neighbourhood," said Prof Jacobs. "This gave her the opportunity to be connected to the community."
The centre also launched a commemorative magazine yesterday to showcase the centre's progress.
The book features accounts from foreign maids who have attended the course.

This article was first published on July 18, 2016.
Get a copy of The Straits Times or go to straitstimes.com for more stories.