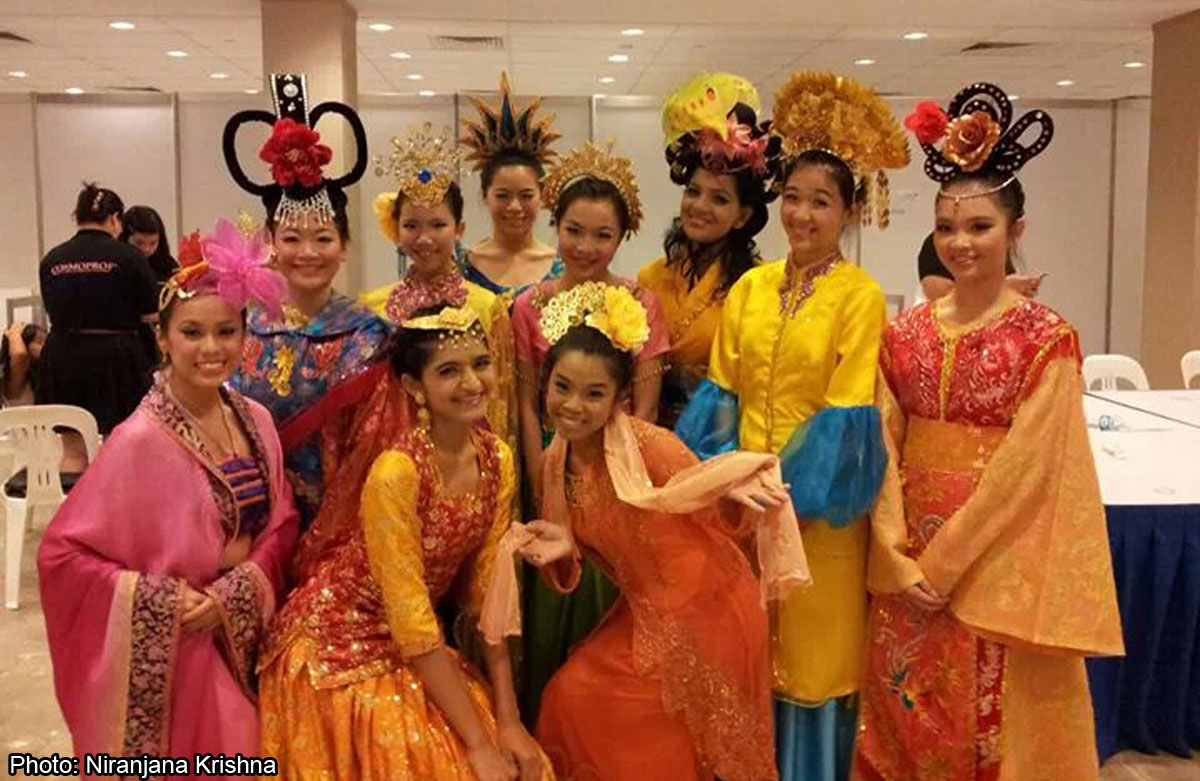 "The market is all about Mandarin nowadays," says Mr Sukhdew Singh, whose eight-year-old daughter and five- year-old son are learning Chinese in school and kindergarten.
"When you look at job listings, many of them ask for Mandarin-speaking applicants. I decided to let them take up Chinese, because it will help them move further in their career in future," he added.
His daughter, Krisnathajit Kaur, a student of Canossa Convent Primary School, is coping well with some coaching from her tuition teacher, and scores well in her Chinese exams.
In Singapore, it is compulsory for every student to take up a Mother Tongue language. The languages recognised by the Ministry of Education (MOE) and offered in local schools are Chinese, Malay and Tamil.
A non-Tamil Indian may choose to take Tamil or Bengali, Gujarati, Hindi, Punjabi or Urdu for the PSLE. These are often offered at separate schools in centralised locations most of the time. These schools are dedicated to the teaching of these languages.
Freelance writer Malavika Nataraj, who has opted for Chinese as a second language for both her daughters aged six and four, said knowing Chinese will be highly useful when they complete their education and begin to look for work.
She said: "I believe that Chinese will have more relevance on the global stage than an Indian language and will be more useful later, when they decide to work. I also see us living outside of India and so feel it's more important to learn an Asian language that will be useful for work."
She added that her elder daughter who is going to start Primary 1 next year at a local school also likes the language, and shows an aptitude for it.
Like Mr Singh, Ms Nataraj has also hired a tutor to help her daughter with her schoolwork.
Senior engineer Krishnakumar M. and his wife Dr Chitra, who moved to Singapore from India and are not Tamil, decided to enrol their daughter Niranjana Krishna for Hindi and Chinese lessons instead of Tamil.
Said Dr Chitra, president of the cultural society Soorya (Singapore), which promotes classical fine arts: "For us Indians, the choice is between Tamil and NTIL (Non-Tamil Indian Language). So, being non-Tamil we decided on Hindi as we had learned Hindi in school and we thought we could help her.
"But we found that Niranjana seemed to enjoy learning Chinese and was doing well in the language in pre-school so we continued her Chinese lessons in primary school."
Niranjana studied Chinese in school till Primary 5, since her Hindi classes were held only on weekends at the Hindi school. In Primary 6, her school started teaching Hindi during mother tongue periods, so she started attending the Hindi lessons and stopped her Chinese lessons. But she took Chinese again as a third language in secondary school through the Chinese Special Programme (CSP).
Wise decision
Niranjana was first in the Chinese language for three consecutive years in her secondary school.
So what does she feel about her parents' decision?
The 18-year-old Raffles Institution Junior College student said: "I feel it was a wise decision as I enjoyed learning it and I was able to bond with Chinese classmates more easily. It has helped me understand and connect with some of the elderly and young children I have interacted with, who were unable to communicate in English, especially when I was doing community service. I hope it helps me in my career in the future."
Even though her parents were unable to help her with her homework or during tests, Niranjana coped well with a Chinese home tutor.
She said: "I didn't really face many difficulties, and if I had any, they were solved with the help of my tuition teacher and teacher in school. My parents tried to help in whatever way they could - helping to test spelling and encouraging me to speak up, for instance."
Another student who feels her parents made the right choice with Chinese is Saraniyah Saravanan, currently doing her diploma in Film, Sound and Video at Ngee Ann Polytechnic. Her sister and brother also studied Chinese in school.
She said: "First, I was exposed to a whole new environment learning a language that's not my mother tongue. Second, I wouldn't have got to know most of the people I know now if it weren't for the fact that I took up Chinese. Third, I was able to stand up for myself when people made fun of me in Chinese during my primary and secondary school years. Lastly, it made people curious about why I took up Chinese and, just like that, I gained a multicultural circle of friends."
Economically beneficial
Saraniyah's mother, special needs educator Yogeswary Muthiah, said she and her husband felt it was economically more beneficial for their children to learn the language as there is a higher demand in Singapore companies for a prospective employee who is well versed in Chinese, than in any other language besides English.
They were also not worried that their children would lose out in learning their Tamil mother tongue.
Ms Muthiah said: "We wanted a promising future for our children. It was a rational and practical decision and we had nothing against our own mother tongue. We felt that with enough exposure our children can catch up with their language of origin via interaction with external family members."
While some parents make the choice for their children believing it will be beneficial in future, there are also others who allow their children to make the decision.
Dhwani Desai, 22, who recently graduated from the National University of Singapore, and her brother Varun are two students who decided to try learning the language out of their own interest.
Said Dhwani: "In Secondary 1, I was offered the option to study Chinese, Malay or French as a third language. I think it was my parents who first suggested that since we live in Singapore and Mandarin is a widely-spoken language, it would be useful to take it up as a third language. And I thought, 'Why not? Let's give it a go.'
"That's how I first began studying Chinese through the CSP offered by MOE to encourage non-Chinese students to learn Chinese."
Her brother decided to follow in her footsteps and try learning the language as well. Eighteen-year-old Varun, who is a student at Victoria Junior College, said: "Given that my sister had taken up Chinese, I decided to follow her footsteps and independently decided to take up Chinese after receiving my PSLE results. I felt a strong affinity to the language as I spent my childhood in Singapore. In fact, by Primary 6, I could already communicate with my Chinese peers in broken Mandarin sentences."
His classes were held every Tuesday and Thursday at Changkat Changi Secondary School, which was just a stone's throw away from his home.
The siblings agreed that it was a wise decision to study Chinese.
"It really allowed me to learn more about the Chinese culture, exposing me to a great deal of customs and traditions. The process of learning Chinese itself was enjoyable, providing me with the opportunity to make new friends and communicate more effectively with my peers," said Varun.
Dhwani said: "Looking back, it was one of the best decisions of my life to take Chinese as a third language especially since I pursued it seriously over the years. For starters, living in Singapore, it allows you to break the ice with locals when they see you making an attempt to learn their language and customs. Now that I am graduating from university, I am realising the benefits of it in the workplace. It gives you a tremendous advantage to be able to speak the language of the two largest emerging economies - India and China."
Dhwani decided to go to Beijing after taking her A-level exams, to pursue an intensive Chinese-language course at the Beijing Language and Cultural University (BLCU) for three months. The course included listening, speaking and writing classes.
She said: "Living in Beijing was a perfect environment that forced me to use the language to communicate with locals and get around the city. It was fascinating to meet young people from around the world who had come for the same purpose as I had - to study and improve their Chinese."
They also said that although neither of their parents who moved to Singapore from India knew Chinese, they were very supportive of their endeavour to learn the language.
"My parents recognised the value of learning the language way earlier than I did. Not only did they first suggest that I take up the language, they also provided all the support for me to learn it proficiently. It was also my father's idea to pursue the intermediate course in Beijing. Even today, they continue to encourage me to use the language at local coffee shops, with taxi drivers or whenever possible," said Dhwani.
The 'perks'
The two also use the language to have conversations about things they do not want their parents to know about. "Sometimes when my brother and I don't want our parents to understand what we're talking about, we speak in Mandarin, and it works! Of course, not to mention the ability to eavesdrop on conversations of random strangers in buses without them even realising," exclaimed Dhwani.
Singapore-born Elizabeth Susan Joseph, 21, who has studied Chinese since kindergarten has used her knowledge of the language to fight bullying and discrimination at the shop where she used to work part-time as a retail assistant.
Sharing her experience, she said: "There was the supervisor and two assistants who were Chinese, another non-Chinese assistant and myself. At that time, none of them knew I could speak Mandarin. The supervisor was complaining in Mandarin to one of the other Chinese assistants about 'newbies' like myself. She did not complain about me in particular, but from the way she was speaking, I could tell she was probably going to complain about me soon. Such 'only Mandarin conversations among Chinese' happened quite frequently, and I noticed my other non-Chinese colleague feeling left out.
"During one instance when the supervisor was complaining about 'newbies', I walked up to the other Chinese colleague and started chatting to her in Mandarin, loud enough for my other colleagues to hear. My supervisor stopped her complaints and, naturally, was surprised that I could speak Chinese. From that day onwards, all our conversations were in English. Even when conversations do sometimes slip into Mandarin, I translate it immediately for non-Chinese colleagues."
Knowing the Chinese language has also earned Elizabeth some special friends. "I always converse with shopkeepers in Mandarin and they treat me very affectionately as a result," she said. And being fluent in Mandarin has benefited her: "Very frankly, it has removed one 'layer of prejudice' that I would have otherwise faced in our society where Chinese, both Singaporean and foreign, are the majority.
Retail assistants, office staff, service staff react with a completely different attitude when I engage them in Mandarin." While the benefits are plenty, Chinese is not an easy language to master. Parents are unable to help with schoolwork.
Elizabeth even had to overcome an unhelpful teacher. She said: "I had one teacher in primary school who would give instructions in Mandarin, which I struggled to understand. He also scolded classmates who would help translate such instructions into English so that I could understand them! Thankfully, I brought up the matter to my form teacher, who then resolved the matter.
"Other than learning the language, my parents faced difficulties with regard to seeking permission for me to opt for Chinese instead of Tamil in primary school. Even after seeking permission from MOE, my parents faced discouragement from the school authorities, and were given comments like: 'All our students get As for PSLE Chinese. Since she doesn't come from a Chinese-speaking family, she might not get an A and, hence, bring down the standard of the school'."
Such potential challenges have not deterred parents like Ms Nataraj.
She said: "Each parent has to decide the right second language for their own children, depending on what they believe the second language does. Whether it is to keep them connected with their roots, or if it's an investment for the future, it is an individual decision, also taking note of the child's ability."
Satisfied student Niranjana said the results are worth it: "It will be hard, but you should keep on trying as learning a language is an amazing experience where you not only learn a language, but also so much about the culture and the people."

Get a copy of tabla! for more stories.