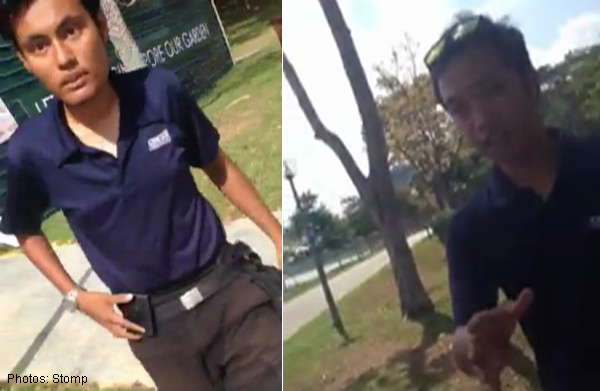 SINGAPORE - An agitated Cisco officer grabbed the camera of a teenager after accusing him of fishing illegally at Bedok Reservoir last week.
Several Stompers had alerted Stomp to videos taken and posted online by 16-year-old Rayner Ong, who was confronted by the Cisco officer.
In one of the videos, the officer is heard asking Rayner if he was a one-year-old to claim that he was not fishing despite having a rod.
Rayner retorted: "One-year-olds don't fish; come on, that's stupid. You have to think before you talk, like seriously."
This prompted profanities from the officer. The Straits Times has identified the Protection Officer (PO) as Md Azhar, 23, who has been with the commercial security firm since May last year.
In response to the incident at Bedok, Certis Cisco said its officers could have been "more professional and diplomatic".
They had been contracted by the Public Utilities Board to patrol the reservoir for people who "engage in inappropriate use of the premise including fishing (in unauthorised areas) and endangering their lives".
Certis Cisco said the boy had been "warned on several occasions not to fish in non-designated fishing areas".
It told The Straits Times that on the day of the incident, he was seen fishing at the floating deck, about 10 to 15 metres away from the area where fishing is allowed.
"He did not cooperate when our officers asked him to leave the premise," said a spokesman.
Subsequently, when Rayner was packing up his belongings, PO Azhar heard him shout "this is what Cisco does" and asked him what he had meant. Rayner then began filming the incident.
The PO's colleague, Senior Security Officer Azhar, 27, joined him to render assistance, but did not manage to calm the situation.
Both officers later apologised to Rayner on the same day for their "wrong choice of words", said Certis Cisco.
The PO, who has no prior disciplinary record, has been counselled and transferred to another post.
The video of the incident has garnered a host of comments from netizens since it was posted online on Tuesday.
Stomp contributor Alex, one of the Stompers who alerted Stomp to the video, said: "I don't think the behaviour of the Certis Cisco officer is right. Even though a person is in the wrong, I don't think this is the way to deal with him."
Stomp contributor Alvin also held a similar opinion as Alex and said: "Aren't Certis Cisco officers supposed to protect us and keep us safe instead of making our lives more miserable?
"I noticed that they are picking on young teenager who does not have the ability to fight back.
"Is this how they claim to keep out neighbourhood safe?"
There were others, however, like Stomp contributor maikplahor, who commented that the teenager had intentionally provoked the officer.
He said: "This youth had the cheek to upload a video onto Facebook to incite trouble and criticism for two Certis Cisco offices after he was unhappy with being caught fishing illegally.
"From the video, we learn that this is not the first time he has been warned.
"The 16-year-old youth insults the officers and tries to put on his best front language-wise, and used phrases like 'rhetorical question' which only makes it painful to watch.
"What is happening to our youths today? Not admitting to their mistakes and refusing to listen to instructions of officers who are only trying to do their job."

Visit STOMP for more stories.