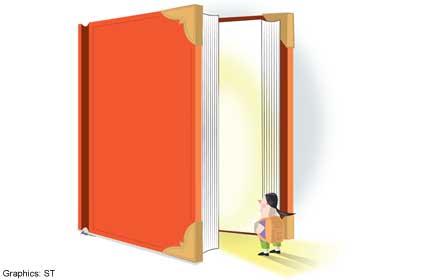 Many parents have welcomed the latest tweaks to education policy announced by Prime Minister Lee Hsien Loong on Sunday, saying they will lift the lid a little off the pressure-cooker Primary School Leaving Examination and Primary 1 registration exercise.
As with all else in education, the latest slew of changes will take years to take effect. A long view of the policy changes announced this week suggests that the changes with the most significant impact will be those that improve student diversity.
Bringing back diversity TWO changes in particular will do this. The first is the decision to make all primary schools keep at least 40 places for children with no family ties to the school, such as a sibling or parent who is an alumnus.
The second is the move to have top secondary schools take in more students from different backgrounds through the Direct School Admissions scheme. This allows pupils to secure secondary school places early based on talents such as sporting or artistic skills. The criteria will be broadened to admit good students with other "special qualities" such as resilience, drive, character and leadership.
Top schools are to seek out such pupils, and primary schools can nominate candidates.
These changes will improve student diversity in the top primary and secondary schools, to help social mixing among students during their impressionable years.
These will hopefully go some way to halt the trend where popular primary schools and top secondary schools are becoming "closed circles" for a select few.
Even PM Lee acknowledged that this was happening.
In this year's Primary 1 registration exercise for example, the popular Henry Park Primary along Holland Road had only nine out of 300 places remaining for those without connections.
"If we do nothing, one day, these schools may have no places at all for those with no connections.
We don't want our primary schools to be closed institutions, and you can only get in if your parents had been there," Mr Lee said.
Mr Lee also expressed concern that top secondary schools were becoming "closed circles" for a select crowd. They "must make sure that students from low-income backgrounds are not put off from applying to enter, for fear that they can't afford it, or that they can't fit in", he noted when announcing the Education Ministry's plans, including bursaries, to encourage more students from poorer socio-economic backgrounds to aim for a place in the most competitive schools.
Many parents and analysts believe that mixing among students across races and different backgrounds has suffered with the Education Ministry providing more specialised pathways such as the Integrated Programme and school for Normal (Technical) stream students.
These schools cater to students at the top and lower academic levels, respectively.
Schools have done their best to introduce "twinning" and other programmes so students can mix with those from other schools in sports, co-curricular activities and special events such as sports day and Racial Harmony Day.
But people such as MP Denise Phua are not convinced this is effective.
One annual gathering for a sports meet or on Racial Harmony Day can in no way replace the daily interactions in a typical secondary school where all students are under one roof and participate in sports, music and other school events, she argued in Parliament.
Just why is this lack of diversity a bad thing? The backdrop is that Singapore is grappling with growing income inequality and slowing social mobility. Sociologists point out that a lack of diversity in schools can widen inequality.
National University of Singapore sociologist Vincent Chua, who studies social networks, told The Straits Times last year that a lack of diversity in schools has a multiplier effect.
"The advantaged mingle among themselves, share resources, hoard opportunities and look out for one another. In elite schools, peers form exclusive circles among themselves. These networks may yield benefits beyond graduation - in the job market or elsewhere," he said.
As Mr Soon Sze Meng, a board member of the non-profit Halogen Foundation, points out, this will breed resentment and envy from those left out and erode social cohesion.
Data needed
Now that PM Lee has put the national spotlight on the lack of diversity in top schools, it is time for MOE and other relevant agencies to take it seriously.
Start with having good data. As Mr Soon argues, it is only with accurate and relevant data that we can have meaningful discussions about Singapore's social mobility, formulate policies and assess their impact.
The Education Ministry has never released figures on the socio- economic background of pupils in the popular Bukit Timah belt of primary schools or students in the top secondary schools.
It was former prime minister Lee Kuan Yew who, with characteristic candour, revealed in 2011 statistics that showed a clear gulf in the educational background of parents of students in top secondary schools versus those from neighbourhood ones.
Half or more of the students from brand-name schools had fathers who were university graduates.
In neighbourhood schools, 10 per cent had graduate fathers.
Last year, Education Minister Heng Swee Keat said in Parliament that the proportion of Housing Board dwellers among pupils in six popular primary schools - Raffles Girls', Methodist Girls', Henry Park, Anglo-Chinese School (Primary), Nanyang and Tao Nan - was four in 10. The national average is eight in 10.
Put together, the figures suggest that children who go to top primary schools are twice as likely to live in private property as neighbourhood school pupils; while at secondary school, students from top schools are five times as likely to have graduate fathers.
A Straits Times poll last year of 100 students from five premier schools disclosed more alarming trends. The schools were Raffles Girls', Raffles Institution, Nanyang Girls High, Hwa Chong Institution and Anglo-Chinese School (Independent).
The majority of those polled had no close friends from low-income homes and less academic education streams such as the Normal stream. Four in 10 had no close friends of a different race.
One student polled went to the neighbourhood Admiralty Primary school where he had friends of different races. His water polo playing skills got him a place in Anglo-Chinese School (Independent) through the Direct School Admission programme.
There, his 20 closest friends are all Chinese. Most live in private homes in the Bukit Timah area.
None were from the Normal stream.
So far, these are anecdotal, but still disturbing. MOE needs to study the student population in top schools to pick out unhealthy trends: is there a disproportionate number of students by gender, race, parental background or socio- economic status? If so, what needs to change to encourage more diversity?
Schools' responses
At the classroom level, another change will encourage students to mix across abilities. This is the move to allow Normal stream students to take some subjects at the more difficult Express level from Secondary 1. Previously, those strong in certain subjects can take them at Secondary 3.
Students will have a greater chance of interacting with those from other streams, since many classes will have students from both Normal and Express streams.
This prevents the situation that is now prevalent, where a school may have Normal and Express streams, but ne'er the twain shall meet in the classroom.
On their part, top schools can do more to encourage diversity.
Rather than confine their intake to feeder schools, top secondary schools can woo primary school pupils from the HDB heartlands.
They should complement expensive overseas educational tours that they now organise with local programmes that get students involved in social outreach to fellow citizens.
Parents too have to support the move to open the doors of elite schools to a more diverse student population.
Some will be unhappy that alumni connections may no longer guarantee places for their children.
But they must set aside personal grievances to understand the need to keep the doors of top educational institutions open to more groups.
In the end, the true measure of an educational policy is whether it will nurture today's young to become good citizens of the future.
Giving students in top schools a more diverse learning environment where they learn cheek by jowl with those of different abilities will certainly score in that respect.

Get a copy of The Straits Times or go to straitstimes.com for more stories.