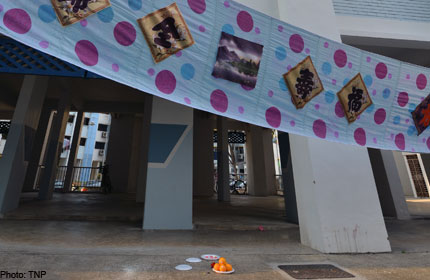 A 58-year-old woman fell to her death while trying to hang freshly washed curtains at her seventh-floor Marsiling home.
The accident happened between 11am and noon last Sunday.
Ms Lim Soh Hua, who was believed to be 1.75m tall, was standing on a chair when she lost her balance and fell down the block into a drain, reported Chinese daily Lianhe Wanbao.
Ms Lim, who has two adult children who no longer live with her, was a staff midwife at KK Women's and Children's Hospital (KKH).
The police said paramedics pronounced her dead at the foot of Block 138, Marsiling Road.
When she fell, her husband was reportedly sleeping and had no inkling of the tragedy.
Neighbours who recognised Ms Lim called her son, who then contacted his father.
By the time he rushed down, the police had covered his wife's body, reported Lianhe Wanbao.
A neighbour, who wanted to be known as Madam Tan, told The New Paper on Monday that the couple were polite and would exchange pleasantries every time they crossed paths.
"I've been living here about 12 to 13 years. They moved in about a year after me," the housewife, who is in her 50s, said.
Retirement plans
She added that the couple did not have a domestic helper, and they had recently bought a home in Malaysia, where they hoped to retire.
When The New Paper visited Ms Lim's wake last evening, a man wearing white, with a brown sackcloth tagged to his sleeve, declined to be interviewed.
Nurses in uniform streamed into the void deck to pay their last respects. Last year, Ms Lim received a long service medal for 40 years of service.
Ms Tan Soh Chin, Director of Nursing at KKH, said: "She was a dedicated and kind healthcare professional. We are especially saddened as she had just received her long service award from KKH. Over her long career with KKH, she helped to deliver thousands of Singaporean babies.
"We have lost a wonderful colleague and will miss her dearly. We share her family's grief."
Police are investigating the incident, which has been classified as a case of unnatural death.

Get The New Paper for more stories.