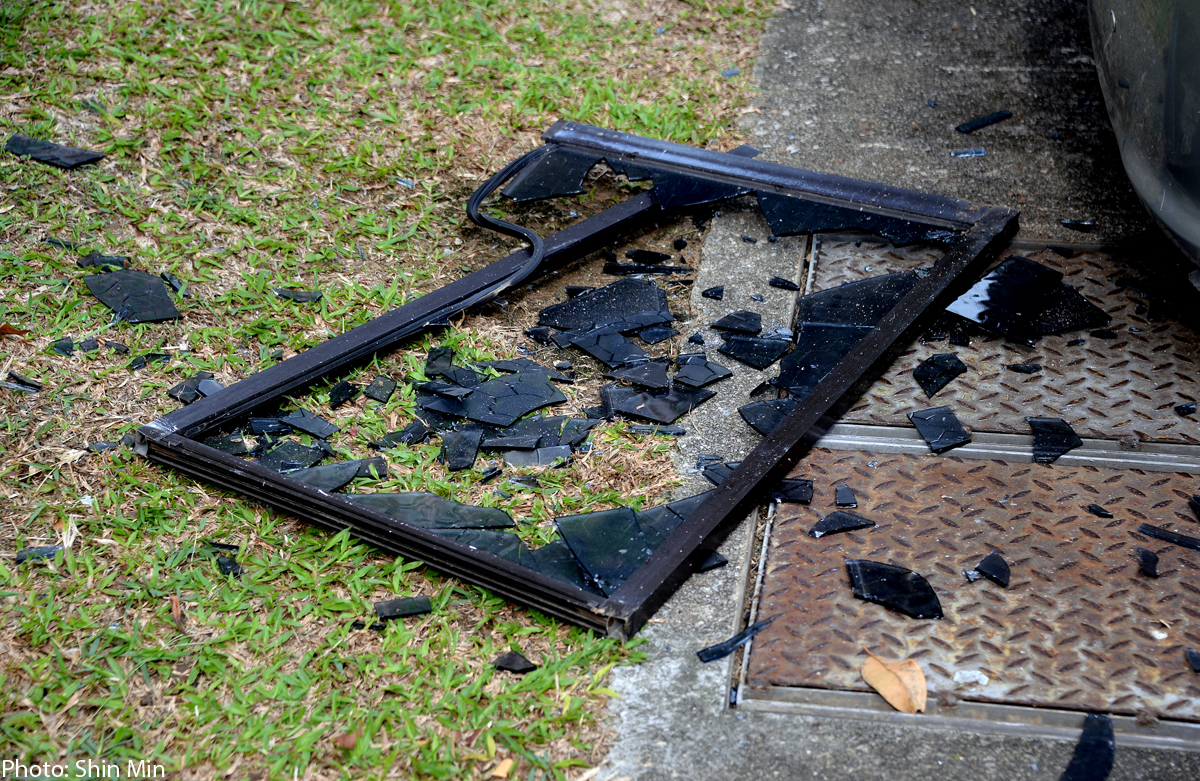 SINGAPORE - She turned on the gas stove to boil some water and ended up injured in a gas explosion yesterday morning.
The impact of the blast was so great that it shattered the window panes of the fourth-storey flat at Block 218, Ang Mo Kio Avenue 1.
A window frame was dislodged and fell to the ground, damaging a car parked directly below the flat.
A Singapore Civil Defence Force (SCDF) spokesman said it was alerted to the fire at 7.30am.
The spokesman said that the fire, which involved a gas stove, burned itself out before the SCDF officers arrived.
"SCDF's preliminary investigation found that the fire was due to a leakage in the gas supply hose which connects to the stove," the spokesman said.
A woman in her 30s was taken to the Singapore General Hospital conscious.
The New Paper understands that she suffered burn injuries on her stomach and legs, and also had cuts.
The woman's husband, a 30-year-old technical consultant, said he was in his room when he heard the blast, reported Chinese newspaper Shin Min Daily News.
When he rushed to the kitchen, his wife was already injured. Still in shock and unfamiliar with the emergency numbers, he looked out his window and shouted for help from onlookers who had gathered downstairs.
Went online
When no one budged, he resorted to the Internet to look for the number to call for an ambulance.
He said that a Caucasian man passed him an ice pack while they waited for the ambulance to come.
According to Shin Min, the couple were originally supposed to catch an evening flight to India yesterday.
They had planned a three-week holiday to visit their relatives and to celebrate Deepavali, but had to cancel it after the accident.
What you can do to prevent a gas explosion
The Singapore Civil Defence Force shared some tips on how to handle liquefied petroleum gas (LPG) safely.
- Buy your LPG from authorised dealers.
- Keep gas cylinders upright and at least a metre away from open flames, heat sources and electrical outlets.
- Ensure that there are no naked flames nearby when changing the gas cylinder.
- Store no more than one spare cylinder at any time.
- Keep the kitchen well-ventilated while cooking.
- Never leave cooking unattended or place flammable items near the flame.
- Turn off the gas supply at the regulator before leaving for overseas trips.
- Check all gas connections regularly for leakage. If bubbles appear after detergent or soap solution is applied on the gas hose, there is a leakage.
- Replace gas hoses every two years, and gas regulators every five years.
If you smell a gas leak, you should:
- Put out all flames and turn off the stove, gas valves and regulators.
- Open all windows and doors to ventilate the house.
- Call your authorised dealer to report the gas leakage immediately.

This article was first published on October 22, 2014.
Get The New Paper for more stories.