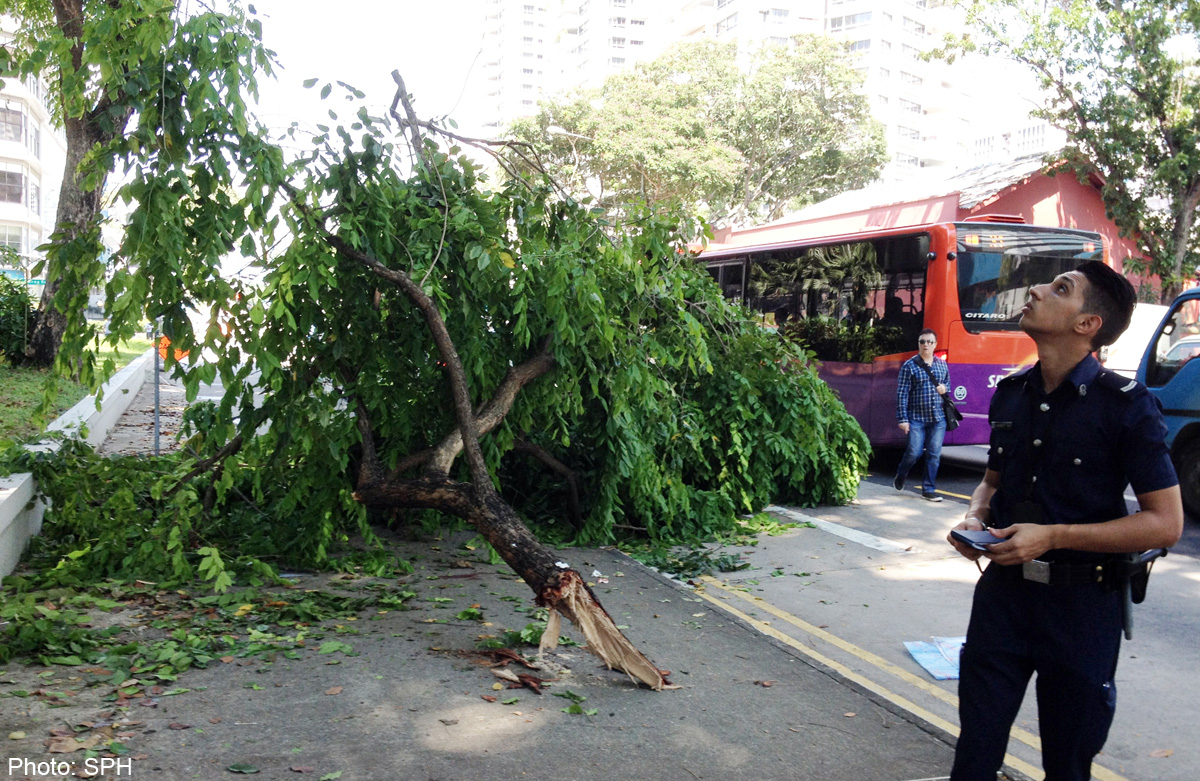 The security guard saw the tree branch fall and could hear it crashing to the ground.
While he hoped no one was hurt, what he saw next shocked him - a woman lying under the branch, a large wound on the right side of her head.
Mr Avtar Singh was directing traffic outside the Hyflux Innovation Centre (HIC) at Bendemeer Road when the accident occurred at about 9.30am yesterday.
He was about 20m away from the tree when he heard the sound of leaves rustling and looked up just in time to see the branch crash down.
The branch, which was about 5m long, fell on Madam Cao Yanyan, an employee of IT company NEC, which is at the HIC building.
She was believed to have been walking in the direction of Serangoon Road.
Madam Cao was found lying on the pavement with a large wound on her head. The impact appeared to have left her dazed, and she was staring into space, said Mr Singh.
"The right side of her face was swollen and there was blood all over it,"he added.
By then, a few motorists in the vicinity had pulled over and got out to help her.
The security guard added that he did not understand what they were saying as they were speaking in Mandarin.
UNLUCKY
He said: "I feel very bad for her. It was just so unlucky that she was at the wrong place at the wrong time."
A Singapore Civil Defence Force (SCDF) spokesman said Madam Cao was conscious when an ambulance rushed her to Tan Tock Seng Hospital, where she has been warded in the Neuro Intensive Care Unit.
When The New Paper went there yesterday afternoon, she was sleeping. Her husband asked that she not be disturbed.
He told TNP in Mandarin that the branch had fallen on his wife's head, and there is now "internal haemorrhaging".
Madam Cao's husband declined to be named.
The tree is within the industrial area managed by JTC Corporation.
A JTC Corporation spokesman said the Angsana tree from which the branch fell, is about 25m tall and 20 years old.
It was last pruned in July 2013. An inspection in January this year had found the tree to be healthy.
She added that investigations into what caused the branch to fall are ongoing.
Decay is common cause
Regular visual inspections, even by trained arborists are not foolproof, said an arborist with over a decade of experience.
"It might be difficult to assess from the ground if branches of a tree are decaying, even by an experienced arborist, as not all checks are done at the branch level," said the tree expert, who is in her 40s. She declined to be named.
She said that the most common reason for falling tree branches is decay, which could be caused by water-logging, insect infestation or tree disease.
However, inspections are still useful because there might be tell-tale signs, such as falling leaves or crack lines, that might indicate a weak branch.
Mr Goh Mia Chun, 36, a consulting arborist with CSK Landscape Services with more than 10 years' experience agreed.
He added that poor species selection could be a cause for tree failure.
"The angsana tree is one of the species that has a high rate of branch failure," he said, although he maintained that the angsana is still one of the better species to be planted by the roadside.
This is because of its sturdiness, ease of maintenance and generous shade it provides.
Mr Goh was engaged by JTC Corporation in 2011 to assess the impact of the construction of the Hyflux building on the surrounding trees. He remembered the angsana trees being in good condition then.

This article was first published on May 23, 2014.
Get The New Paper for more stories.