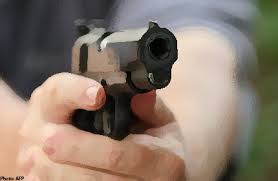 KUANTAN - A woman suffered bruises after her car was shot at by a man in a carjacking attempt near a restaurant in Jalan Haji Ahmad here.
The shot was believed to have shattered one of the car windows and some glass fragments cut the right eye of Ruzelawati Basri, 35.
Ruzelawati was driving a Toyota Alphard alone from her Taman Mirama house and had stopped for fuel at a petrol kiosk, said Kuantan OCPD Asst Comm Mohd Jasmani Yusoff.
"After refuelling, she stopped in front of a restaurant to make a telephone call.
"She was shocked when a man, holding a pistol, suddenly knocked on the car and ordered her to open the door.
"The man asked her to get out of her MPV. She quickly sped off and heard glass shattering soon after," he told reporters yesterday.
ACP Mohd Jasmani said Ruzelawati sought help after driving about 200m away.
"Police found that a shot hit the left front door of the MPV.
"We believe it was an attempted carjacking," said ACP Mohd Jasmani.
The case is being investigated under Section 3 of the Firearms (Increased Penalties) Act.