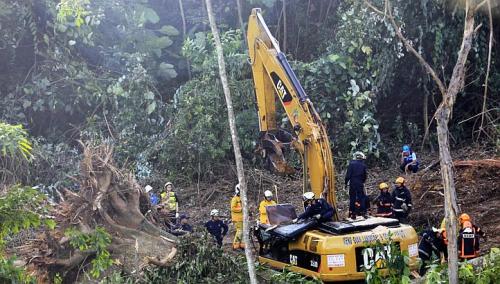 SINGAPORE - An Indian national was crushed to death by a massive tree he was trying to clear, when it came down on top of his excavator at the site of the future Caldecott MRT interchange on Sunday afternoon.
The body of the 36-year-old worker, known only as Gunasegaran, could be extricated from the wreckage only two hours later.
The tree, located in a forested area along Thomson Road near the existing Caldecott MRT station, was 10m tall and 1.5m thick. Workers on the site said the victim was working with three others at the time to make the tree fall, by loosening the soil around it.
But it crashed down in his direction, and while his colleagues on the ground fled in time, Mr Gunasegaran was trapped inside the excavator, which was in a shallow pit.
A spokesman for the Singapore Civil Defence Force (SCDF) said officers had to level the ground and use another excavator and cutting equipment to cut off parts of the tree to rescue him. He suffered spinal and neck injuries.
When The Straits Times arrived at the scene on Sunday, workers at the site were seen weeping and grieving. A close friend known only as Raja, who arrived at the scene after hearing what happened, was in shock.
"He could have lost a hand or a leg, why his life?" he lamented. The 34-year-old, who came to Singapore about the same time as Mr Gunasegaran 15 years ago, described his friend as "peace-loving" and someone who did not keep grudges.
Mr Gunasegaran leaves his wife, and two daughters aged six and two, who live in Sirkali in Tamil Nadu, India.
The Ministry of Manpower has ordered stoppage of work at the site for investigations.
jalmsab@sph.com.sg

Get a copy of The Straits Times or go to straitstimes.com for more stories.