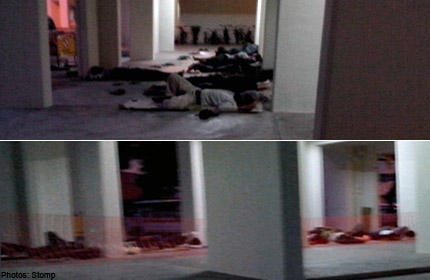 SINGAPORE - A spokesperson for Ang Mo Kio Town Council said that the group of workers, whom a reader of citizen journalism website Stomp saw them sleeping at the void deck of a block in Hougang, had not rested there overnight.
The spokesperson added that workers arrive there as early as 6.45am every morning, but work only starts at 8am. Some workers would rest at the void deck during this period.
He said that the pictures may have been taken in the morning, which might have led to the Stomp reader's view that they may have rested there overnight.
Here is Ang Mo Kio Town Council's response in full:
"Ang Mo Kio Town Council would like to respond to the STOMP article posted by a concerned resident over workers sleeping overnight at the void decks.
"Giftbuild Pte Ltd deals with the current R&R works for Blk 601 to 632 Hougang Ave 4 and 8. On a daily basis, workers arrive onsite in different batches, some as early as 645am.
"With work officially starting at 8am, some workers rest at the void decks before commencing work. By 6pm, all workers are eventually transported back to their dormitories.
"As the photos were taken early in the morning, the resident may have the impression that the workers slept overnight under their void deck.
"Conservancy supervisor, Mr Steven, also confirms that on the day of posting, all workers had left the site by 6pm to return to their dormitories."

Visit STOMP for more stories.