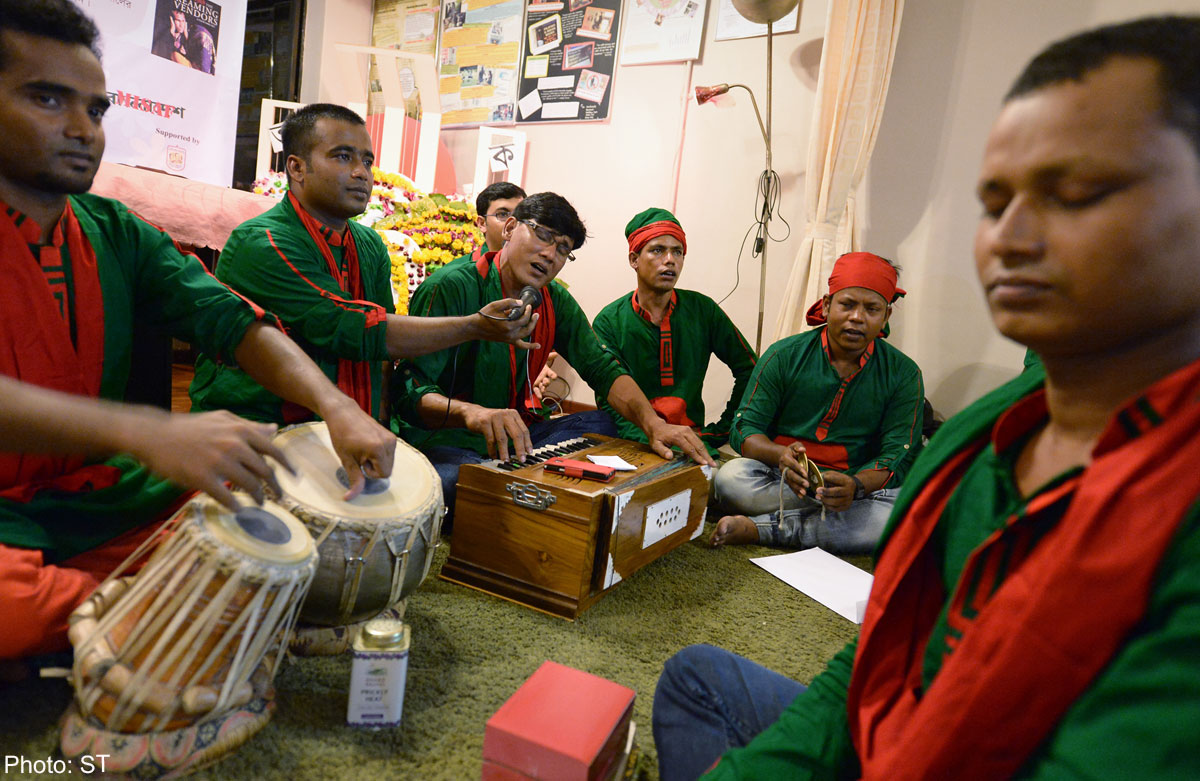 More than 100 Bangladeshis gathered at a drop-in centre for migrant workers on Sunday to commemorate International Mother Language Day.
Though the occasion, marked by Unesco, is observed annually on Feb 21 worldwide, it holds a special meaning for Bangladeshis.
On that day in 1952, university students marched through the streets of Dhaka to demand that Bengali be made a state language, along with Urdu. Many died in the demonstration against the Pakistani government.
To remember the event, local Bengali newspaper Banglar Kantha and the Dibashram drop-in centre on Rowell Road organised a programme yesterday for migrant workers to share songs and poetry they had written about the demonstration.
It began with a minute's silence to pay tribute to those whose lives were lost in the fight for Bengali to be recognised as a national language. Then, migrant workers clad in green and red - the colours of the Bangladesh flag - recited self-penned poems and acted in self-directed skits based on the 1952 tragedy.
One of them was Mr Mohammed Jahangir Alam, 40, who wrote and directed a skit about a reporter asking youngsters if they knew about the significance of International Mother Language Day, before they were enlightened by an elderly man.
"What I want to do is to promote and spread our culture and stories," said the engineer in a construction company, who was taking part in the event for the fourth time. Mr A.K.M. Mohsin, the editor-in-chief of the Banglar Kantha newspaper, said most of the migrant workers who took part in yesterday's programme were part of a cultural forum that met regularly on weekends.
Their written works are also published regularly in the newspaper.
"It is a very important day to them," Mr Mohsin said. "It is about their identity. Some of them still get very emotional talking about it."
leepearl@sph.com.sg
Get a copy of The Straits Times or go to straitstimes.com for more stories.