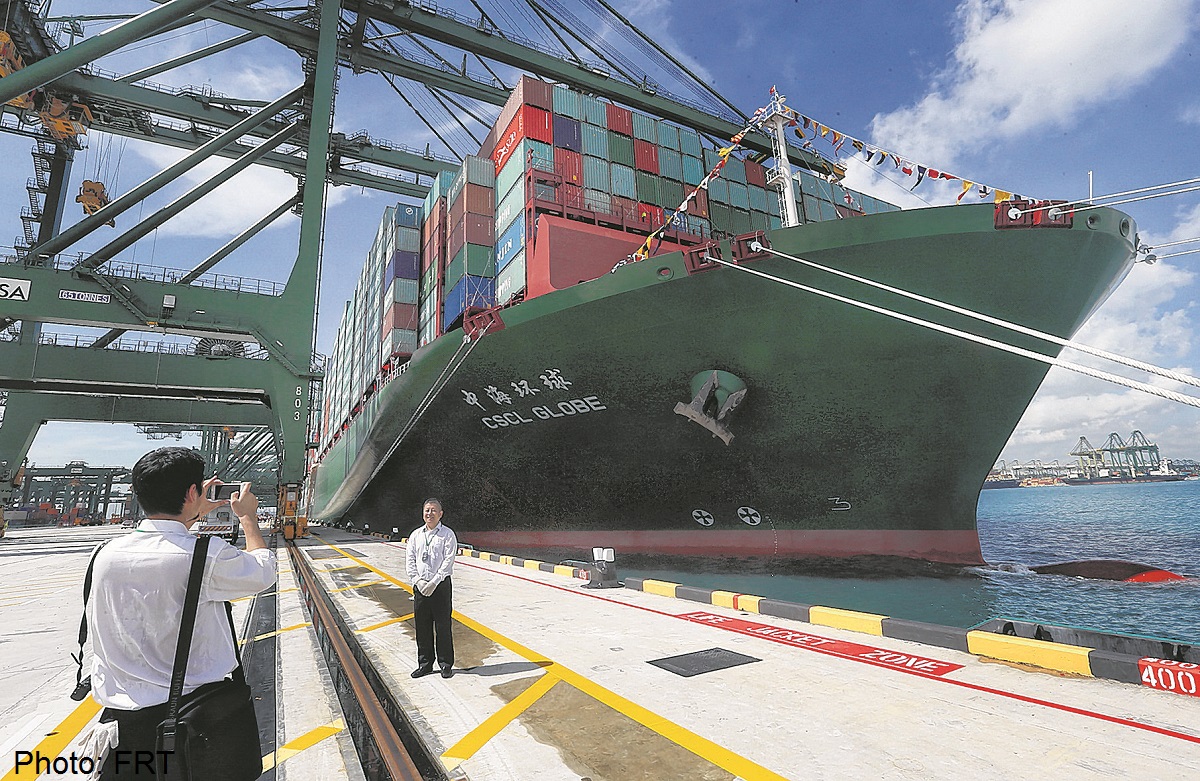 The world's newly crowned largest ship by container volume made her imposing maiden call on Singapore yesterday - dwarfing nearby vessels.
The colossal CSCL Globe, which steamed into a new berth at Pasir Panjang port, is 400m long, almost 60m wide, and weighs in at more than 56,000 tonnes without cargo.
The surface area of the more than US$150 million (S$196 million) titan is so vast it could fit four football fields.
The CSCL Globe has about the same dimensions as the previous holder of the title of the world's largest ship, the Maersk Triple E, which called at Singapore last year.
However, the CSCL Globe eclipses that giant of the seas as it can carry 19,100 standard 20ft containers - or about 1,000 more than a Triple E and enough to hold goods as heavy as 328 fully loaded Airbus 380s.
Only 23 men are needed to crew the vessel, and they use elevators to navigate the decks. The crew have access to gym and sauna facilities.
Deployed by China Shipping Container Lines (CSCL) to serve the Asia-Europe route, the CSCL Globe left Tianjin on Dec 1 on its maiden voyage to Belgium's Zeebrugge before returning to Asia.
It left Singapore at 4pm yesterday and is now headed for Britain.
The vessel, made in South Korea by Hyundai Heavy Industries, is one of five mega vessels that CSCL - a unit of the China Shipping Group - owns and operates, as the company looks to strengthen its competitive edge in the crowded industry.
It is a worthy investment despite the price tag, deputy general manager Sui Jun told The Straits Times.
"Mega vessels are an inevitable trend because they are more fuel and cost efficient. Already the industry is expecting to see vessels carrying 22,000 standard containers in these few years," he said.
"A vessel like CSCL Globe can give us a saving of around US$300 in unit cost - or US$6 million per voyage when fully loaded."
Mr Sui added CSCL is not worried about the shipping industry's overcapacity at a time when the global economic slowdown is pressuring the growth of trade demand.
Maersk forecasts suggest demand will grow only 3 to 5 per cent in the near term. "These forecasts hardly mean anything. The market is as big as it is - what matters to CSCL is that we are strong enough to compete for that pie," Mr Sui said.
"What does that mean? It means we aim to offer the biggest ships, the best services and the most extensive network," he added.
Singapore will play a key part in that agenda, he added. "It is likely that our volume going through Singapore will hit double - or even triple - digit growth in the next two years. Singapore's status as South-east Asia's maritime hub is undebatable."
whwong@sph.com.sg
This article was first published on December 19, 2014. Get a copy of The Straits Times or go to straitstimes.com for more stories.