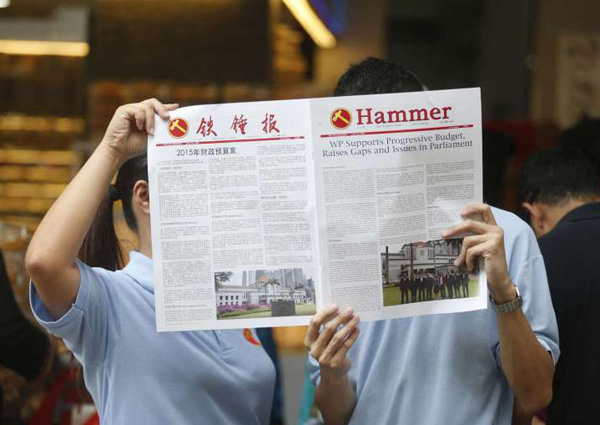 Newcomers are set to make up more than half of the Workers' Party's 28-member slate at the coming polls, with the party likely to introduce as many as 16 new faces.
Party chief Low Thia Khiang had said on Wednesday that the WP was looking to field younger candidates who "will be able to connect more and represent the views and aspirations of the younger generation".
He added that though the party has not yet officially unveiled any new faces, these candidates were already walking the ground and greeting residents.
As with previous elections, the WP has thus far released few details about its slate of candidates. However, through party sources and observations at WP walkabouts, The Straits Times has been able to put together its likely line-up.
The party is set to field 28 candidates in 10 constituencies, its largest slate since 1988.
The new faces, aged between 27 and 48, are drawn largely from the private sector and include lawyers and business owners.
For instance, four new faces - lawyer Terence Tan, 44; chocolate factory owner Firuz Khan, 48; corporate lawyer He Ting Ru, 32; and wealth manager Dylan Ng, 40 - are all tipped to be part of the WP's Marine Parade GRC team that will likely be led by Non-Constituency MP Yee Jenn Jong.
Over in East Coast GRC, NCMP Gerald Giam, 37, who was in WP's East Coast GRC team in the 2011 General Election, has been walking the ground there with National University of Singapore associate professor and sociologist Daniel Goh, 42; law firm partner Dennis Tan, 44; research and consultancy firm chief executive and former civil servant Leon Perera, 44; and librarian Mohamed Fairoz Shariff, 36.
Dr Goh and Mr Tan are not exactly fresh faces, and have spoken at WP's rally during the 2013 Punggol East by-election. One of them is likely to be fielded in neighbouring Fengshan single-member constituency to be carved out of East Coast for the coming election.
Another former candidate, polytechnic lecturer L. Somasundaram, 52, who ran in Moulmein-Kallang GRC in 2011, will likely be leading a team in Jalan Besar GRC, which incorporates most of Moulmein-Kallang after the electoral boundary changes kick in. New faces seen with him include businessman Adrian Sim, in his 40s; Mr Luke Koh, 40, chief executive of a holding company; and engineer Redzwan Hafidz Abdul Razak, 30, who also spoke at the Punggol East by-election rally.
In Nee Soon GRC, the party could field a team made up entirely of first-timers. Potential candidates spotted there include Mr Bernard Chen, 29, a project executive at a funeral service company; sales consultant Cheryl Denise Loh, 32; trainee lawyer Shaneet Rai, 27; Mr Kenneth Foo, in his 30s and manager at a voluntary welfare organisation; and property agent Ron Tan, 30.
For MacPherson and Sengkang West SMCs, the party will likely field its two other former candidates. Last Friday, Ms Frieda Chan, 39, a medical social worker, was helping the party sell its newsletter at a market and hawker centre in MacPherson SMC.
Meanwhile, software engineer Koh Choong Yong, 42, is set to return for a rematch with PAP MP Lam Pin Min in the Sengkang West SMC, where he garnered 41.9 per cent of the vote in 2011.
As for the three constituencies it holds, all signs currently point to the seven incumbent MPs staying to defend their wards, though observers have not ruled out the possibility of one big gun from Aljunied GRC being sent out.

This article was first published on August 15, 2015.
Get a copy of The Straits Times or go to straitstimes.com for more stories.