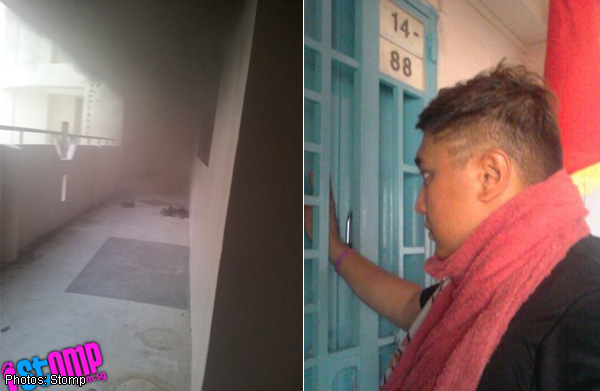 SINGAPORE - Stomp contributor Lydia applauds the courage this young man had in helping to evacuate his neighbours when a fire broke out at his block in Choa Chu Kang yesterday (Feb 17).
She said he was only equipped with a wet towel which he used to cover his nose and mouth, but managed to carry some elderly residents and young kids down to safety.
Lydia said:
"I am one of the residents of Blk 297C Choa Chu Kang Avenue 2.
"There was a fire at the 8th storey of the block today (Feb 17).
"I am writing this to applaud and salute this courageous and selfless young hero who went into immediate action when the fire took place.
"He went to every storey to knock on his neighbours' doors to help evacuate them and this consisted of helping the elderly, young children and all others.
According to Lydia, he even carried some elderly residents and young kids down to safety.
She recounts:
"He was equipped with just a wet towel over his head, nose and mouth but with that, he carried an old lady in his arms from the 11th storey all the way down to safety.
"Only the elderly lady and her maid was in the flat then and the maid was crying and panicking, not knowing what to do.
"He even saved an old Malay lady from the 14th storey who was at home alone with her cat.
"She was having difficulty breathing and was feeling faint and dizzy and yet this young man gave her his own wet towel that he was using, for her to cover her nose and mouth while he struggled to breathe through the thick black smoke.
"His older sister is the one who called for the police and SCDF on her way to work this morning.
"This young neighbour then went on to the scene of the fire at the 8th storey to try find any casualties or anybody trapped in any other units on the same floor, simply putting aside his own safety and life.
"He was also seen evacuating a maid alone at home with a small, where he carried the little girl who seemed to have breathing problems.
"He was also seen helping to evacuate a middle-aged lady who has asthma.
"I managed to capture a couple of photos of the block hero in the midst of all the havoc this morning.
"He is the unsung hero and I urge Singapore to really recognise and applaud this young hero of Blk 297C."