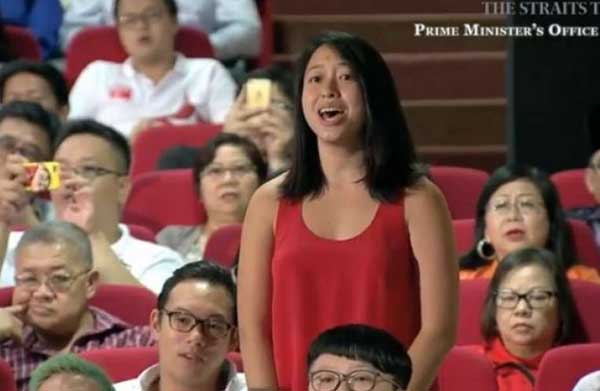 SINGAPORE - Singer Kit Chan's performance to herald the National Day Rally on Sunday (Aug 23) caught many off-guard, but it was the spontaneity of a young woman in the audience that became the talk of the Internet.
Ms Wu Jiezhen's moment in the spotlight came as Chan was crooning the chorus of her signature song Home.
Overcome with emotion, the 26-year-old stood up to sing along, much to the surprise - and bemusement - of those around her and viewers nationwide watching on television.
She was captured on camera not once but twice, at the start of Chan's song.
Ms Wu, a Singaporean, is the executive director of social start-up The Hidden Good, a platform which aims to uncover the good in Singapore society and beyond.
She managed to see the lighter side of things - local humour site SGAG dubbed her the "super enthu one" - for causing quite a stir.
Ms Wu told The Straits Times that she was "swept up in the moment" when she stood up and sang along.
"I just felt compelled to rise to my feet and sing my heart out," she said. "I wasn't even aware the camera was on me - I was right in the corner!"
She had been invited to the National Day Rally as one of several local youth leaders.
She said: "Home is one of my favourite songs because its lyrics resonate so dearly with me.
"I know Majulah Singapura is the national anthem and the reminder of what our forefathers went through to build the nation, but Kit's song really is the anthem of my generation."
Ms Wu attended primary and secondary school here before furthering her studies in the United States.
She spent eight years there, majoring in political science and peace and justice at Wellesley College in Boston, Massachusetts.
Intensely passionate about social causes such as bridging the literacy gap in young children and community development, she returned to Singapore a year ago and considered a career in early childhood education or policymaking before The Hidden Good came calling.
The start-up spreads the message that Singaporeans can do good through social experiments, videos and the power of social media.
She added: "Positivity breeds positivity. Take the recent MRT breakdown for example.
"Instead of focusing on the bad, we chose to look at the various kind acts by Singaporeans that were happening around us."
Drawing parallels to how the late Mr Lee Kuan Yew must have similarly "stood alone" at times when he struggled with building the nation, Ms Wu insisted that young people in Singapore must not fear "being different" and must take ownership of the vision of Singapore that they want to see in the future.
"I would like to apologise to those behind me for blocking their view when I stood up, but sometimes I feel we should not be unapologetic when we're standing up for something that we believe strongly in.
"At the end of his National Day Rally speech, Prime Minister Lee Hsien Loong mentioned how the young are the faces of tomorrow's Singapore. I agree. It is people like us who will be responsible for how the next 50 years will look like for our country."

This article was first published on August 24, 2015.
Get a copy of The Straits Times or go to straitstimes.com for more stories.