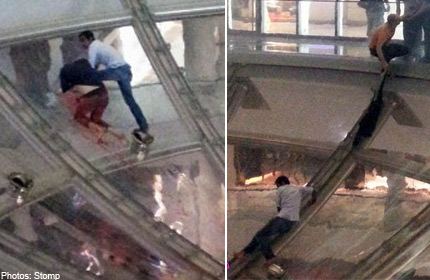 SINGAPORE - A "funny" stunt turned disastrous when a youth jumped into the water fountain of Marina Bay Sands (MBS) only to end up bleeding from his head and unable to climb out by himself.
According to a reader who sent in pictures to citizen journalism website Stomp, two other men had to climb in after him and pull him to safety as he was unable to get out of the funnel-shaped fountain on his own.
The incident, which occurred early this morning at about 1 to 1.30am, apparently began with a group of playful youngsters performing dangerous acts at the water fountain.
"One of the guys, who is wearing black shirt and is a foreigner, had jumped down into the water fountain of Marina Bay Sands and hurt himself during the jump," said the contributor, who gave his name as Ben.
"He thinks that it is funny to do such a act by jumping down into the water fountain. It's lucky for him that the water fountain at Marina Bay Sands was not turning at that time, if not I can't imagine what would had happened to him in the end.
"He hurt his head and blood was all around the fountain. Later on one of his friends in a white shirt - which you can see in the pictures - jumped down too.
"He was going to help his friends by climbing up but they failed to do so as the fountain was slippery.
"One of their friends tried to climb down to help but it was too dangerous and he decided to use a jacket to help them up.
"Luckily in the end they managed to rescue both of them."
"Its so dangerous to do such an act in public and endanger their lives," Ben commented.
Visit STOMP for more stories.