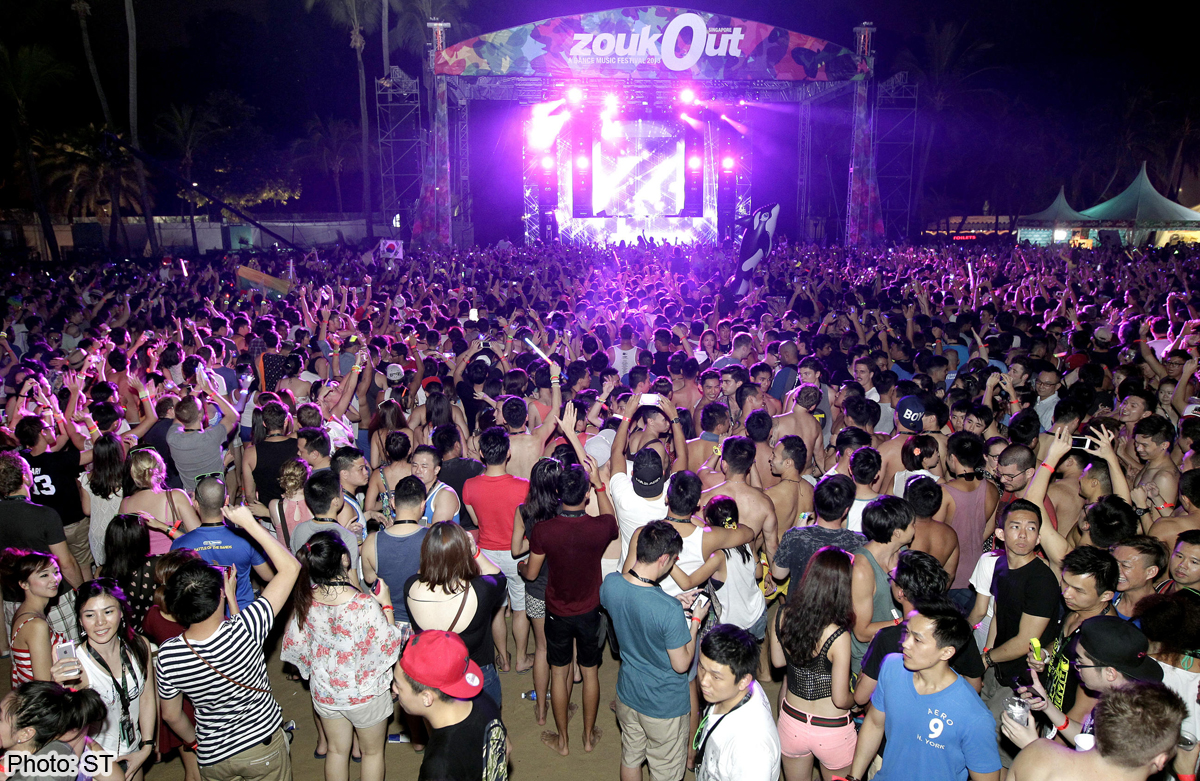 According to organiser local night club Zouk, the 13th edition of the annual event attracted 41,000 mostly young adults over two days. Recognised as one of the largest dance music events in Asia, last year's audience number was 40,000.
Day 2, which started at 8pm last Saturday night and featured DJs such as Alesso from Sweden and Zedd from Germany, had a 26,000 strong crowd.
The first night, which lasted from 8pm last Friday to 5am Saturday morning and had headliners such as Dutch DJ Afrojack and American electro trio Krewella, pulled in 15,000. More than 30 DJs performed at three stages throughout the beach.
While last year's ZoukOut was also stretched over two nights, this year's hours on the first night were extended and ended an hour later compared to last year.
Notable this year was the presence of young acts such as 24-year-old Russian-German DJ Zedd, best known for club hit Clarity and 18-year-old DJ Danny Avila, behind hit debut single Breaking Your Fall. Both performed at the biggest stage, the Moon Stage, on the second night.
Also at the same stage on the same night was French DJ Martin Solveig, 37, who had many singing along when he played his 2010 mainstream hit Hello.
The Star stage might have pulled smaller crowds but it featured edgier acts such as dubstep producer Benga and electronic duo Example & DJ Wire, all of whom are from Britain and played on the first night.
The second night featured a third stage in a covered venue dubbed the Localized Tent, with sets from emerging acts active in the home-grown dance music scene such as Gema and A/K/A.
Marketing executive Crystal Phua, 25, who attended both nights of ZoukOut, gave this year's line-up the thumbs-up.
She says: "I thought Afrojack and Danny Avila played an awesome high energy set. I'm glad I got to see other acts as well, such as Nervo and Otto Knows. It's a good mix of DJs."
But like in past instalments, the selection of DJs is just one pull factor for dance music fans. From annual staples such as fireworks lighting up the night sky and roving percussion troupes to bikini-clad women and bare-chested, buff-bodied men, the carnival-like atmosphere at the festival kept spirits up among the revellers.
Financial consultant Terence Lim, 23, who attended ZoukOut last year too, says: "I love the party atmosphere at ZoukOut, where everyone is in a good mood. My friends and I had a great time last year and we're enjoying music from the line-up of DJs this year, especially Danny Avila and Zedd."
One new thing Zouk introduced this year is letting partygoers pay for their drinks and food with their EZ-Link cards which meant that they need to queue only once for their purchases.
Those who paid with cash had to queue twice - first to buy the drinks coupons, and then for the drinks.
On using EZ-link to pay for drinks and food, Ms Yvette Koh, 22, says: "I think the cashless system is pretty effective and convenient. I don't have to worry about bringing a lot of cash or cards. They should continue this for the next year."
dinohadi@sph.com.sg
euniceq@sph.com.sg

Get a copy of The Straits Times or go to straitstimes.com for more stories.