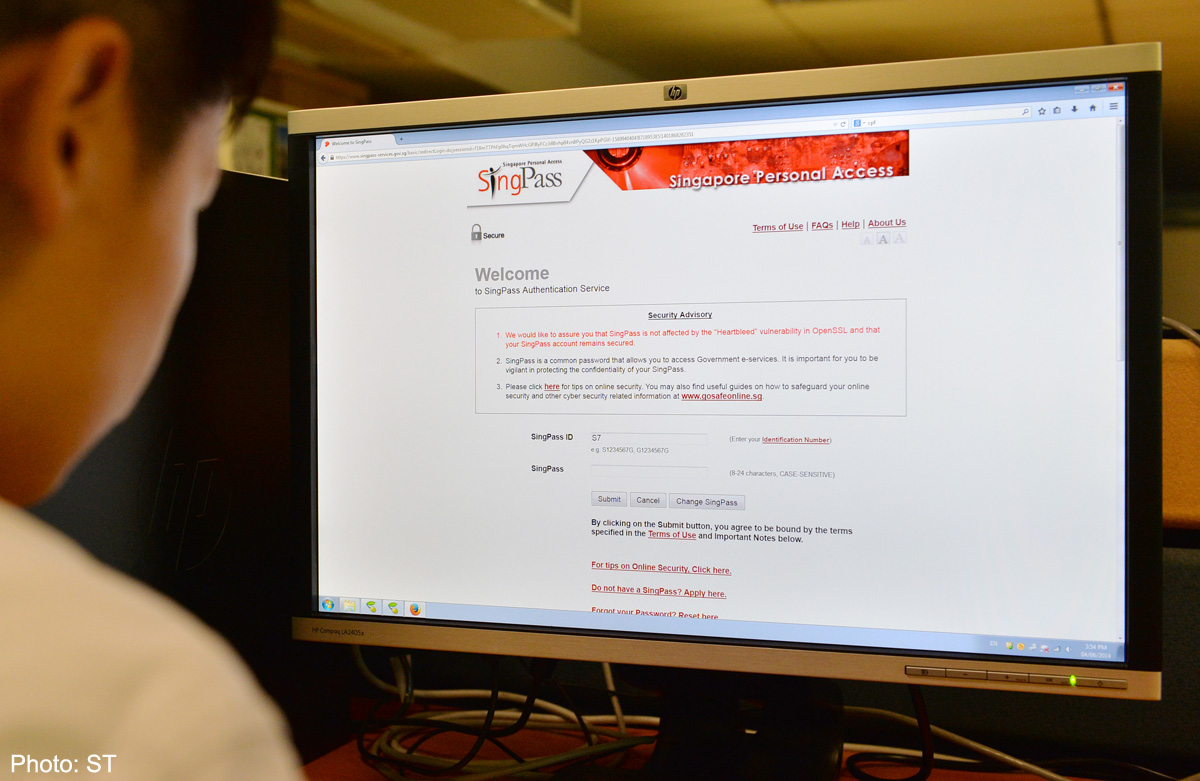 Overseas Singaporeans are worried that they might be locked out of their Central Provident Fund (CPF) accounts when two-factor authentication (2FA) becomes compulsory for sensitive e- government transactions from July.
Retiree Michael Lee, 66, who lives in Australia, said: "I wouldn't be able to activate my SingPass 2FA by July 4. I'm not planning to return to Singapore before that date."
Mr Lee was one of those who aired such concerns in an e-mail to The Straits Times after the Infocomm Development Authority (IDA) said last week that it will send all local residents a PIN code in the mail to help them register for SingPass' 2FA.
From the middle of this month, SingPass users can also send an SMS to register.
But IDA said yesterday in response to ST queries that overseas mobile numbers cannot be used.
"To ensure security, only Singapore-registered mobile numbers can be used to register and activate SingPass 2FA," said IDA.
Instead, overseas Singaporeans have to register for 2FA at the SingPass website. Their overseas addresses must be registered with the Immigration and Checkpoints Authority for them to get their PIN letter and token.
The 2FA feature was added last July to SingPass, which gives users access to government e-services, to counter rising security threats.
An opt-in feature so far, 2FA is a process that uses a randomly-generated one-time password (OTP) delivered via SMS or a token. The OTP must be entered on top of the SingPass password and NRIC number to access e-government services.
Besides the CPF Board, the Inland Revenue Authority of Singapore, Ministry of Manpower and Accounting and Corporate Regulatory Authority will also require 2FA for sensitive online transactions from July 5.
IDA has declined to reveal how many of the 3.3 million SingPass users have signed up for 2FA. But ST reported last September that sign-ups were only in the five-digit range.
There are some 212,000 Singaporeans overseas. Some are unsure if they will get their PIN mailer and token in the post, like former Singapore radio presenter and TV personality Hamish Brown, 52, who lives in Thailand and uses a P.O. box. "My residence is up in the hills, where postmen have difficulty finding it. That's why I use a P.O. box."
Housewife Grace Neo, 41, who lives in Thailand, is not taking any chances and said she is returning to Singapore to register.
"I need to access my CPF records as I'm applying to refinance my mortgage in the next few months," she said.
itham@sph.com.sg
This article was first published on Feb 2, 2016. Get a copy of The Straits Times or go to straitstimes.com for more stories.