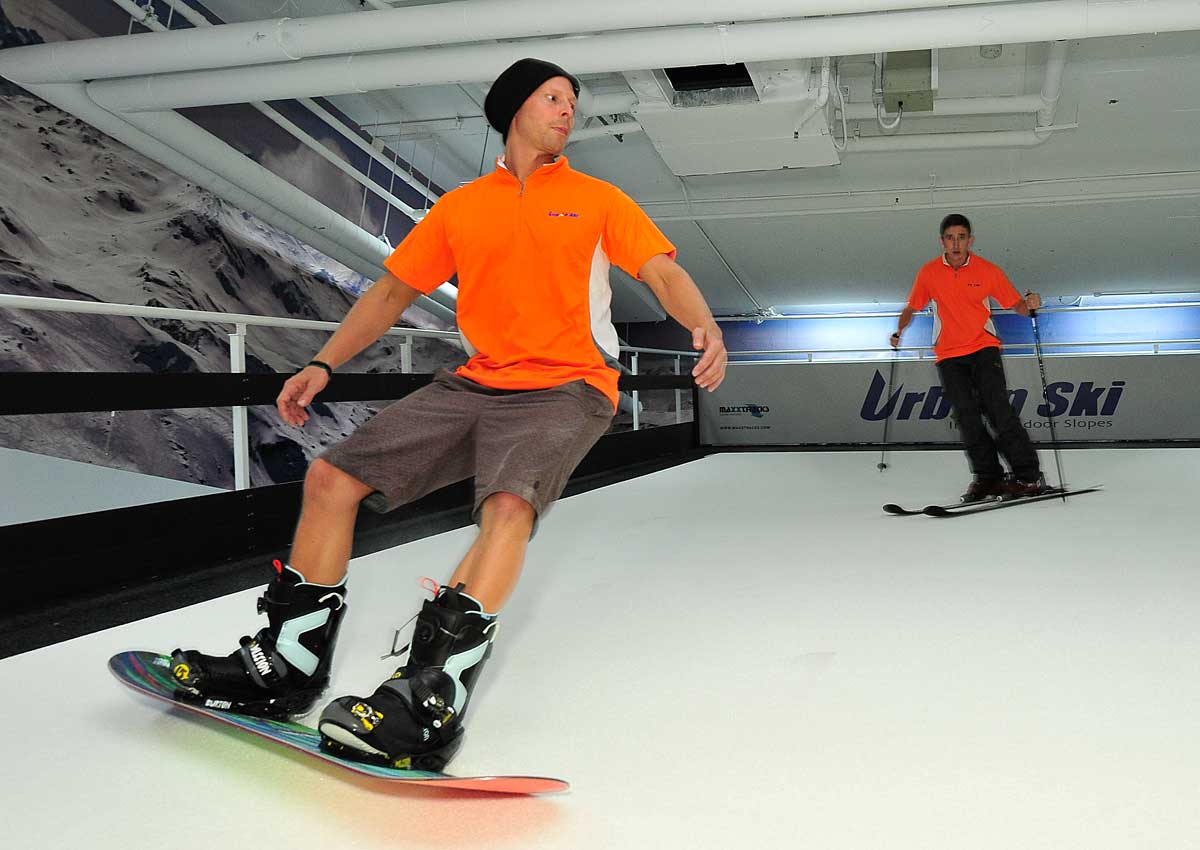 You probably have heard of people running for hours on treadmills, but have you heard of skiiing miles on a conveyor belt slope?
At Urban Ski, a new indoor snow sports centre that opens today at Millenia Walk, you can ski and snowboard down an endless slope.
Well, not really endless. It is about 12.5m long, but with a constantly moving belt.
This "treadmill for skiiers", touted to be Singapore's first, is inclined at an adjustable angle of 10 to 20 degrees.
It allows you to ski downwards continuously for up to a few hours at a stretch at speeds of up to 60kmh; though in reality, you do not really move from the spot.
A full-length mirror and a bar of variable height in front of each slope helps you maintain and adjust your posture.
To stop skiiing, you hop off the moving slope to the stable ground next to it. To continue, hop back on. So, unlike skiing or snowboarding on a mountain, there is no need for chairlifts.
The surface looks like snow too. The slope is made of white synthetic turf similar in texture to that of synthetic grass, but with added lubricant to simulate real snow.
But there is no need to be clad in winter clothing, which can restrict movement, as the facility operates at an air-cooled temperature.
At Urban Ski, there are two such slopes, called Maxxtracks Skislope, which are designed and manufactured in the Netherlands.
Up to four people - three students and one instructor - can use the slope at one time. A group session for up to four people costs $360 an hour. If only one person is skiing, it costs $270 an hour.
The 4,000 sq ft place was set up by two friends, Ms May Lee, 33, who is a skier, and Ms Lynn Chang, 35, an avid snowboarder.
Both of them used to be foreign exchange brokers. Now they are directors of the company. They declined to reveal how much they invested in the business.
Ms Lee says that they hope to meet the growing demand for skiing and snowboarding here from those experienced at the two winter sports, or beginners who are curious about them.
Ms Chang says: "We are expecting a range of people: beginners, skiing and snowboarding enthusiasts, fitness fanatics and thrill seekers."
Both of them went to Hong Kong last October to test the slope at a centre there.
Ms Chang says: "Compared to actual skiing and snowboarding, the indoor slope was intimidating at first as it looked short and narrow. But while on it, we were able to glide as if we were on a real mountain."
Although Urban Ski welcomes beginners as young as four years old, they advise a minimum fitness level.
The activity is also not suitable for pregnant women or people with certain health conditions such as asthma.
While some skiers and snowboarders appreciate the convenience of being able to ski without having to travel, others say that it does not provide the full experience of doing the sport.
Mr Alexander Wu, 25, who started skiing two years ago, is glad that he can finally ski in Singapore.
"Though I consider myself an advanced skier, I rarely ski beause there aren't many places to do so in the region.
"It's great that I don't have to spend a bomb on air tickets to ski," adds the manager in a foreign workers' domitory.
Undergraduate Heng Su Yun, 19, a beginner who picked up snowboarding last December in France, says that she would not go to Urban Ski unless she were taking up snowboarding seriously.
"A large part of the snowboarding experience is enjoying the environment of the real slope."
I'll stick to cycling, thanks
I thought the experience of indoor skiing and snowboarding at Urban Ski, a new indoor sports centre at Millenia Walk, would be manageable.
After all, the minimum ages for skiing and snowboarding were four and eight years at Urban Ski respectively. Overseas, kids even younger are swooshing down real slopes, so it could not be that hard.
I had not skiied before, but I figured it was all about balance, right? In that case, it should be like riding a bike. I totally can ride a bike.
Besides, I must still have the "basic level of fitness" that the Urban Ski owners recommend for first-timers. I was a cross country runner during my junior college days... Well, that was five years ago, but never mind.
With these thoughts in mind and a snowboard at my feet, I hopped onto the moving slope, which is a sort of angled treadmill.
I fell within three minutes.
And fell again two more times.
Mercifully, my hands were still holding onto the beginner's bar. That spared me the ignominy of being the first person to know what the synthetic turf at Urban Ski tastes like.
I started to regard my Swedish instructor, Mr Jimmy Holmgren, with new-found respect.
While he told me that snowboarding was about finding balance across the whole body, he neglected to mention that it also took much effort from one's core and quadricep muscles to maintain the posture essential to find that balance.
As I clawed at that elusive balance, I lost control and fell forwards. The first fall did not help to prevent the next two, as it only became harder to nail that sweet spot with my trembling feet.
Skiing was easier for me. At least I was on my two feet the whole time.
After two 10-minute sessions (one of each sport), my helmet was soaked with sweat. As I gingerly shuffled off the slope, our videographer said I did a good job. "I got it all on camera," he beamed.
I think I will be sticking to my bicycle for the weekend.
mzlim@sph.com.sg

This article was first published on July 10, 2015.
Get a copy of The Straits Times or go to straitstimes.com for more stories.