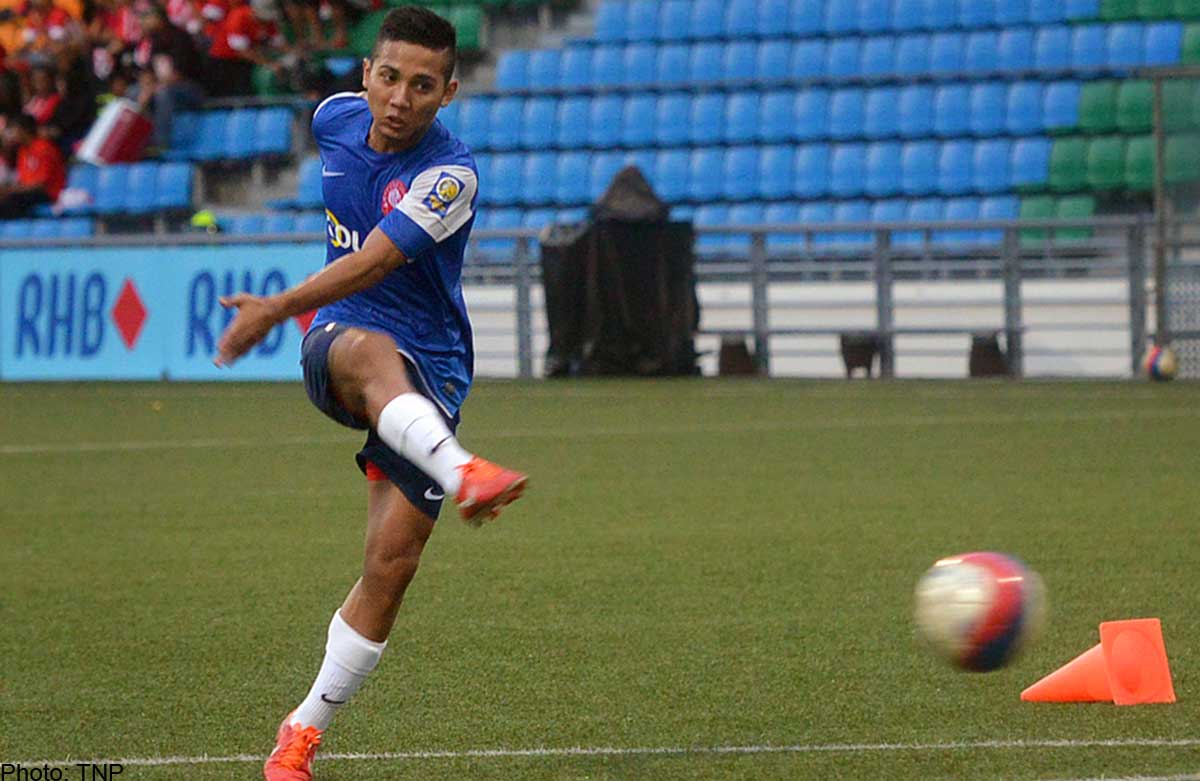 SINGAPORE - Last Tuesday, Sahil Suhaimi got a reality check.
With five goals in seven games, the Courts Young Lions player is the hottest local striker in the Great Eastern-Yeo's S.League at the moment.
But he fired blanks for a Singapore selection side that was thrashed 6-0 by France's Under-21 team in a friendly played at Reunion Island - east of the African island of Madagascar - eight days ago.
Sahil, who has been in sparkling form since last December's South-east Asia (SEA) Games, where he was joint topscorer with three goals from five games, took the walloping as a timely reminder that there is still a long way to go in his football development.
"The France team were bigger, faster and technically better than us in every department," said the 21-year-old, who stands at a diminutive 1.65m.
"With my size, I had no chance against their defenders, who were all at least 1.9m tall.
"But it's a great experience to play them because we now know how far away we are from the level we want to be.
"And I'll work my butt off to hopefully get near to their level in the future."
ProLific Hitman
Sahil's emergence as a prolific hitman comes at a time when local football has been crying out for a goal-getter.
Not since the likes of Ahmad Latiff Khamaruddin, Indra Sahdan and NohAlam Shah in the late 1990s has a localborn striker captured the imagination of the football fraternity.
Over the last decade, the likes of Fazrul Nawaz, Khairul Amri and Khairul Nizam have also shown promise, but injuries have hampered their development into true top-quality No. 9s.
So Sahil knows the weight of expectation on his shoulders.
"There's a lot of pressure on me now," he said.
"After the SEA Games, people have started noticing whatever I do. All eyes are on me.
"But life hasn't really changed much for me. I'm not the type who goes out a lot anyway, I just like spending time with my loved ones.
"It (the pressure) can get tough but I try to ignore everything and do what I love - being on the pitch and scoring goals."
National coach Bernd Stange, who handed Sahil his international debut against Laos last October, warned against expecting too much from the young star too soon.
"We should not forget that one year ago, Sahil was only a substitute player for the Young Lions," said the German.
"He has made good progress, but now, he has to deliver more.
"He is not the tallest striker, so, to make an impact especially at international level, he has to be extra hardworking when he doesn't have the ball.
"But I am sure he has a bright future if he works hard."
Tampines Rovers striker Aleksandar Duric - the S.League's all-time highest scorer with more than 400 strikes - agreed that Sahil might struggle to make an impact on the international level because of his size.
But the 43-year-old, who retired from international football after the Lions' 2012 Suzuki Cup triumph, added: "You can tell he's a top striker from how he runs around in the box.
"He has the nose for goals, and that's something you can't teach.
"Sahil needs to be guided carefully. I hope he won't be burnt-out because, as strikers, there's always pressure to keep scoring.
"If he's guided properly and can stay clear of injuries, we will have a great striker in the future."
Modest target
With 12 S.League games to go, Sahil has set himself a modest target of 10 goals.
He acknowledges that while he is a key player for his Young Lions team, he can still improve on many areas of his game.
One is his fitness.
Sahil needed six attempts to clear the league's mandatory 2.4km test under 10 minutes, and missed the Young Lions' first six games of the season as a result.
On top of that, he says he still needs to learn how to control his temper better.
But he insists he is making good progress in both aspects, as he and his peers work towards the big target - the SEA Games which will be hosted on home soil next June.
"Next year's SEA Games is always at the back of my mind," he said, his eyes lighting up. "I got three goals at my first SEA Games and I'm sure everyone will have high hopes for me at next year's tournament.
"In terms of my game, there's still a long way for me to go and I think I can do better with my finishing, fitness... everything.
But I'll make sure I do my best and try help deliver the goals."
'He could be ace of an S.League club'
They are pleased to see Sahil Suhaimi's establishing himself as Singapore's next top goalscorer.
But veteran strikers Indra Sahdan and Noh Alam Shah believe the youngster would improve even more if he were playing alongside seasoned players in a club side, instead of his current side, Courts Young Lions - a developmental Under-23 team.
Sahil, 21, is the hottest local striker in the Great Eastern-Yeo's S.League this season with five goals in seven games.
Indra, is the first local-born player to reach 200 S.League goals and was Singapore's top goal-getter for a decade, scoring against the likes of Japan, Uruguay and Manchester United.
Now 35, he said: "I feel that Sahil's development could stall because he is just playing with players from his age-group.
"In comparison, when I was 20, I was playing first-team football for Geylang alongside Brian Bothwell.
"A year later, at his age, I was playing in the Home United first team with Egmar Goncalves and Peres de Oliveira.
"I learnt a lot from quality players like them, and so would Sahil if he plays alongside better players."
"Because he's so good he might feel sometimes like he's the best (player in the Young Lions team) and that's no good for a young player.
"If he were at Tampines, for example, with Aleks (Aleksandar Duric, the S.League's all-time highest scorer) and Alam Shah, I think he'll still be scoring goals and also get a lot more experience. So I feel he's losing out at the moment."
It is a sentiment shared by Alam Shah. The 33-year-old, whose 17 AFF Suzuki Cup goals make him the tournament's all-time top scorer, said: "He's good enough to play and score regularly at any S.League club.
"He's different from other (local) strikers. He can score, hold the ball up well, and can do a lot of things other strikers can't, like creating goals for himself.
"It's difficult for him to gain experience when he's playing with people his age, especially when he is the better than everyone else.
"But in a way, maybe it's good for him to be in the Young Lions for now, because you need to crawl first, then walk, then run. (But) I still feel he would progress quicker at a club."
This article was published on June 13 in The New Paper.


Get The New Paper for more stories.
msazali@sph.com.sg