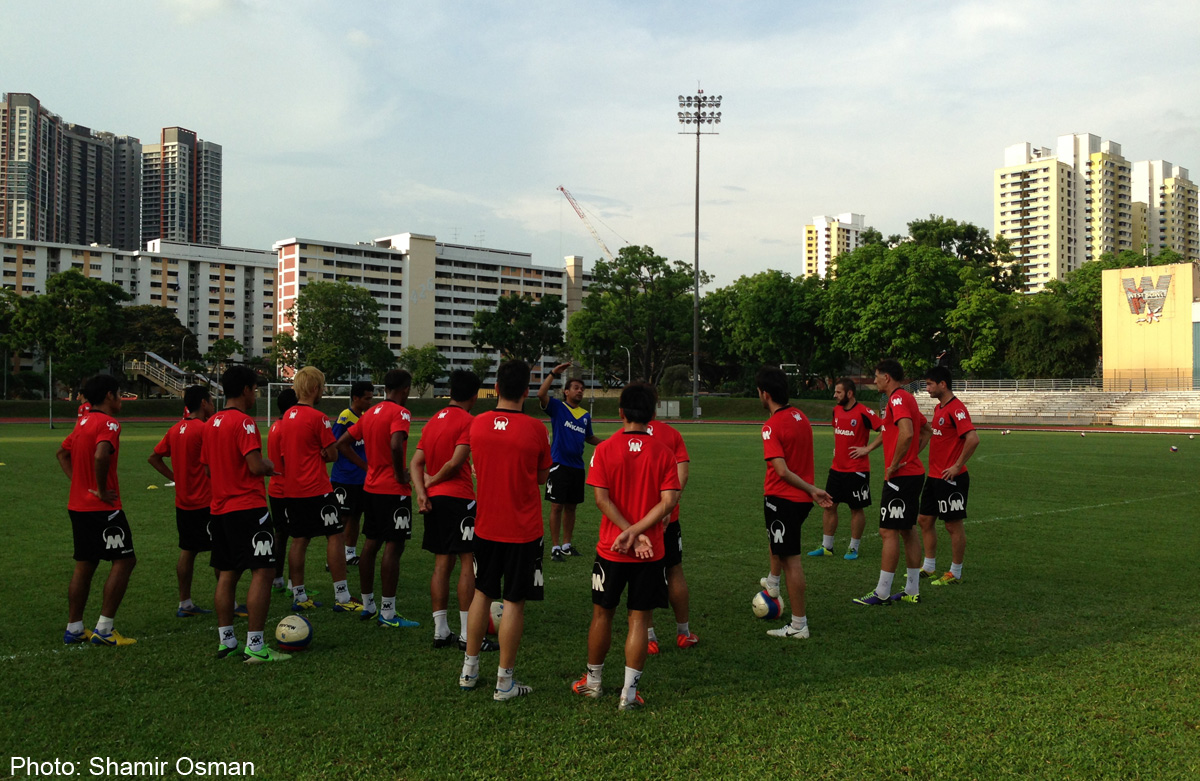 With a shrill burst of the whistle, he halted the training session at the Clementi Stadium and bolted into the middle of the pitch.
"Why are we passing backwards, why are we being so negative? We get the ball forward, and we move from there," he barked, then passed the ball upfield and ran forward, demonstrating what he wanted to see from his charges.
Appointed interim coach of S.League giants Tampines Rovers after the shock resignation of Salim Moin on Sunday, long-time club servant, Rafi Ali, made it clear from the high-intensity training session yesterday - his first in charge - that he wants to see a change in attitude and approach.
Speaking to The New Paper later, he said: "I'm not going to change much, because it's not the right time to change systems. I have to try to motivate the players - make them remember that we have been champions for the last three years."
The former Singapore midfielder, who holds an AFC 'A' Licence coaching certificate - a requirement of the S.League - will be assisted by another former Tampines player and youth coach, Satria Mad.
Club captain Mustafic Fahrudin and veteran striker Aleksandar Duric will also be a part of Rafi's team leadership group.
Watching his new head coach from the sidelines, club chairman Teo Hock Seng revealed that the team needed to "refocus".
Said Teo: "The players have been too arrogant and they've been playing below last season's standards. We are the champions and we have a responsibility to play good entertaining football."
While he will be an interim coach, Teo insisted Rafi, 41, will be given a chance to turn things around.
Rafi's first assignment comes as soon as Thursday, when the Stags, currently third in the Great Eastern Yeo's S.League, host a dangerous Albirex Niigata side that are coming off a 4-2 demolition of Home United.
The champions' following two fixtures - against Warriors FC and Home - will be no walk in the park, either.
FUTURE
"These three are big games and will determine the future of the club - all the boys know that," said Rafi.
"But I'm confident that if everyone does his part, we can get results."
Tampines have won only two of seven games this month, but Stags' skipper Fahrudin believes that Rafi is capable of dragging the team out of the rut.
"Boss (Teo) has made it clear that we must wake up and start winning games... and I think Rafi can improve that," said Fahrudin.
"Rafi knows the club inside out and he is a bad loser, he wants to win games even in training sessions and that's what we're lacking."
The sentiment around the club is that Tampines are also lacking quality output from their foreign quintet of Miljan Mrdakovic, Luis Closa, Roberto Martinez, Kunihiro Yamashita and Norihiro Kawakami. Teo made it clear that they are playing for their contracts, when he said: "I've told them they need to play better than the local boys, so let's see how they perform."
TNP understands that Tampines are already eyeing one attacking midfielder, with a few more players to be brought in from Europe on trial.
Said Fahrudin: "If we strengthen the team during the transfer window (June 2 to 27), we will be good enough to win the league again."
It is a belief shared by Rafi, who insists that Tampines just need to find the right mix of confidence and grit.
"This is a good team, and once the team click, we will go," he said, confidently.
"It's just a question of how to turn that switch on."
This article was published on April 29 in The New Paper.


Get The New Paper for more stories.