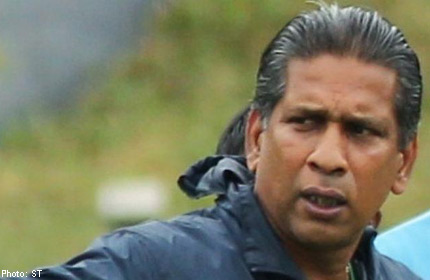 SINGAPORE - He is the bogeyman who inflicted a defeat that still haunts LionsXII coach V. Sundramoorthy to this day, but ATM tactician B. Sathianathan is in an unusually defeatist mood ahead of the teams' Malaysia Cup first-leg, quarter-final clash.
"A 0-1 defeat at Jalan Besar Stadium is a bonus," the 55-year-old told The Straits Times. "If we can prevent defeat, it will be a massive bonus as I'm confident of turning it around in the return leg (Oct 4)."
Saturday's showdown will be the perfect opportunity for the hosts to exact revenge for their Malaysia Cup semi-final exit last season, when ATM equalised in the seventh minute of stoppage time to level the aggregate score 2-2.
The Malaysian military side then went on to win the penalty shoot-out 5-4 after Shaiful Esah, Baihakki Khaizan and Yasir Hanapi missed their spot-kicks.
But an injury crisis has dampened former Malaysia national coach Sathianathan's optimism.
ATM wingers Venice Elphi and S.Thinagaran and overlapping right-back K. Reuben are injured, while centre-back Amiridzwan Taj Tajuddin and left-back Irwan Fadzly Idrus are not match fit.
On Thursday, Argentinian playmaker Bruno Martelotto was declared a major doubt after pulling his groin muscle.
"We are really below strength and, frankly, we are coming to Singapore not to concede," Sathianathan added.
But Sundram is not buying any of that and believes it is all mind games from ATM.
"I don't believe it," the 47-year-old said. "With or without their key players, ATM are still very dangerous opponents. They are very experienced, matured and know how to control the pace of the game."
But one player who will be on duty at Jalan Besar is Marlon James - the former Saint Vincent and the Grenadines striker who scored the late equaliser against the LionsXII last year.
With four goals in the Malaysia Cup so far, the 1.87m dangerman could break the LionsXII's hearts again.
Said Sundram: "While Marlon is a key player for ATM, it is also about the players around him. His fellow striker Hairuddin (Omar) is a real fighter who never gives up and Martelotto pulls all the strings from behind them. We have to shut them all out."
But Sathianathan continued to lavish praise on Sundram after ATM lost at home (0-1) and away (1-3) to eventual champions LionsXII in the Malaysian Super League (MSL). ATM finished in sixth spot.
Not surprisingly, the ATM mastermind, whose team lost the Cup final 2-3 to Kelantan last year, believes that Sundram's men are hard nuts to crack.
He said: "The LionsXII have fighting spirit. It's never easy to play them."
While the two coaches are busy plotting their quarter-final win on Saturday, they have a lot of respect for each other.
Sundram said: "Sathianathan is one of the best coaches in Malaysia and his team are not to be underestimated.
"But we are going for a win and one big advantage we have is that we have the whole of Singapore behind us. "We want to go as far as possible in the Malaysia Cup."
And Sathianathan returned the compliment, saying: "Sundram's a wily fox. Despite the limitations in experience, the LionsXII are such an organised team and it's all because of him.
"Sundram has got his boys playing as a unit and they are so hard to break down."
meng@sph.com.sg

Get a copy of The Straits Times or go to straitstimes.com for more stories.