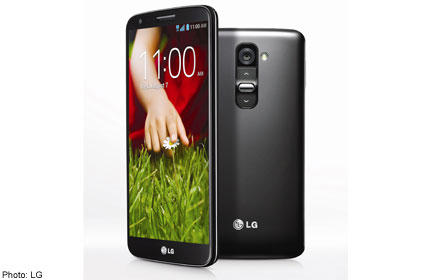 Not to be outdone by its close rival Samsung, LG has launched the G2, its own interpretation of the phablet.
With screen sizes getting bigger, accessing the buttons with one hand is harder. So, LG has decided to place all of the G2's buttons on its rear, where the index fingers usually will rest when holding the device. According to the South Korean chaebol, the rear keys allow for better control.
Wondering how to unlock the phablet's display? Well, you tap the display twice to turn it on and tap twice to turn it off.
When there is an incoming call, the ringtone volume will automatically decrease when you pick it up. And when you put it close to your ear, the call will automatically be put through. This is great when your other hand is holding a chicken wing and you do not want your oily finger to touch the display.
The lack of buttons on the phablet's side and front has allowed LG to integrate a super-thin 2.65mm bezel on the sides of the 5.2-inch full high-definition display. The display is equipped with in-plane switching technology which exhibits accurate colours and clearer images without any colour shift when viewed from an angle.
To protect your privacy, the phablet has a guest mode that displays only pre-selected apps; this mode is accessed using a secondary unlock pattern.
In addition, the phablet can be used as a remote control for LG home entertainment devices as well as some non-LG Blu-ray players and home entertainment systems.
TECH SPECS
Price: $898 (32GB) without contract
Availability: From Saturday
Processor: 2.26GHz quad-core
Operating system: Android 4.2.2 Jelly Bean
Display: 5.2-inch full high-definition Super Amoled; 1,920 x 1,080 pixels
Cameras: 13 megapixels (rear), 2.1megapixels (front)
Weight: 143g

Get a copy of Digital Life, The Straits Times or go to straitstimes.com for more stories.