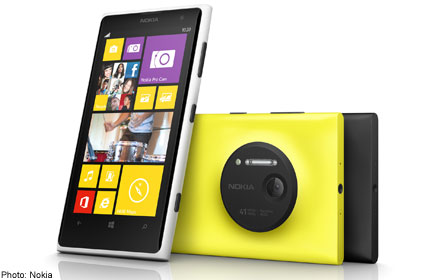 For those who want to combine a camera with a smartphone, the Nokia Lumia 1020 provides a strong proposition that is hard to resist.
The 10.4mm-thick smartphone has a whopping 41-megapixel camera with a Carl Zeiss 26mm f/2.2 lens. Using a new feature called dual capture, it can take a high-resolution 38-megapixel image for post-processing purpose and create a smaller 5-megapixel picture which is easier to share on social media.
Although the camera does not have any optical zoom, the massive resolution of the picture allows you to zoom into the picture by cropping it accordingly.
Or you can use the camera's 3x lossless digital zoom, in which the camera will capture the zoomed-in picture as well as the "un-zoomed" version.
Plus, the smartphone comes with the Nokia Pro Camera app that allows you to take photos easily with its intuitive controls that adjust focus, shutter speed, white balance and other settings. The app also allows you to edit and share the photos with your friends.
But it is not just about shooting pictures. The Windows Phone 8 smartphone comes with Microsoft Office and the customisable Live Tiles and People Hub, which you can use to keep in touch with your friends around the world.
TECH SPECS
Price: To be confirmed
Availability: To be confirmed
Processor: 1.5GHz dual-core
Operating system: Windows Phone 8
Display: 4.5-inch Amoled; 1,280 x 768 pixels
Cameras: 41 megapixels (rear), 1.2megapixels (front)
Weight: 158g

Get a copy of Digital Life, The Straits Times or go to straitstimes.com for more stories.