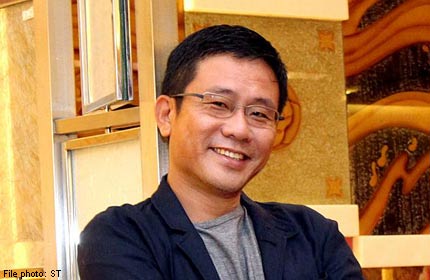 SINGAPORE - Bosses of small and medium-sized enterprises (SMEs) should still explore listing on the Singapore Exchange even though the share market is in one of its volatile spells, said a leading market analyst.
Mr Eugene Wong, managing director of Sirius Venture Capital, which helps firms considering an initial public offering (IPO), said SMEs should be less focused on market sentiment and more on their own needs, including expansion plans and funding requirements.
"It's more a matter of when it is a good time for the company. If they are ready, they should go for it," he added.
Mr Wong cited the example of Japan Foods, which took the bold step of listing on the Catalist board at the height of the global financial crisis in February 2009.
The food and beverage firm, which operates the Ajisen Ramen chain of outlets, traded below the IPO price of 20 cents for most of 2009 but rallied by the middle of 2010, and has stayed above its launch price since. It last closed at 79 cents, nearly four times its IPO level.
Business owners might feel more cautious these days given the share market turmoil in recent weeks.
The Straits Times Index fell about 6 per cent last month, though it has since regained some of the losses.
Despite misgivings, firms are still open to an IPO. Nine companies have already listed on Catalist this year, beating the eight last year, and more could come on board. Two firms also listed last year via reverse takeovers.
Mr Wong said he is seeing more interest from firms, while the president of the Association of Small and Medium Enterprises (Asme), Mr Chan Chong Beng, noted that listing managers often scout the group's members for potential deals.
The Straits Times understands one firm could announce listing plans on the Catalist shortly.
Mr Lawrence Wong, head of listings at the Singapore Exchange (SGX), said: "We have seen more interest from SMEs wanting to list on Catalist, which is proving to be a useful platform for fast-growing companies."
He said the companies that listed on Catalist last year raised $79 million. The nine debutantes this year have raised $201 million.
Top executives who have gone through the listing process said they have no regrets.
One is Mr Jason Sim, the chief executive of timber flooring specialist Jason Parquet, which listed on Catalist last September.
He said it was easier to fund overseas expansion plans via a public listing than by borrowing from financial institutions.
"It's also easier for me to borrow money from the banks now because I have a listed company. They trust the branding and level of transparency of a public company," Mr Sim added.
Catering and food retailer Neo Group began trading on Catalist in July last year. CEO Neo Kah Kiat opted to list after having a profitable business for more than 20 years.
Mr Neo said: "I have a bigger field to play, in terms of the volume and value of joint ventures, mergers and acquisitions. Shareholders also demand more of you, so you must constantly grow your business."
Mr Wong of Sirius Venture Capital helped Neo Group and Jason Parquet to list.
He prefers to work with companies in the fast-moving consumer goods sector because of rising affluence and consumption in Singapore and the Asia-Pacific region.
"When people invest in a new group, they go for well-known local brands. People are familiar with them, they can see the stores and they feel more confident about their investment," he said.
The listing proposition may seem tempting, but Asme's Mr Chan said firms must not run a public company like a private one.
"If you take the money from outsiders, they are your shareholders and you really have to make it a point to repay them in terms of dividends or make sure the company continues to grow," he said.
SGX's Mr Wong noted that the timing of a listing is dependent on the company and its adviser, taking into account investor interest and the prevailing market environment.
feimok@sph.com.sg

Get a copy of The Straits Times or go to straitstimes.com for more stories.