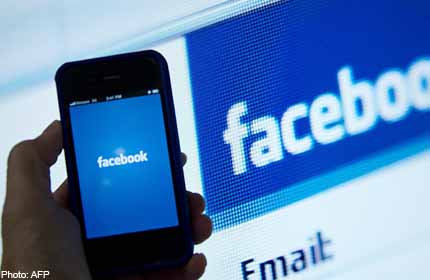 TOKYO - An increasing number of users of social networking services are experiencing trouble involving their superiors at work, a new kind of problem called "social media harassment."
As Facebook asks users to operate under their real names, people often receive friend requests from work superiors, or are pressured to respond to their posts, causing stress for many.
"SNS users should separate work from personal life, and correctly observe the distance between themselves and other users," one expert said.
On SNS, if any two users become "friends," they can share personal updates, pictures and other information not available to other users. Some services allow users to configure their privacy settings to limit the audience for their posts on a case-by-case basis.
When a 23-year-old part-time worker from Yokohama checked his Facebook page via his smartphone last summer, his male superior said: "Are you using Facebook? Please send me a friend request."
As the man did not want to sour relations with his superior, he agreed, but subsequently ignored his superior's posts.
About two weeks later, the superior complained, saying, "You're so cold." The superior asked him to "like" and comment on his posts.
The worker felt uncomfortable with such requests, saying, "I don't want to have to think about my superior when I'm away from work."
In another case, a 24-year-old travel agency tour conductor living in Tokyo became fed up with her female superior. After they became Facebook friends, the employee was repeatedly asked by her superior to comment on her posts by phone or e-mail.
The tour conductor said resignedly: "If I unfriend my superior, my relationship with her at work will become unpleasant. I have no choice but to click the "Like" button on her posts automatically."
According to the Japan Online Counseling Association, a Tokyo-based nonprofit organisation, the number of people asking for advice regarding such problems started increasing last year.
"I became 'friends' with my work superior, who then read my exchanges with other Facebook friends and talked about it at our workplace," or "I feel disgusted, as my superior clicks the "Like" button on most of my posts." These are common problems for many users, according to the association.
Meanwhile, superiors have concerns of their own and have also asked the association for advice, it said.
For example, a male company employee in an administrative position in his 40s started using Facebook in the hopes of having more opportunities to communicate with his junior workers. When he sent a friend request to six or seven of his junior workers, none accepted, causing the man to wonder whether he might be disliked by his junior workers.
Macromill, Inc., an Internet research company, conducted a survey of 500 Facebook users in February last year. According to the survey, about 42 per cent of respondents said they have felt bothered by friend requests. Among female respondents, about 54 per cent said so, 19 percentage points higher than the rate of male respondents who said the same. "Younger generations or women in relatively weaker positions tend to be more bothered by such problems," an official at the company said.
Facebook users can change their privacy settings to limit the audience for their posts or block specific users from seeing their posts.
However, Kota Nakamura, a member of the association's board of directors, said, "It's difficult for junior workers to refuse their superiors' SNS friend requests, as they feel nervous about facing disadvantages at work [as a result]."
"Superiors might be hoping to communicate with their junior workers, but they should realise that with such services, they can easily obtain their junior workers' private information, a boundary they should respect in the real world," Nakamura added.