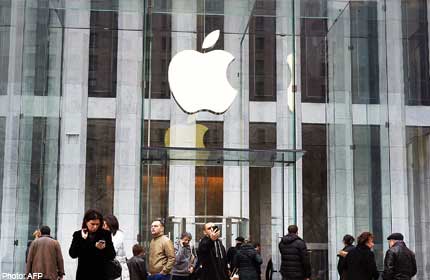 TAIPEI - Local telecom giants yesterday expressed mixed expectations of Apple's new low-priced iPhone 5C and its high-end 5S variants.
Naysayers among Taiwan's leading carriers stated that with a comparatively lower product-launch cycle, Apple is losing ground to the Android camp, new products of which are unveiled year-round by a large number of leading brands. In addition, consumer preference is markedly shifting toward larger screens sized 4.5-5 inches, with many Apple users making the switch as the company persists in releasing handsets with 4-inch displays, the carriers said.
Reports of the discontinuation of the previous-generation iPhone 5 may be indicative of weaker than expected sales of the unit, with the move designed to prevent crowding effects affecting the company's newer models, said local telecom carriers.
However, some local telecoms feel that Apple's operating system and intuitive user experience remains compelling draws for many fans.
Despite tepid critical response reported by numerous technology and gadget outlets, preorders for the new handsets posted stellar results, in particular for the yellow variant of the iPhone 5C. Institutional investors also expressed optimism, predicting sales of off-contract iPhone 5Cs to exceed 1 million units when they hit the shelves on Friday.
Sale of the iPhone 5C over the first post-launch weekend are expected to reach 5 million to 6 million units, and 8 million to 9 million units by the end of September, vastly outstripping previous records set by the iPhone 5, according to investment bank Piper Jaffray analyst Gene Munster, who announced his findings on Twitter.
Institutional investors are also anticipating the sales of the 5C to see extraordinary growth, citing Apple's newly established distribution deals with market heavyweights including DOCOMO in Japan and China Mobile (中國移動) in the mainland.
Meanwhile, shares of Largan Precision Co. (大立光), a major camera and optical component supplier for Apple, mounted a spirited rally, and reclaimed its position at the NT$1,000 watermark at the end of yesterday's trading. According to CLSA analysts (里昂證卷), the company took a 70-80 per cent share of over all camera module orders for Apple's upcoming iPhone 5S handset. Citing encouraging reports, CLSA yesterday upgraded Largan's target price to NT$1,300 (S$56) , while expecting earnings-per-share performance to reach NT$72.2 and NT$86.7 in the next two years.
Amid the anticipation, China has been selected among to be among the first markets where Apple's new products will hit shelves first, while no date has been announced for Taiwan.