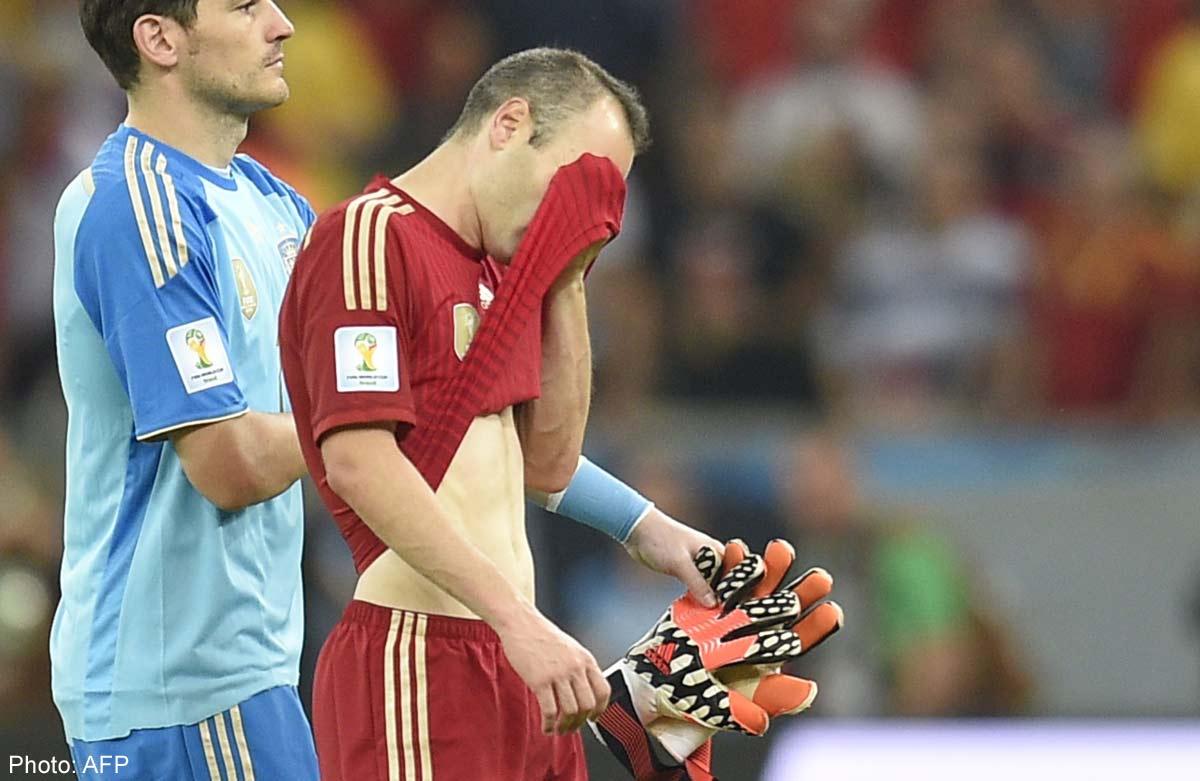 MADRID - Spanish newspapers and football fans on Thursday mourned the end of an era for their national team after the world and European champions crashed out of the World Cup in a humiliating 2-0 beating by Chile.
Photographs of midfielder Andres Iniesta with his head in his hands made the front pages of the press, sharing the space in some cases with coverage of the swearing in of Spain's new king, Felipe VI.
"The end... A terrible end to the most glorious era", ran the headline in leading Madrid sports daily Marca. "Goodbye to the golden years."
Marca commentator Santiago Segurola called it "the end of an excellent generation and the start of a new era".
He blamed Spain's failure to score or stop Chile on "big mistakes and a sense of brokenness, of exhaustion".
"A monumental challenge awaits their successors. They will have to restore the prestige suddenly lost by Spain."
Marca analyst Angel Lara said the defending champions' World Cup exit in the first stage marked the end of the international careers of heroes of the Spain's squad of recent years such as Xavi Hernandez, top scorer David Villa, Fernando Torres and Xabi Alonso.
Veteran goal keeper Iker Casillas, who apologised to fans after a string of mistakes in Spain's losses to Chile and on June 13 to the Netherlands, had not planned to leave the squad after this World Cup, but may now do so, Lara added.
Fun while it lasted
"It was beautiful while it lasted," ran the headline on another sporting daily, AS.
AS printed photographs recalling Spain's past three triumphs: the 2008 and 2012 Euro championships and the 2010 World Cup.
"Don't apologise," it said. "We owe you a lot."
The analysis inside the paper was stern, however.
"The end was horrible," wrote AS commentator Juanma Trueba, who said Spain's failure was directly linked to the flagging fortunes in recent seasons of Barcelona.
That club's players and quickfire "tiki taka" passing style have strongly influenced the national squad.
"It had to happen some day, that was understood, but we never imagined a farewell so pitiful, with a team so unrecognisable and vulgar," Trueba wrote.
Attention in Spain was on Thursday focussed largely on the swearing-in of Felipe after his father Juan Carlos's abdication.
Leading general newspaper El Pais led with the royal succession on its front page, with a smaller item below titled "Spain's debacle in the World Cup".
The paper called it "a nightmare that will last for all time, as will the successes".
"They have abdicated," headlined Barcelona sports daily Mundo Deportivo in a bitter pun above a photo of dejected Spain players with their heads bowed.
"Del Bosque's successful team has fallen, making it clear that it now needs renewal," wrote columnist Santi Nolla in the paper.
"In the past two years, they had played a muscular passing game, but the movement of the ball was quick and intense. With none of these qualities, the team, for all the trophies in its cabinet, did not manage to impose its game."
Sorrow
Grim-faced fans watching the defeat in a Madrid bar voiced sadness and resignation.
"What do I feel? Sorrow, sorrow, nothing more. But it's normal. We did not play well," said 51-year-old sales manager Manuel Lista.
"Spain are not in good shape and that's it. I love football and I saw it coming." He blamed coach Vicente Del Bosque for failing to bring in a new generation of players two years ago.
"We were supposed to be the best, the champions of the world," said another fan, Juan Tamayo, after watching the match on a giant screen outside Real Madrid's Bernabeu stadium.
"They have humiliated us as a country."