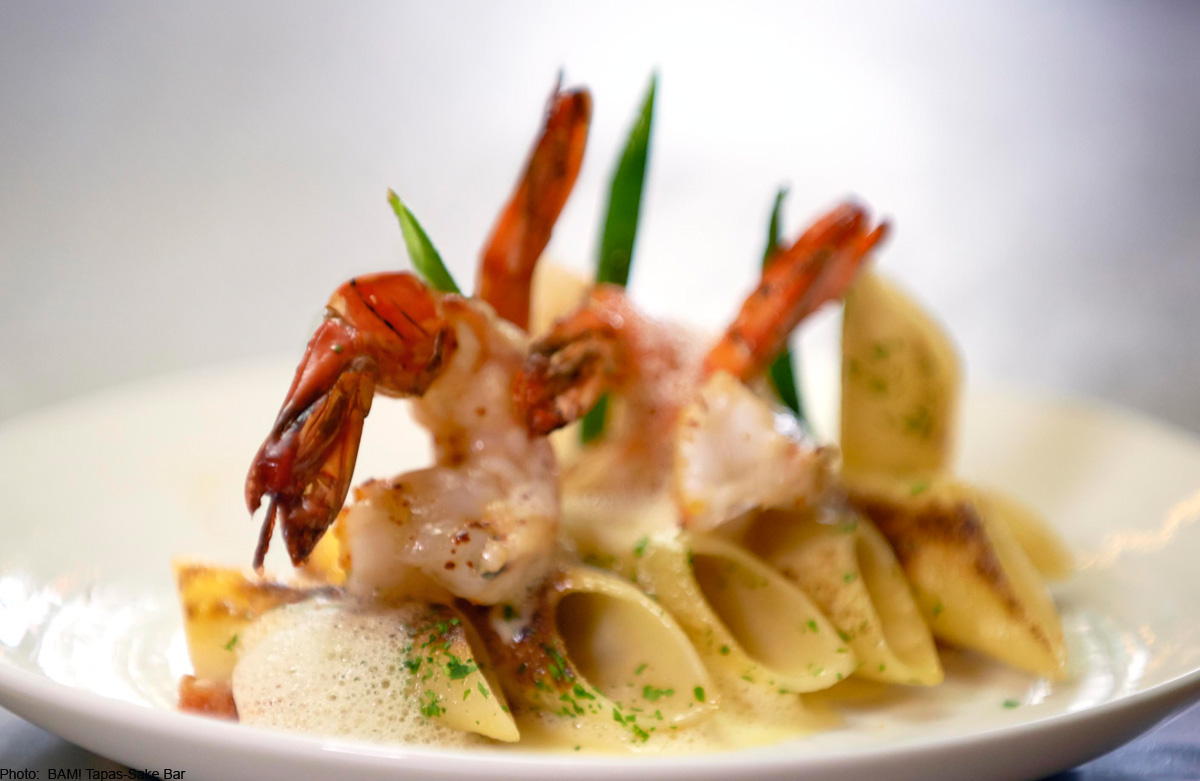 Gourmet Japan, an annual epicurean festival dedicated to Japanese cuisine, ingredients and chefs, is back with more events and offerings this year.
Now into its third instalment, the month-long festival runs from Tuesday to May 31.
Firsts for this year include a week-long guest chef promotion at Si Chuan Dou Hua, a Chinese restaurant at UOB Plaza, as well as a week-long fair at Liang Court featuring items and ingredients from Oita and Okinawa in Japan. Admission to the fair is free.
This year, diners can look forward to 14 dining events, up from 12 last year. These include sake, Japanese whisky, cocktail and wine dinners paired with food ranging from tempura and kaiseki cuisine to Spanish tapas and French cuisine. About 14 restaurants and at least 20 chefs will be taking part.
To deliver more exclusivity and finesse this year, the festival has also included more fine champagnes, including various vintages of Champagne Jacquesson, and Champagne Nicolas Feuillatte and its Palmes d'Or range.
Sakes from leading breweries such as Tengumai, Yamagata Masamure and Meikyoshisui will also be available.
Those keen to pick up cooking skills can head to one of the eight culinary workshops which will showcase the art of Japanese cuisine.
Each of the classes, which will be held at ToTT Studio in Dunearn Road, is priced at $25 a person. The sessions will be conducted by Japanese and Japanese-cuisine chefs, including Kenjiro Hashida of Hashida Sushi at Mandarin Gallery, and Kazuhiro Hamamoto of kaiseki restaurant Ki-sho in Scotts Road.
Gourmet Japan is organised by event management and exhibitions company Sphere Exhibits, a subsidiary of Singapore Press Holdings, and food and beverage consultancy Poulose Associates.
It is presented by Japanese credit card company JCB International and card-holders can get 20 per cent off all event prices.
On the decision to broaden the event and increase the number of offerings this year, Sphere Exhibits' business director Mandy Wong says it was due to strong response from previous editions of the event and requests from restaurants keen to participate.
She adds: "We also had new concepts and ideas that we really wanted to try out. Considering all the factors, we decided it would be a good opportunity for us to expand the calendar of events."
For instance, this year, it is offering a sake and tapas pairing dinner, as well as an izakaya-inspired dinner paired with cocktails Diners can expect prices to be the same as last year's, starting at $25 for a culinary class to $668 for a whisky and sushi dinner at Shinji by Kanesaka's outlet at The St. Regis Singapore. Most meals are priced between $100 and $350 a person.
The festival has two other components, Mixology Japan and Taste Japan, which will run concurrently with Gourmet Japan.
Cocktail lovers keen to try Japanese-inspired cocktails can head to Mixology Japan's participating bars such as Maison Ikkoku in Kandahar Street, The Horse's Mouth at Forum The Shopping Mall, and The Green Door in Dempsey Hill.
Eleven restaurants including Sun With Moon at Wheelock Place and Kensai Kitchen at Liang Court will have dining offers as part of Taste Japan.
JCB card-holders get 20 per cent off cocktails at participating bars and 15 per cent off dining promotions at participating restaurants.
Sphere Exhibits expects more than 1,000 diners at Gourmet Japan events and about 40,000 people at Taste Japan and Mixology Japan promotions, as well as the Oita and Okinawa fair at Liang Court.
A total of 852 diners attended the Gourmet Japan dinner events last year.
Ms Wong says: "The aim of Gourmet Japan has always been to celebrate Japanese cuisine and produce in Singapore, and to showcase Japanese food and beverage offerings. We want to offer gourmands an opportunity to sample some of the extensive Japanese food offerings here and experience new Japanese-themed culinary concepts."
Highlights
Izakaya Cocktail Dinner
What: The six-course cocktail-pairing meal features cocktails such as Vitamin C, made with lemongrass, Bijofu Junmai Ginjo, yuzu liqueur and Aylesbury Duck Vodka; and Grape Twist, made with Alain Milliat Colombia mango nectar, lemon juice, Midori and red wine.
Dishes will include goma tofu with uni and ikura; and karaage chicken with balsamic mayonnaise.
Where: Izy Dining & Bar, 27 Club Street
When: Wednesday, 6pm
Price: $198++ a person
Tempura Classics With Champagne Nicolas Feuillatte & Palmes d'Or
What: Specialist tempura restaurant Tenshin at The Regent hotel will serve an omakase tempura menu paired with six vintages of Champagne Nicolas Feuillatte.
Where: Tenshin, The Regent Singapore, 1 Cuscaden Road
When: May 8, 7pm
Price: $338++ a person
Tapas And Sake Dinner
What: Expect tapas and sake pairings such as 36-month-aged Joselito Ham with a Yamagata Masamune Junmai Ginjo Akaiwa Omachi; scallop tartar with quinoa and ankimo tofu paired with a Meikyo Shisui Junmai Taruhi; and soft-shell crab with Jerusalem artichoke soup and eel paired with a Yamagata Masamune Junmai.
Where: BAM! Tapas-Sake Bar, 38 Tras Street
When: May 14, 8.30pm
Price: $168++ a person
The Best Of Japanese Meats With The Wines Of Errazuriz
What: Tuck into fine Japanese meats including beef from Kagoshima and Kurobuta pork, paired with a selection of top wines from Chilean winery Errazuriz.
Where: Fat Cow, Camden Medical Centre, 1 Orchard Boulevard, 01-01/02
When: May 15, 7pm
Price: $198++ a person
True Culinary Essence Of Naniwa with Brown Brothers' Patricia Series
What: At Han restaurant, which serves kushikatsu and Osaka-style cuisine, dishes will be paired with Australian winery's Brown Brothers' Patricia Series. A total of seven courses will be served.
Where: Han, Odeon Towers, 331 North Bridge Road, 01-04
When: May 20, 7pm
Price: $228++ a person
East Meets West Sawaya Matsumoto Sake Dinner
What: Jaan's chef Julien Royer will be pairing his dishes with various sake. The six-course menu includes dishes such as Organic Egg Yolk Raviolo Violet Artichoke, 48-Month Comte Cheese and Morels, paired with a Junhai Shuhari; and Grilled Ohmi Beef with Smoked Potato, Burdock Roots and Soba Ko paired with a Junmai Daiginjo Shizukuzake.
Where: Jaan, Swissotel The Stamford, 2 Stamford Road, Equinox Complex. Level 70
When: May 22, 7pm
Price: $328++ a person
High Expression Suntory Whiskies Sushi Dinner
What: Enjoy fine sushi paired with Japanese whiskies such as Hibiki 17-Year-Old and 21-Year-Old, Hakushu 18-Year-Old and 25-Year-Old and Yamazaki 18-Year-Old and 25-Year-Old.
Where: Shinji by Kanesaka, The St Regis Singapore, 29 Tanglin Road, Lobby Level
When: May 27, 7pm
Price: $668++ a person
Bookings can be made online at gourmet-japan.com.
For inquiries or reservations, call 6319-2153 (Monday to Friday, between 9am and 6pm) or e-mail gourmetjapan@sph.com.sg
rltan@sph.com.sg
Follow Rebecca Lynne Tan on Twitter @STrebeccatan
For more details on Gourmet Japan events, go to www.gourmet-japan.com
This article was published on April 26 in The Straits Times.


Get a copy of The Straits Times or go to straitstimes.com for more stories.