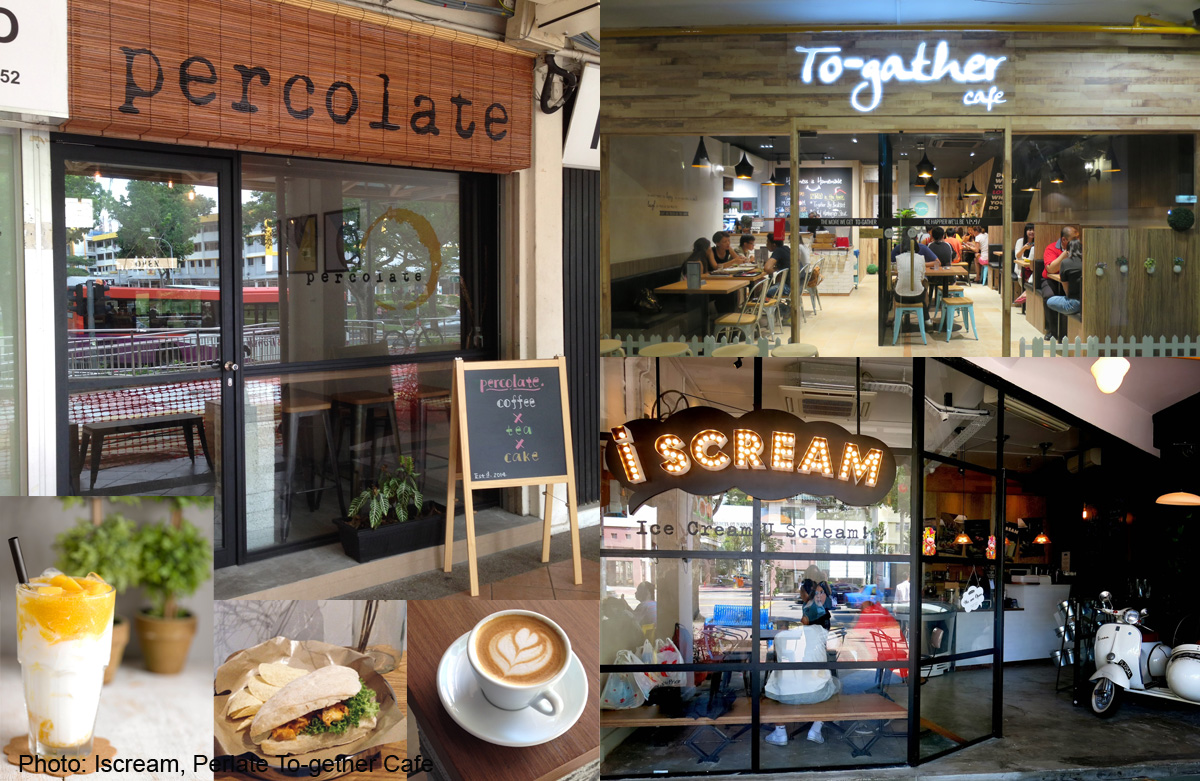 Bedok 85 hawker centre has always been a gem of the East. It boasts a wide spread of local fare such as BBQ chicken wings, sambal stingray, fried oyster omelette and, of course, the famous bak chor mee.
So when 39-year-old Ivan Teo first opened his gelato parlour IScream, he was eager to tap the supper crowd that would swarm the area every night without fail.
"There's a lot of night traffic here, so we thought Bedok as a neighbourhood is a good place to start a business," says Mr Teo, who also runs other F&B ventures such as Arteastiq at Mandarin Gallery.
"The rent is not that expensive, and the risk is less. So we wanted to use this as a testbed for the business." He adds that while looking for a good location, he found similar-sized spaces in other heartlands going for four times his current rental price. And it seems he wasn't the only one scoping out Bedok North as a good place to start a business. In fact, two other cafes have popped up in the vicinity in the last few months, adding to the variety of dining options that can be found in the area.
Warm neighbourhood groove
One of them is To-Gather Cafe, which is also located just around the corner from Bedok 85. Officially opened in December last year, it is run by three girls - sisters Hong Wei Ting, 22, and Wei Ling, 25, along with their cousin Crystal Yeo, 25. Like Mr Teo, they too were attracted by the lower rent in the area because it allowed them to keep their food prices affordable. According to Ms Wei Ling, their main reason for choosing Bedok was because they grew up there. "This place holds most of our childhood memories," she says. "From playing at the nearby playground, to helping out at our aunts' shops, to patronising our favourite eateries nearby, we're really attached to this place." So far, their customer base includes families young and old, students, housewives, and even groups of senior citizens just looking for a place to eat with friends.
The other new entrant is Percolate - a speciality coffee joint that's about a 10-minute walk from the Bedok 85 market, run by 27-year-old Avin Tan and his partner Vincent Ng, 26. They settled on this location because they were on the lookout for "a neighbourhood vibe with an oldie charm" and stumbled across the place by chance, says Mr Tan. The other reason is that as Easties themselves, they have noticed a lack of cafes (with the exception of perhaps Penny University and Chock Full of Beans) catering to the highly populated East area. But as he points out, it was still a risky move because in general the heartlands have not been tried and tested for F&B concepts such as speciality coffee. "It may not be a concept that is readily accepted by locals and particularly the senior community as they are probably more familiar with their traditional 'kopi'," he says.
"But what we want to do is introduce and educate people on what speciality coffee is about, and why we are so passionate about it." And even with these new eateries opening up around the Bedok North area, it seems they are currently too spread out to qualify as the next "hipster hangout" spot. Traditional shops still dominate at the moment, but IScream's Ivan Teo hopes more young entrepreneurs will follow in their footsteps. "The more the merrier," says Mr Teo. "If more places like ours open up, then more people will be aware, and the place will be more interesting, and attract more customers."
In the meantime, Ms Wei Ling of To-Gather Cafe points out that the current state of things can still be beneficial in its own way. She explains: "The people here are nice because the shops are mature, so it's not very competitive.
Like we always buy eggs from the shop next door and they are very friendly. It's very harmonious that way."
To-Gather Cafe
Where: Blk 84 Bedok North Street 4 #01-27 
Tel: +65 6445 1011
Hours: 11am-10pm (Tue-Thu, Sun and alternate Mon) 11am-11pm (Fri-Sat)
A name like To-Gather Cafe might strike you as cheesy at first, but that doesn't mean their owners don't mean business. The name was inspired by the song The More We Get Together, and the cafe was set up by three girls - sisters Hong Wei Ting, 22, and Wei Ling, 25, along with their cousin Crystal Yeo, 25.
Though they may be relatively young, all three of them have a considerable amount of experience in F&B, having spent a lot of their childhood helping out at their family's Fortune Food Popiah hawker stall. They later went on to play administrative and management roles when the business expanded, but eventually decided they wanted to strike out on their own. At To-Gather Cafe, good and affordable food is their main focus, says Wei Ling, who also works as a full-time architectural associate.
She handles most of the design and conceptual work at the cafe, while her sister handles the day-to-day operations, and their cousin does the administrative duties.
Their menu was specially put together by their uncle - a professional chef specialising in Western cuisine. Some highlights include quesadilla with homemade salsa ($6.50), grilled pandan chicken chop ($8.90), seafood aglio olio ($8.90) and pork cordon bleu ($10.90).
Percolate
Where: Blk 136 Bedok North Ave 3 #01-152B
Tel: +65 8259 0316
Hours: 10.30am-9.30pm (Mon-Fri) 9am-9.30pm (Sat-Sun)
Percolate means filtering something and extracting its essence. In other words, it is the literal act of brewing coffee.
So when Avin Tan and Vincent Ng named their three-month-old cafe Percolate, it was their way of declaring their passion for coffee.
Whenever you drop by their cafe, chances are that your cuppa would have been made by Mr Tan himself - who used to work full-time as a barista at various cafes around Singapore after gaining his basic training and knowledge from working at Starbucks. He and Mr Ng started off as avid cafe-hoppers who chanced upon the available location one day and decided that it was the right time to start their own venture.
Percolate carries fresh locally roasted coffee beans, and drinks are affordably priced from $3 to $5. And while their food menu is relatively limited, they make up for it by offering an intriguing assortment of original sandwiches such as curry egg mayo ($7), smoked salmon wasabi cream cheese ($9), and tom yum grilled chicken ($10).
IScream
Where: Blk 89 Bedok North Ave 4 #01-109
Tel: +65 6445 5739
Hours: 12pm to 12am (daily; last order at 11pm)
Ivan Teo, 39, is no stranger to the world of F&B. In fact, he currently runs the boutique tea house and social painting studio Arteastiq at Mandarin Gallery and Millenia Walk, as well as Museo at Sentosa Cove.
Despite his success, there was still one childhood dream Teo wanted to fulfil - to open his own ice-cream shop so he could have an unlimited supply of ice cream in any flavour he desired. And in February this year, that's exactly what he did when he opened IScream - a dessert parlour selling gelato.
IScream carries 18 different flavours at any one time in a revolving freezer that's every sweet-toothed kid's dream. To keep things fresh, a new flavour is also introduced every month. And instead of selling their product by the number of scoops, Mr Teo has chosen to charge by weight, in order to be fair to the customer, he says. Every 100 grams costs $3.50, while a typical full single-scoop cup is about 110 grams.
They pride themselves on creating original recipes for flavours such as avocado with gula melaka, nougat, nuts over bananas (banana and walnut), caramel popcorn, and Milo.
rachloi@sph.com.sg

This article was first published on July 12, 2014.
Get The Business Times for more stories.