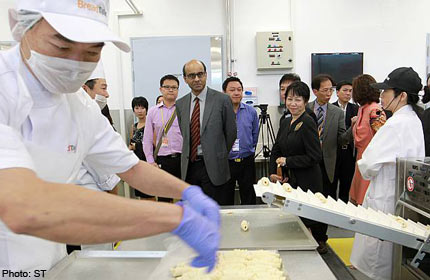 SINGAPORE - Singapore can build on the demand in the region to become one of Asia's top culinary capitals, said Deputy Prime Minister Tharman Shanmugaratnam on Friday.
The food manufacturing sector has been growing well in the past five years, experiencing an 11 per cent average growth in sales.
But becoming a "distinctive destination" will require the industry to upgrade and tackle a range of challenges, added DPM Tharman, who was speaking at the opening of BreadTalk Group's $67 million international headquarters in Tai Seng Street.
"(This) will mean going for quality in both traditional and innovative dishes and cuisines; and going for better manpower quality, better pay and better ways of managing and empowering employees," he said.
Already, restaurateurs and food manufacturers face a challenging domestic environment, with a tight labour market, rising costs and more competition.
The industry should therefore focus on quality growth, not just volume growth, he noted. This will require many improvements, both "continuous, incremental improvements" and "disruptive innovations", which displace existing products or create new market segments and customer demands.
Mr Tharman cited the Nespresso gourmet coffee capsule and local online supermarket Redmart as examples of such innovations. BreadTalk has also been innovative in its use of research and development to create "designer breads" that can fetch a higher price premium.
"These major innovations are necessary even in a so-called 'old-economy' industry like food," he said.
As part of an effort to improve innovation, the Government will encourage collaboration between large companies and small and medium-sized enterprises (SMEs).
One such project in the food sector is a training programme for SMEs, designed by Unilever Food Solutions and the Restaurant Association of Singapore, which was announced at yesterday's event.
Restaurateurs will be trained in areas such as menu planning.
The Government will also explore how infrastructure can foster collaboration, said Mr Tharman. BreadTalk's headquarters is at Paya Lebar iPark whose design emphasises connectivity, which helps to foster more interaction.
JTC Corporation is now looking at developing a multi-user food hub to provide companies with shared facilities such as an integrated cold room.
Growing a thriving food sector needs manpower development, and some firms - including BreadTalk - have taken steps to invest in people, noted Mr Tharman.
The firm said on Friday that it is working with Institutes of Technical Education to offer training and internships to students.
"To meet the group's aggressive expansion plans, as well as effectively tackle the challenges of an industry-wide manpower crunch, we need to look at various ways to build a steady pool of skilled, highly motivated talent," said BreadTalk founder and chairman George Quek.
chiaym@sph.com.sg

Get a copy of The Straits Times or go to straitstimes.com for more stories.