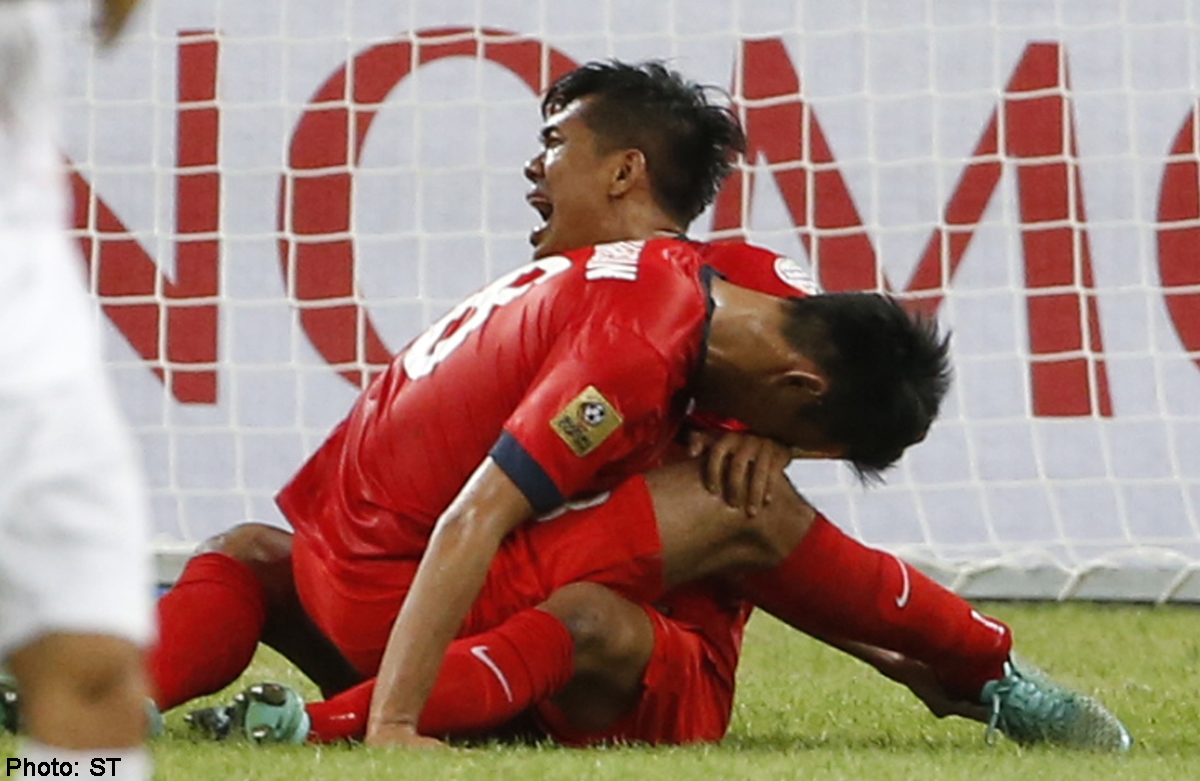 Whether you look at video replays or at the pictures, there is no hiding from the fact that Shahdan Sulaiman has suffered a sickening injury.
When I woke up the morning after Singapore had beaten Myanmar 4-2 in the ASEAN Football Federation (AFF) Suzuki Cup, my first thoughts were with him.
Before I came to play in the S-League, I was playing in China and there was a similar injury on the pitch. Although it was an opponent who suffered a dislocated ankle, the sight of his ankle dangling from its joint and pointing the wrong way was enough to shake every player on the field.
We are all sportsmen. When we step onto the turf, we don't think about injuries. We are so focused on the game and winning. But when you see something like that, it just hits you and you just can't help but feel sorry for the victim and lose focus. You start to think that it could jolly well be you with the broken leg.
My thoughts are also with Khairul Amri, who collided with team-mate Shahdan. He did not mean it at all, it was a freak accident and it must be tough on him.
At moments like this, it is critical to keep up your spirits. Shahdan's unfortunate injury demoralised the team. And it showed as Myanmar pulled two goals back when the Lions were leading 3-0. It is difficult to recover mentally from the shock of seeing such an injury.
The Lions did enough to hold on and win but, in a way, Shahdan's injury can now provide motivation for Singapore.
He is such a popular guy in the dressing room, always smiling and I never have a bad thing to say about him. I am sure the Lions will now want to beat Malaysia for Shahdan. But it will not be easy. Losing Shahdan and the suspended defender Baihakki Khaizan are such huge blows.
I believe left-back Shakir Hamzah can do a good job in central defence in place of Baihakki but there is a big hole in midfield.
The obvious option is to pick Isa Halim or Fahrudin Mustafic as that is their natural position but they are not in the squad.
I really wish I can see Isa and Fahrudin out there because they are such experienced players. They read the game so well, they know when to move in to clear the danger and, tactically, they are so disciplined.
At times like this, when we start to get injuries and suspensions in a tournament, we need them more than ever.
It looks like either Zulfahmi Arifin or Hafiz Sujad will replace Shahdan.
They are not as experienced and they will be under huge pressure to play well against Malaysia in such a crucial game and very possibly, in front of 55,000 fans at the National Stadium.
It is time for Zulfahmi and Hafiz to show the fans what they can do and that they deserve to be in the national team.
And they should do it for their mate, Shahdan.
stsports@sph.com.sg
This article was first published on Nov 28, 2014. Get a copy of The Straits Times or go to straitstimes.com for more stories.