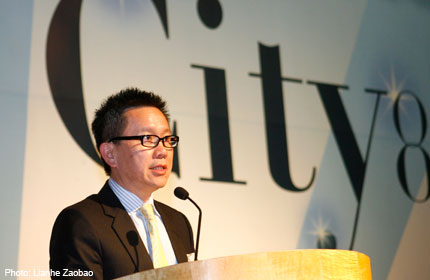 SINGAPORE - Singapore property magnate Simon Cheong, best known for selling luxury units at record prices, may have to fork out more money to appease his company's key shareholder and take SC Global Developments Ltd private in a planned S$745 million deal.
Cheong, who controls 60 percent of the company and is chief executive and chairman, faces resistance from Wheelock Properties (Singapore) Ltd, which owns 16 percent of the firm and recently bought shares just above the tycoon's offer price.
Wheelock has also hired Goldman Sachs to advise on its stake, but sources with direct knowledge of the matter said the company, controlled by Hong Kong-based group Wheelock and Company Ltd, believes a much higher price for SC Global is warranted.
Bankers and analysts believe a counterbid for SC Global is unlikely because Cheong owns a controlling stake in the company.
Wheelock sees the revised net asset value (RNAV) of SC Global at S$3 a share or more, one of the sources said, about 50 percent above SC Global's share price. RNAV is the estimated breakup value of a property firm based on its assets.
The sources declined to be identified as they were not authorised to speak to the media. A spokeswoman for SC Global declined comment.
Cheong, a former investment banker who set up SC Global in 1996, has positioned it as a niche developer with exclusive residential enclaves in a country boasting the world's highest concentration of millionaires. Last year, it sold a 3,000 square foot apartment for a record $19 million in the prime Orchard Road area.
"If Simon Cheong really wants to privatise SC Global, he has to increase the offer price. Currently, it's pretty unlikely that the other minority shareholders will accept the offer,"said Bryan Go, an analyst at Philip Securities.
"The completed assets are worth more than the offer price, but current slow sales are dragging the potential value."
Bosses of Singapore-listed companies are taking their firms private to take advantage of beaten-down prices and cheap financing.
SC Global's shares rose to a five-year high of S$2.08 this week following Cheong's offer, which was at a 49 percent premium to its last traded price.
Cheong says taking the company private will give it "greater flexibility to manage and plan its residential property development" business and SC Global hasn't tapped capital markets for funds for at least the past six years.
SLACK DEMAND
Demand for luxury apartments, a segment in which SC Global competes with Wing Tai Ltd and Ho Bee Investment Ltd , has fallen significantly following a string of measures by the government to cool prices, hitting the shares of developers.
Last December, the government imposed an additional 10 percent stamp duty on the property value that buyers who were not Singapore citizens or permanent residents had to pay. More measures followed this year.
"If you look at the amount of intervention from the government, the high-end homes have been hit most because of the measures," said Png Poh Soon, head of research at Knight Frank Singapore.
Demand from foreigners, who used to account for 30 percent to 35 percent of home purchases in the segment, has fallen steeply and high-end developers have been left with unsold units.
Under Singapore's regulations, SC Global could face penalties for not selling all its new units two years after they have been completed.
Failure to do so means losing a deposit worth 10 percent of the land as well as an 8 percent tax on the value of unsold units in the first year, rising to 24 percent after three years.