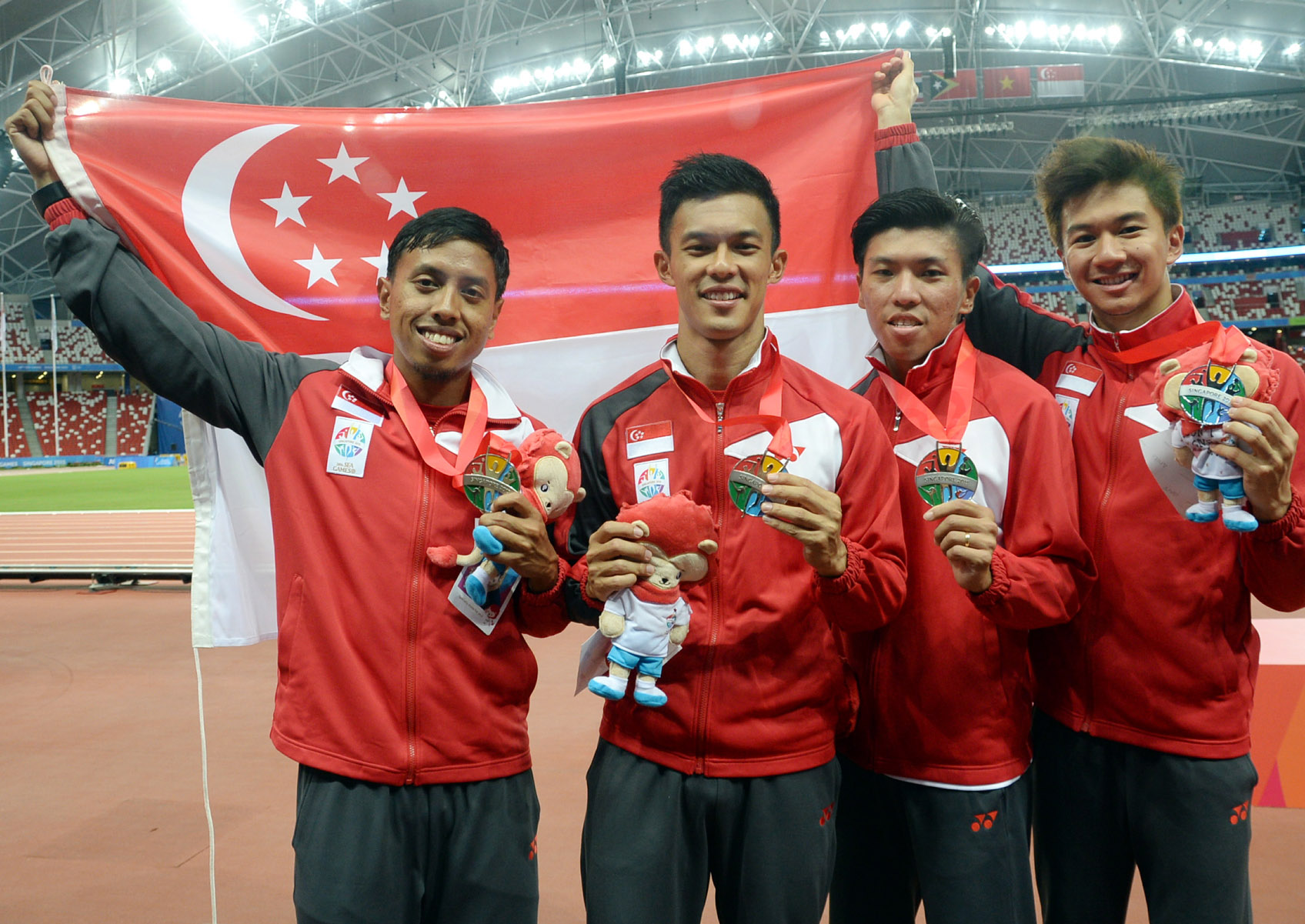 It has been more than six months since the Singapore men's 4x100m relay team lost four senior faces to retirement following the SEA Games, but who will replace them remains unclear.
Gary Yeo, Lee Cheng Wei, Amirudin Jamal and Elfi Mustapa hung up their spikes after the SEA Games. Only Calvin Kang and Naqib Asmin remain from the previous outfit but they have yet to train with potential new team-mates.
Yeo, Lee, Kang and Amirudin had set the national record last June.
But despite the long period of uncertainty and inaction, which some say is among the longest they have experienced as a squad, national sprint, relay and hurdles coach Luis Cunha, 51, played down fears that Singapore, who have finished second in the event at the last four SEA Games, will fall behind their rivals.
Having previously told The Straits Times that he would hold the first centralised training session for the squad last October, he explained: "We'll try to start next month. But we still have a lot of time. The SEA Games is in August next year. Training once a week or every fortnight is enough, and we can increase the frequency closer to competitions."
A sprinter, who declined to be named, said: "It'd be great to get indications and targets from coach Luis early, but he has told the sprinters he will set the standards at the first centralised training so we will wait. But there's still time before the SEA Games."
Cunha said there were several reasons for the delay but would only say they were due to "internal problems".
Asked if he has identified any runners, the Portuguese said: "Velocity is the most important so naturally I have to choose the top names on the rankings."
Timothee Yap, who won the Institute-Varsity-Polytechnic Track and Field Championships 100m in 10.52 seconds, beating Naqib (10.62) in the process, and Polytechnic-Institute of Technical Education Games 100m championship record holder Khairyll Amri, 22, are among those touted to replace the old guard.
Under Cunha's guidance, both 4x100m teams set new national marks (39.24sec for the men and 45.41sec for the women) at the SEA Games and he tips them to go even faster. "I'm confident they will improve and get medals at the next SEA Games," said Cunha, who represented Portugal at three Olympics.
The coach, who started work here in December 2014, also responded to concerns that he had been training a group of only 10 national athletes since the SEA Games ended.
Singapore Athletics president Tang Weng Fei alluded to this problem in an earlier media interview, lamenting that some local athletes preferred to stay with one coach even as they move up the ranks.
But Cunha, whose contract will expire at the end of the year, said: "Some athletes will prefer to train with their coaches, that's fine. It's not about having all the best athletes training under me.
"What I can do is try to improve their training process, because if you look at the results, it's easy to see that there is room to improve."
An athlete who declined to be named explained: "Athletes stick to their coaches because the chemistry is there, and the workouts are tailored to our endurance. Over the years, they understand how our bodies work."
A philosophical Cunha added: "I can only help people who want my support.
"I have to respect coaches who think I have nothing to offer them."
Tang voiced his support for the coach, saying: "He's done well so far and I'm pleased with his contributions. People will say there are not many athletes under him, but he is not just coaching.
"We have a new apprentice scheme, where he will impart knowledge to locals."
Said Cunha, whose wife and two children still live in Portugal: "At the end of the day, I want to be able to say I have helped the athletes, either directly or by helping the local coaches improve.
"There are limitations unique to Singapore, like the haze, the lightning warning system, and the fact that many of our best athletes are not training full time. But we work with what we have."
siangyee@sph.com.sg
This article was first published on January 27, 2016. Get a copy of The Straits Times or go to straitstimes.com for more stories.