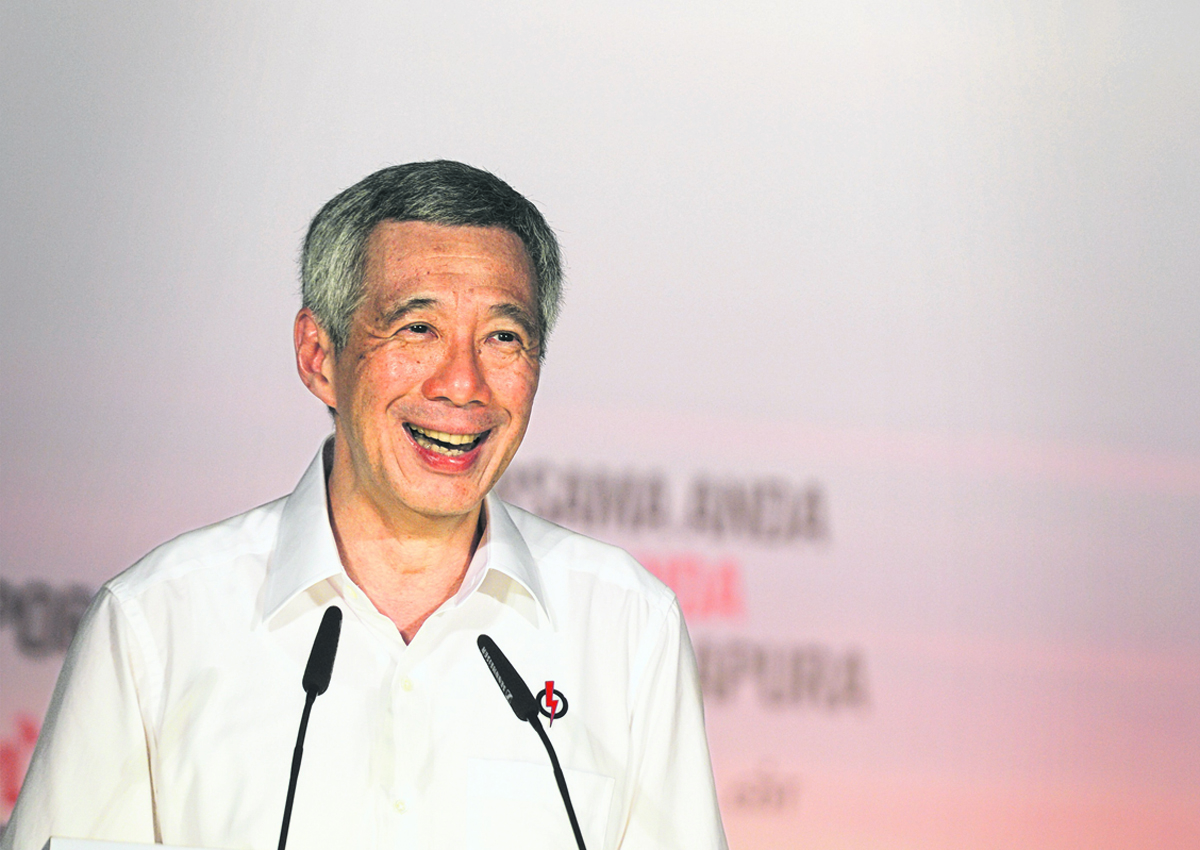 On a day when the Pollutant Standards Index (PSI) hit 100, Prime Minister Lee Hsien Loong told the lunchtime crowd braving the haze at a rally downtown that Singapore can handle the challenges in its neighbourhood because the people and Government are united.
Life is never easy for a small country, he said, pointing to terrorist threats, tension in Malaysia and persistent views in Indonesia that Singapore needs to know its place relative to its big neighbour. Those quarters in Indonesia do not take kindly to Singapore registering unhappiness over the haze.
"Today, PSI 100. Where does it come from? You know where it comes from. Why does it come here? They are burning forests, it's blowing here. What can we do about it? Well, we're helping, working with them, offering to help them but, basically, they have to solve the problem. The government is cooperative, attitudes amongst the community, something different.
"Whenever there is a haze blowing over to us or to Malaysia, somebody in Indonesia will say these people are so ungrateful. Eleven months, we supply them fresh air, never charge for oxygen. One month haze, already so unhappy," Mr Lee said.
The attitude of those Indonesians is that, as a little red dot, Singapore should know its place in the world. "Small country versus big country, better tabik (salute) a little bit," Mr Lee said as he saluted to match his words.
Turning to Malaysia, Mr Lee said its currency is down, its economy is weak and there is tension over the recent large, anti-government Bersih demonstration and an anti- Bersih protest slated for Sept 16, which, by coincidence, is the birthday of founding prime minister Lee Kuan Yew, who died in March.
"Just think of the contrast. For us, it's the founder's birthday. For Malaysia, it's a time of tension and unease. And there's a strong racial undertone to this because Bersih was non-Malay and anti-Bersih is many Malay groups. So these are things we worry about," Mr Lee said.
That is the way the world is for a small country, but Singapore can handle it, he added.
"We have dealt with it for 50 years, even when we had two infantry battalions. We managed to see (it) through and get here. Today, with the SAF, with our Home Team, with all of your support, with a good government, I think whatever the haze, whatever the Bersih or non-Bersih, I think we make Singapore succeed.
"How do we do that? We do that by staying one united people. It's been our formula... our mantra. Actually, it's our secret recipe. Why is it secret? Not that people don't know it, but people cannot do it. We can do it. We keep faith with one another, the Government works with the people, the people support the Government. Together, we got to SG50. Together, we will get to SG100," he said.
Singapore must also be on guard against terrorism. The terrorist group thought to be behind the bombing at a shrine in central Bangkok last month is suspected of being linked to groups in Poso, Indonesia, some of which are thinking of setting off bombs in Singapore. The Government will do its best to stop them, but there is no guarantee nothing will ever happen here.
"And Polling Day, it so happens, is 9/11, just to remind ourselves," he said, referring to the anniversary of the terrorist attack on the World Trade Centre in New York City.
asyiqins@sph.com.sg

This article was first published on September 9, 2015.
Get a copy of The Straits Times or go to straitstimes.com for more stories.