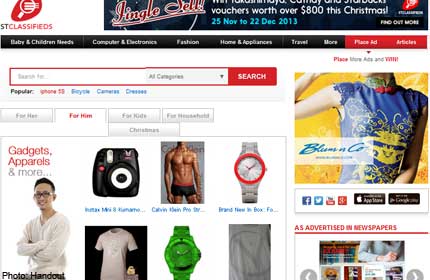 SINGAPORE - Singapore Press Holdings' (SPH) STClassifieds was awarded Print Campaign of the Year at the Hall of Fame Awards (2013) last Friday.
This award is organised by the Institute of Advertising. Entries are judged based on creativity as well as results and effectiveness.
The STClassifieds launch campaign that was created by Goodfellas emerged top spot from four other nominees including STCars (also by Goodfellas and SPH Online Classifieds, ST701), KFC, P&G Duracell and Samsung Asia.
Mr Patrick Low, its Founder and Creative Partner, said: "This accolade reinforces the strength of the press as a medium in any major product launch, even in the case of STClassifieds, an online portal."
Since its launch, STClassifieds has garnered over 19,000 app downloads, 90,000 product and service listings, 3.5 million page views monthly, 1 million visitors monthly and 100,000 Facebook fans.
Earlier on, the STCars Anti-Drink Driving campaign also nabbed a Bronze amongst 11 other nominees under the TV & Film category in the GONG Singapore Creative Circle Awards, organised by the 4As (The Association of Accredited Advertising Agencies). Entries were judged based on creative concept and follow-through execution. Patrick added that "there is no greater joy than to create ads for a good cause, and winning the GONG is a welcome bonus".
Mr Johnson Goh, Vice President and Head of SPH Online Classifieds, ST701, said: "We are honoured to receive these awards for STClassifieds and STCars and to be recognised by professionals for the fruits of our labour with our partner. More importantly, we are glad to be able to communicate our messages and brands across to the masses and our users successfully."