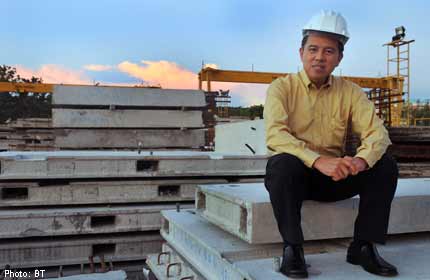 OPERATING a business tied to the notoriously cyclical construction industry is no easy task. Yet, Excel Precast Pte Ltd might just have gotten it right.
A healthy cost structure, customer-centric mentality and counter-cyclical investment strategy have not only helped Excel win in the current upturn, they can also be counted on to shelter the company from any upcoming downturns.
Incorporated in March 1999, Excel is a manufacturer and supplier of precasts for the local construction industry. Precasts are pre-fabricated building components produced by casting concrete in reusable moulds.
Compared to the alternative of on-site concrete casting, using precasts offers real advantages, one of which is cost savings. Precasts help customers increase their productivity by substantially reducing labour requirements.
Despite initial struggles to build a name for itself - crucial for survival in the industry - Excel has since evolved into an award-winning company reputed among customers and business partners for its reliability and product quality.
Excel now has 250 employees spread across its two production facilities in Singapore and Johor, Malaysia.
For Excel, managing the ups and downs of the industry is key.
"We know a downturn is coming," Tan Bian Tiong, Excel's chief executive officer, says. "We just don't know when. And downturns in the construction industry can be lengthy. It is thus pertinent that we constantly plan and prepare ourselves for demand dips."
Mr Tan is an industry veteran with 27 years of experience in the field.
Central to Excel's resilience amid the business cycle is a fundamentally healthy cost structure. This allows Excel to provide superior products at competitive prices, while serving as a buffer against revenue dips during bad times.
Excel's both factories are equipped with a computerised concrete batching plant conformed to the latest standards. This, together with stringent quality control during the production process, means that only precasts of the highest quality are produced, minimising costs by reducing defects.
Another key success factor is a client-centric mentality.
"(We) make it a point to be present and involved in our customers' meetings," says Mr Tan. Excel works closely with its clients to break down an architectural design into replicable segments suitable for precasting. But Excel doesn't stop here.
Through its "design-and-build capabilities", it also suggests modifications to make the design more precast-friendly. This helps customers get the most out of every cent, by increasing the rate of utilisation of every precast mould.
By getting involved in the planning process, Excel ensures that what it produces meets customer requirements, minimising costs from remakes. But more importantly, it has managed to build a loyal customer base which helps it clinch projects during weaker times.
The third key success factor is Excel's diversified portfolio.
It deals in a mix of project types spanning private residential properties, commercial buildings, industrial properties and military buildings. This is expected to serve as another line of defence against sudden demand dips.
"Of course, none of these would have been possible without our team," says Mr Tan. "Excel is very lucky to have staff who are fully committed to reducing mistakes in our products, and increasing productivity. This is the reason why we are able to deliver over and beyond customer expectations in both good and bad times."
Seen as a strong visionary himself, Mr Tan often takes a hands-on approach to lead the team in constantly making improvements to operations.
Bold decision
For Excel, downturns are not just something to be guarded against. It believes in grasping opportunities during bad times. This ensures that the company is in a good position to leverage on the upturn when recovery occurs.
Its bold decision to set up a production facility in Johor was one such instance. This was originally driven by the need to increase its output capacity given the limited land in Singapore. But once Excel foresaw an upsurge in demand in the Singapore construction market, it acted quickly to expand the factory to 4ha.
The gamble paid off.
The Johor precast plant now plays an instrumental role in many of its large scale projects, including the Housing Development Board's (HDB) Punggol East project in 2008, which marked it as the pioneer precast supplier of large-scale building precast components for HDB projects from Malaysia.
"It is always easy to grow. All we need to do is to invest. But it is difficult to shrink. This is why patience is key. We invest only when the moment calls for it, but if and when we do, we will put in everything we have to ensure success," he says.
Looking ahead, Excel is actively exploring the possibility of venturing into other pre-fabricated products, as well as establishing subsidiaries in other Asian countries.
With its commitment to customers, a dedicated team and a prudent yet enterprising management, Excel is poised for future growth even when confronted with a downturn.
The writers are students of NUS Business School