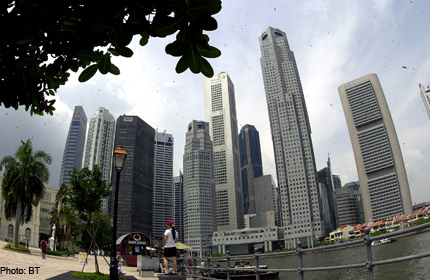 The ebullient mood on Wall Street has failed to rub off on the local market.
The widely watched Standard & Poor's 500 Index, which tracks 500 United States blue chips, gained 1.6 per cent last week to a record high of 1,798 points.
Yet, the benchmark Straits Times Index had to struggle to clear the 3,200-point hurdle as it ended up 0.76 per cent at 3,201.27 in the same week.
As if this is not bad enough, trading activities appear to be slowing down too, as interest in local equities waned.
Bloomberg data shows that the daily average turnover this month had fallen to $941.79 million.
This is lower than last month's daily average of $1.11 billion, which was itself a big letdown from September's $1.44 billion.
So what is ailing the local market? Much of the ebullience on Wall Street can be attributed to expectations that the US central bank is in no hurry to turn off the massive liquidity it is pouring into the financial system any time soon.
In other times, this would have been music to the ears of local investors here, propelling the STI sharply higher. But, last week, it simply limped along.
DBS Group Research suggested the insipid performance of the local bourse could be due to the dull performance by listed firms during the recent corporate reporting season.
It said in a recent note: "So far, the results have been unexciting and uninspiring, with this year's and next year's forecast earnings cut by about 2 per cent each."
But some dealers noted that the sharp drop in turnover could also be due to a souring appetite for penny stocks which had boosted September's trading activities considerably.
While penny stocks continue to dominate the list of most actively traded counters every day, the dollar value of these stocks which change hands each day has fallen sharply, following the recent collapse in the prices of many penny stocks.
Curbs imposed by broking houses to protect their downside risks are also curtailing trading activities.
Some of them are demanding upfront cash payment from their clients on a big number of penny stocks before they are allowed to buy them.
Still, their actions are understandable.
Last week, Malaysia-based AMMB Holdings revealed that its Singapore broking unit, AmFraser Securities, faced potential losses of up to RM120 million (S$46.7 million) because of its exposure to Blumont Group, Asiason Capital and LionGold Corp.
The collapse in the three counters last month sparked off the rout in the penny-stock market.
Despite the general market sluggishness, there are bright spots worth considering. Last week, for example, Deutsche Bank put out a bullish report on the Asian palm-oil industry.
It said that palm-oil production might surprise the market on the downside in the next two years, while demand stays robust.
Domestic port inventories of palm oil in China have fallen to their lowest levels in 20 months and this should underpin crude-palm-oil prices, it added.
Consequently, it has upgraded all the plantation stocks under its coverage to buy.
It said: "Specifically, our top buys are Golden Agri-Resources, Wilmar International and Kuala Lumpur-listed KL Kepong."
myp@sph.com.sg

Get a copy of The Straits Times or go to straitstimes.com for more stories.

Get MyPaper for more stories.