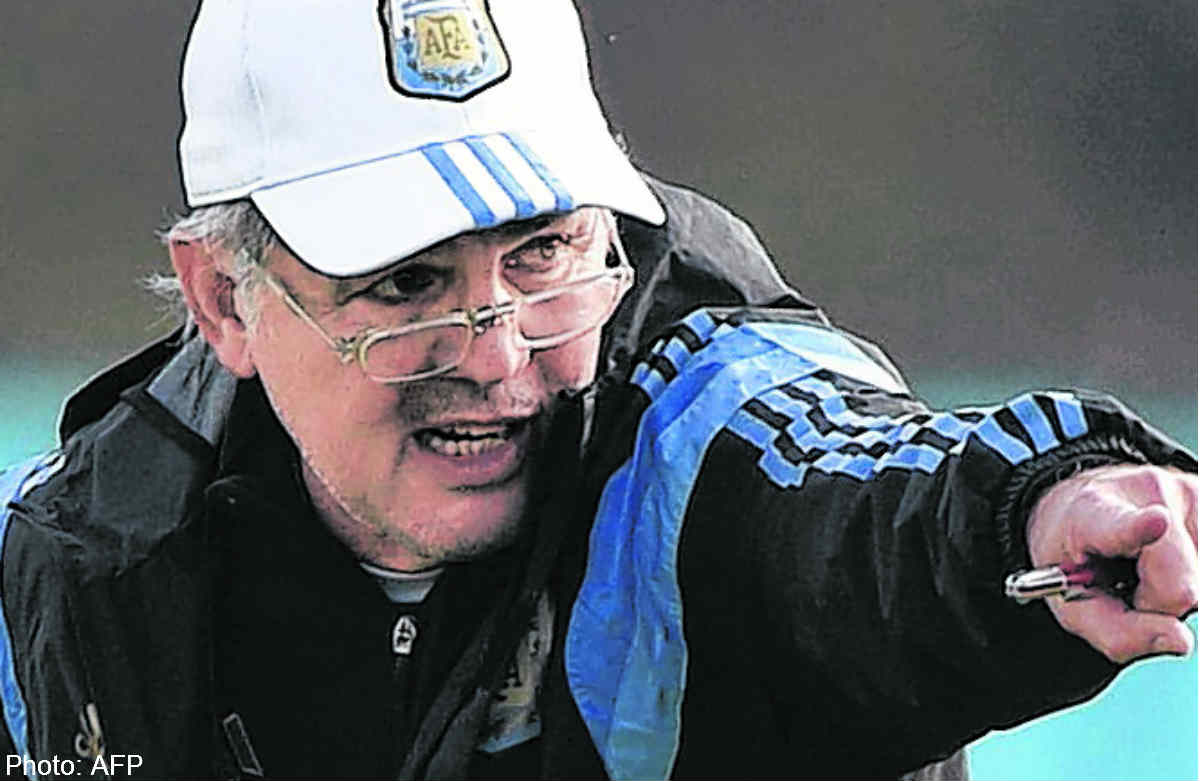 GROUP F
ARGENTINA 1
(Lionel Messi 90+1)
IRAN 0
Messidependencia has truly taken hold. Argentina are in the grip of the most seductive of addictions.
They are aware of the potential danger of being devoted to one intoxicating individual. They know they run the risk of weakening the collective spirit.
But they can't stave off something quite so captivating; just one more hit, one more high, one more last-minute goal against Iran and they'll reduce their dependence on a single man. But they won't. Why would they want to?
Geniuses are addictive. Argentina's gravitational pull revolves around The Little Flea.
Both Messi and his coach Alejandro Sabella tried to suggest otherwise but convinced no one.
"Our team are a very united team, we all share a good relationship," said Sabella in his post-match press conference after the 1-0 win over Iran yesterday morning (Singapore time).
"But, of course, we have a genius in Messi. Everyone would like a Messi. But luckily, he belongs to Argentina."
He laughed. Even he was not immune to the attractions of Messidependencia. That's what the South Americans call it here in Brazil. And there is no escape.
Even Messi struggled to brush away the mild interrogation after he swept his country into the knock-out stages with one swish of his laser-like left foot in the final minute of an otherwise lacklustre outing at the Mineirao Stadium in Belo Horizonte.
"I don't think the Iranians were marking just me," he claimed, failing to swat aside the suggestion that he was a marked man.
"They marked all the players. The last two matches were like this. Both teams were defensive, so it was hard for me and Angel di Maria to create much space."
But he did create space, not much, but enough. His controlled curler in the dying seconds broke the Iranian spirit and roused the anxious Argentinians. His inner artist found the material required to daub a minor masterpiece.
Argentina didn't defeat Iran. Messi did. Messidependencia threatens to consume the World Cup favourites. Even Sabella begrudgingly acknowledged the uncomfortable reality.
"We will try to work on this," he said, referring to the reliance upon his impudent No. 10.
"We know we have to improve. It's not just you. We also analyse our attack and we reach the same conclusions about Messi. There are many things we have to work on."
Iran coach Carlos Queiroz also diagnosed Argentina's current condition.
"We were positive throughout and never quit," he said. "But the other side used a genius. Messi was great. Messi was the difference." When the 26-year-old found the top-left corner, he papered over cracks for the second game in a row.
His intuitive relationship with Fernando Gago is built on a lifelong friendship, but his teammates were less than telepathic with each other. Sabella's 4-3-3 formation is dependent upon vibrant wing play, but both sides fell short.
He made a double substitution of Rodrigo Palacio and Ezequiel Lavezzi to address the imbalance.
"The changes were made because I wanted two strikers," he conceded. "I wanted to push more on the right wing. The left was okay, but we needed to improve on the right."
That was Messi's wing, but he roamed freely, leaving Gonzalo Higuain to pick up the slack. Higuain didn't. He disappeared. Messidependencia casts a long shadow.
The chief jailor continues to get them out of jail with his 40 goal in 88 matches but Sabella must use the final Group F game against Nigeria to address the shortcomings.
EXPOSED
Defensive vulnerabilities remain and Argentina's counter-attacking left Sergio Romero exposed. And finishers more refined than Iran's are waiting in the knock-out stages.
Still, Argentina's failings are concerns for another day.
Their fans danced on the streets around the stadium, celebrating what they do have, not what they don't.
They have a route through the mediocrity. They have Messi.
When asked, again, how he handled the pressure to score the winner, he offered that dimpled, cherubic smile. He ignored the hype. He replayed the goal.
"As soon as I got the ball, I saw that we were all around the box waiting, trying to score," he said, speaking quickly, savouring the memory.
"But I kept going and when I saw that I'd scored, I was very happy obviously. I heard all the people around the stadium singing and smiling. It was a wonderful moment."
The boy who only ever wanted a ball at feet was back in the room.
The man, however, must shoulder unprecedented responsibility for his misfiring country.
Messidependencia is spreading through the Argentina camp. And there's no obvious cure.
With the clock ticking down, Lionel Messi looks to be in an innocuous position when he receives the ball on the right in the 91st minute.
Dropping his shoulder and cutting inside his marker, he bends a superb left-footed effort into the far corner past Iran goalkeeper Alireza Haghighi's outstretched hand.
npsports@sph.com.sg

This article was first published on June 23, 2014.
Get The New Paper for more stories.