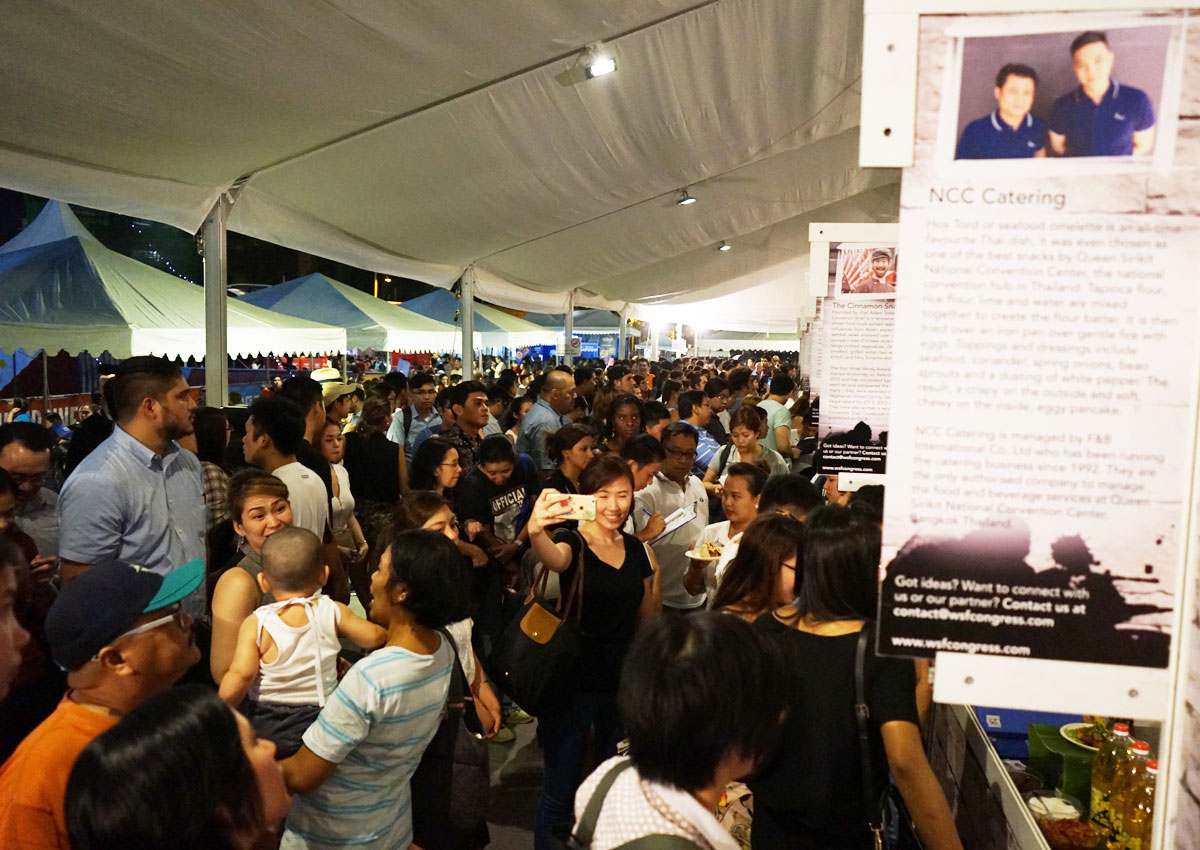 DESPITE the scorching sun, food-loving Filipinos began queuing outdoors for an hour before the World Street Food Congress (WSFC) jamboree opened its doors at 4.30pm on Wednesday. By 5pm, hundreds formed long queues for the specialities of 25 vendors from other parts of the Philippines, China, India, Indonesia, Vietnam, Malaysia, Singapore, Thailand and the USA.
It's the first time Manila has seen international street food vendors flying in for a street food market like this. No wonder Filipinos swarmed the jamboree, buying up almost everything by 9pm. Each stall prepared enough food for 600 people - which meant 100 chickens in braised Zhu Hou style at Fushan master chef Xu Jingye's 102 Private Kitchen stall and nine whole truffle-rice stuffed pigs (spicy paella lechon) by Pepita's Kitchen.
Pepita's Kitchen's spicy paella lechon has the tastiest lard-infused fragrant truffle-flavoured rice cooked in a roasted piglet.
Photo: The Business Times
"It's a really impressive crowd," declares an impressed Malcolm Lee of Singapore's Candlenut Restaurant, who has been to the first two congresses in Singapore.
It certainly proves Makansutra founder KF Seetoh right in his declaration that street food is taking off in a big way in Metro Manila, which is partly why the Singapore food outfit decided to hold its first international edition of the WSFC in Bonifacio Global City, supported by the Philippines Department of Tourism, Tourism Promotion Board Philippines and Ayala Malls (Philippines). Makansutra will also set up a permanent international food market in Metro Manila this year.
Metro Manila / The Philippines
The time is ripe now to elevate the street food culture in the Philippines as there are a lot of economic opportunities for locals, says Anton Diaz, founder of Our Awesome Planet, which started out as a leading Filipino food blog and who now runs a couple of food markets (Mercado) in Metro Manila. The future is bright for local food entrepreneurs because of two "golden statistics", he notes.
The first is the median age in The Philippines is 24 years, that's roughly 100 million people. And they're on the Internet. The average age in Singapore, for example, is 40.
The other is that the consumer confidence index is high - at 117 in the country, comparable to the 115 in Indonesia, and higher than 94 in Singapore and 80 in Malaysia.
"So we're at the start of a historic point in the Philippines: young Filipinos love street food; and in the world of haute gastronomy, there is also a return to food origins and heritage. We're also now in the post-avant garde era after the focus on techniques in molecular gastronomy," Mr Diaz says, citing his observations from the Madrid Fusion event held recently, which saw top chefs from the Americas sharing their expertise in Manila.
The authorities have plans, for instance, to develop the old city of Intramuros into a food destination, he says, where before the street vendors there were seen as an eyesore. Intramuros has a 100-strong street food vendors association. If anything, the Intramuros administration is keen to move vendors into an area within the walled city where there's proper running water and waste disposal systems.
Fried oyster omelette.
Photo: The Business Times
The growing appreciation for street food - which in the case of the Philippines also means their heritage home recipes or regional food - comes with economic opportunities. The street food revolution is seen as an opportunity for social enterprise by big players such as Ayala Malls, notes Javier Hernandez, assistant vice-president and area head of Ayala Land Inc.
Ayala - which has 44 mall properties throughout The Philippines - decided to back the WSFC because they wanted to give the locals a taste of the economic opportunities they can have with their cooking talent.
"We have people selling food out of their houses but we want to inspire them to come out to run small food businesses. The barriers are much lower than outfitting a restaurant so this is to help them become small retailers," says Mr Hernandez. The popular Market Market mall in Bonifacio Global City was Ayala's first property to feature mom-and-pop food operators in 2002, putting the focus on the street or heritage food concept. This year, the conglomerate has partnered with Our Awesome Planet to run an international street food market at the "Spaceman" site (adjacent to a building where there's a large mural of a spaceman) where the current WFSC Congress and Dialogue is being held.
The conglomerate is committed to allocating 10 to 15 per cent of its mall tenancy to local businesses. "We want to come into the local community and give them opportunities, not kill their businesses by bringing in the big players. And our malls are also known for giving an international dining experience. But with street food, it's more affordable," he says.
Filipinos love to eat, and not only that, they love to share food with friends and family - so it's not difficult to see that the young generation will wholly embrace new food movements in the country, says Domingo Ramon Enerio, chief operating officer of Tourism Promotions Board Philippines (TPBP). No wonder then that the TPBP has made food the core of its promotional programmes.
Jakarta / Indonesia
Smartphones are fuelling the street food boom in Indonesia, in the heady combination of youth and technology. In Jakarta, food vendors and entrepreneurs are using Facebook, Twitter and the Internet to promote and sell their home-made goods.
"It's the smartphone and digital revolution that will drive the future of street food in Indonesia," declares Odilia Wineke, author of 12 cookbooks and executive producer for several Indonesian cooking programmes.
The numbers are impressive. About 85 per cent of the population have smartphones (55 million people) of which 50 million actively use Twitter. There are 60 million Facebook users - the fourth largest in the world after the USA, Brazil and India.
"A lot of warungs (small, local eateries) these days have Instagram and Twitter accounts - and they're active. They give updates twice a day. Even older food vendors have their children updating for them or they hire high school kids to do it," says Ms Odilia.
Martabak Kota Barat – a ban jian kuih-like cake with fancy toppings such as green tea Kit Kat, Ovomaltine, Timtam red velvet by Markobar 
Photo: The Business Times
Along with online shopping, people are also ordering food over the Internet and are having it delivered to them via GrabBike, Go-Jek, Go-Food or GoMart - anywhere in Jakarta, 24 hours, at an affordable price. "It's made everything easier for street food. The Jakarta Smart City programme even has a kaki lima project which lists 400 street hawkers around Jakarta where you can order online from small pushcarts in the city," she elaborates.
"And selling online makes sense because vendors don't pay expensive rent, there's no promotion cost, they can communicate directly with their customers and solve complaints fast."
She highlighted the example of President Joko Widodo's eldest son, Gibran Rakabuming, who owns a street food business, Markobar, selling Martabak Kota Barat - a ban jian kuih-like cake with sweet toppings. Markobar has set itself apart from other martabaks because of its fancy toppings such as green tea Kit Kat, Ovomaltine, Timtam red velvet. Markobar has 34,000 followers on Instagram and 19,800 on Twitter. The stall operates only six hours a day, seven days a week, and generally rakes in 25 million rupiah (S$2,555) per stall per day. He has some seven stalls in several cities.
So street food in Indonesia is firmly in the hands of the young now who are using technology to extend it, says Ms Odilia, either with new food creations and/or to preserve heritage food.
New Delhi / India
In India, street food is more about improving the livelihood of vendors than anything else. "That is more important and once we do that, it automatically means culture and everything is promoted," says Sangeeta Singh, head of the National Association of Street Vendors of India (Nasvi), an NGO. There are some 10 million vendors in India, and six million hawk food.
"We've a very diverse food culture so we're not worried about preserving the tastes as everybody has their own twist on recipes. But we want to make street food vendors' livelihood sustainable," she says. Despite the 2014 Street Vendors Livelihood Act, the government hasn't yet regulated the industry which leaves open the field for vendors to be harassed unnecessarily.
"But at least we have the Act, and the government has been proactive in health and sanitary issues," she adds. In Delhi, 25,000 vendors are trained and certified by the regulatory authority and NASVI is taking it to other cities.
"We need to continue to work on the hygiene of the vendors, because younger customers in India are getting fussier about looks and presentation and prefer to go to a hotel or mall to have street food which is trendy now," she notes. "Street food has become a 'sexy' food in India - and we're educating real street vendors that transformation needs to happen and we're trying also to connect them to the government's entrepreneurship programmes."
Mee Siam
Photo: The Business Times
New York City / USA
Interestingly, advocacy is also a big issue in New York City - where very limited (only 3,000 permits to cater to an eight million population) and coveted two-year food vending permits are obtained for US$200 but can be sold on the black market for US$25,000.
"Vendor defender" Sean Basinski who set up the Street Vendor Project (SVP) in 2001 as an advocacy NGO for some 20,000 New York City vendors lauds Singapore's street food culture and the strong government lead in the industry.
"It's still a struggle every day for the sake of street food vendors even though the organisation has been around for almost 20 years. Because they can't get permits, many do it illegally," he says.
Historically, but also still true today, vending or hawking in New York City is really a form of economic mobility for the immigrant family and it's inconceivable that the next generation will continue with the trade.
"Let's face it - 95 per cent of vendors aren't selling heritage food. They're selling hotdogs or roasted peanuts," says Mr Basinski, who does advocacy work for the vendors, 98 per cent of whom are new immigrants to the city.
But the "sexiness" of street food and the foodie movement in the past five years or so also has its dangers. "Besides legislation, the other danger to street food is gentrification," he highlights, adding that luckily SVP was set up before the street food movement became trendy but not before the foodie movement about five years ago.
When street food becomes too trendy or mainstream, the gentrification worry is that restaurant chefs have co-opted it and create more expensive versions of it. "It's a perversion of street food as it gets too inaccessible for the average person who may not be able to pay US$15 for lunch," says Mr Basinski.
SVP also tries to educate vendors to raise their game more so they can draw more customers. "However these are people who are low on capital and low on risk. Their exposure is limited so while it's easy for us to say 'why don't you innovate', they just don't have the same opportunities and exposure," he says, citing the dwindling demand for hotdogs, for example, by native New Yorkers whose tastebuds are getting more sophisticated.
Braised Zhu Hou Chicken from China.
Photo: The Business Times
"One vendor was able to make a success out of selling chicken and rice and now every hotdog seller wants to graduate to a chicken and rice cart," he quips.
He calls these the "quack quack" vendors - with no disrespect for the fact that this gives them their daily income - but says that while SVP tries to help them migrate to something different, it's not for the sake of the quality of food or heritage recipes itself but their livelihoods.
"With the foodie movement, street foods are moving to a different place so vendors do have to change for their own sakes," he says, adding that SVP conducts food classes and is lobbying for the Health Department to give health grades to street vendors like they do for restaurants.
A public Sunday market that SVP set up for street vendors tapped a whole new group of food vendors - mostly women who cook at home but have never sold a thing in their lives. The non-profit organisation has also been asked by chef personality Anthony Bourdain to curate and manage 12 local street vendors for Mr Bourdain's food market hall that is in the pipeline to open in the next two years.
Mr Basinski laments that there are only four public food markets left, from the 50-60 that the city used to run. Like India's Ms Singh, he wishes that there was a stronger government lead in establishing public food centres as these fixed locations will mean better health compliances.
Singapore
Indeed, the immense government support for street food in Singapore is seen as a gold standard for other countries. In Singapore though, the street food culture is itself threatened by the tight labour market and thus, continuity of heritage food is at risk.
In Singapore's case, the government now has a renewed interest to directly manage public hawker centres again after taking its foot off the pedal in the 1980s, says Richard Tan, the former director of the Hawker Centres Division of the National Environment Agency. Mr Tan retired from public service last year.
The government set up hawker centres in the 1960s for the sake of public health. By the 1980s, it managed 142 of them. The subsequent decades after that saw the rise of private food courts set up by the private sector. "However, since the 2011 elections, with issues of the rising cost of living, the government has reviewed its role in managing hawker centres," says Mr Tan.
He points out how the government realised that hawker centres were more than just a place for business but also played a socio-political role as places where the public gathered. They also gave a sense of heritage and identity.
Satay bee hoon by Alhambra Satay.
Photo: The Business Times
Today, 109 centres continue to be owned and managed by the government, and more than 100 are privately run. There are some 15,000 hawkers catering to 5.5 million people. The average cost of a meal at a hawker centre is S$4, compared with S$6 at a food court. "If you look at 300 million meals a year, the S$2 savings reduces the public's costs by S$600-700 million. So the S$20 million it costs to build one new hawker centre is definitely worth it," Mr Tan notes. The government has announced plans to build 20 new hawker centres by 2025.
"It's clear that hawker centres are good economic drivers," he says.
The hawker centre industry gives direct employment to some 40,000 Singaporeans and permanent residents, not counting the cleaners or the supply chain.
While the facilities are available, the tight labour and changing food tastes of younger Singaporeans spell problems to heritage street food, as close to 60 per cent of the hawkers now are above 55 years old. "It's envisaged that in the next 10 to 15 years, half of them will retire from the scene and it'll become a challenge to preserve disappearing recipes," he adds.
So much so that the government has changed from facilitator to driver by providing infrastructure and going into partnership with the private sector to ensure that the base cost is kept low.
For example, a new hawker centre which opened last year is managed on a not-for-profit basis. Fei Siong Food Management has a programme to match young, inexperienced hawkers with traditional hawkers to preserve recipes.
A staff member holding KEK's seafood tempura platter with three dips - chilli crab, black pepper and salted egg.
Photo: The Business Times
It's tough but some second and third generation food producers are keeping the torch burning in their own ways. Paul Liew, one of the three siblings who are continuing to run Keng Eng Kee zi char restaurant which their grandfather started, says that as they continue to maintain the traditional zi char business, they have set up another outlet that allows his brother, Wayne, to create more modern dishes that won't work with their existing customers.
KEK Pandan Gardens has a smaller menu, featuring dishes such as salted egg yolk crab spaghetti, rib eye steak with sambal and ikan bilis, eaten with a lettuce wrap like the Korean wrap, and cereal fried rice with strawberry.
MasterChef Asia Woo Wai Leong meanwhile is keen to see a "codification" or extensive documentation of heritage hawkers' recipes and cooking methods, which will at least preserve knowledge, in the event that Singapore really loses its original hawker fare.
uihoon@sph.com.sg

This article was first published on April 23, 2016.
Get The Business Times for more stories.